It may not be the current climate for planning travels, but of course, we will get back to the point where the world moves around as it once did and people will start to venture to various destinations. Whenever we're getting ready for a trip, there is always lots to plan but don't worry! Here you can check some general points to consider before your big next trip…
---
Disclaimer: Posts include affiliate links to products or services. I might earn a commission if you make a purchase, at no extra cost to you.
---
Consider this before you travel…
Take photos and back them up
It might seem like an obvious pursuit to do when traveling, but it might not always be the case. Revel in being a tourist when you're away and capture those scenes and moments that you will want to remember.
There is a fine line between taking the photos and not actually being in the moment, so make sure you get those snapshots and then soak up your surroundings.
Don't forget to take photos where you feature in them too. It'll mean so much more when you look back on your pictures in years to come.
Above all else, make sure that you back up any photos and video footage that you take. Keep copies on your laptop and memory cards and consider external hard drives and storing files on the cloud – that way you know that they physically can't be damaged or lost.
This is a suggestion to keep in mind whenever you're planning to travel: Always be ready to back up your pics, you might need to do so at any given moment!
Learn some local lingo
Depending on where you're heading, it might be worth learning a few words and phrases in the local language to help improve your travel experience. This way, you'll avoid the frustrations of locals who don't understand you at all.
You'll most definitely gain more respect from the locals if you can at least say hello, please, sorry, and thank you in their language – they'll appreciate you even making the effort.
Reading local travel guides can also really enhance your experience and help you understand their cultures and traditions too.
Get a virtual mailbox
If you're planning on traveling for some time, then you might want to consider getting a virtual mailbox service to handle your mail in your home country.
A virtual mailing service gives you a physical address, that you can set as your permanent address, and to which you can direct all your mail.
In many cases, there is even a physical person there who can sign for packages. Using a company like this one means that when you receive mail, the virtual mailbox service will alert you to its arrival by emailing you a scan of the envelope. You can then direct them to open the letter, scan the documents, forward or shred them.
Don't overlook this tip when getting ready for a trip, virtual mailboxes can be super helpful when you're least expecting it!
Keep important items in your carry on bag
Ensure that you pack well when it comes to organizing your carry-on bag or backpack. Should your main luggage get lost or end up delayed, you'll want to make sure that you have enough provisions to see you through until your hold luggage turns up or you're able to replace the items.
Think about packing another change of clothes and especially underwear, to help keep you feeling more fresh in the meantime.
You're more likely to carry your important items with you. It's worth considering whether more valuable items are better off in your bag rather than potentially being lost or stolen in your main suitcase. Where possible, keep your gadgets and things that you definitely would feel lost without, close to you on your travels. You can read the review I wrote a while ago about my favorite backpack or check this convenient carry-on suitcase if this kind of luggage better fills your style.
Take out travel insurance (one of the best tips when getting ready for a trip!)
It's surprising how many people are willing to take the risk of not insuring their trips away. It's not really something that you can afford to play Russian roulette with.
You might always assume that insurance is mainly for covering canceled and delayed flights, but the real danger and expense can happen when you have a medical emergency and require treatment in a foreign country – this is where your travel insurance will be worth its weight in gold. I've personally opted for World Nomads and I've never had to worry about it anymore! The feature I like the most about them is that if you've already left home, you can still buy your travel insurance online.
Challenge yourself
Use your time traveling to push yourself out of your comfort zone.
You're in a new country and experiencing new places and cultures.
Don't be afraid to try that strange-looking dish – the local food might surprise your taste buds.
You want to fully immerse yourself in your new surroundings and make the most of your precious time away.
Don't have a rigid itinerary
When getting ready for a trip, it's always wise to have an idea of what you want to do when on your travels, you know I've often recommended itineraries for you to make the best out of your visit.
However, if you're too regimented when it comes to your schedule, then it can prevent you from enjoying yourself fully.
Be prepared to have some flexibility and go with the flow when it might be needed.
Scan your important documents and email them to yourself
Last, but never least, get savvy and scan a copy of your passport, visas, and any debit/credit cards you're traveling with. Then if you're unfortunate enough to have your belongings stolen, then you can access them safely from your email account.
---
Do you have any other tips to get ready to travel?
Let me know in the comments below!
---
Did you know my favorite destination is Crete? A fantastic Greek island!
Read more:
5 Fantastic Tips to Organize Your Travel Photos
Travel and Reading: 10 Books to Carry with You
The Most Amazing Things to Do in Koh Tao with Kids
How to Spend 2 Awesome Days in Milan
Discover the Most Beautiful Places in Greece for Families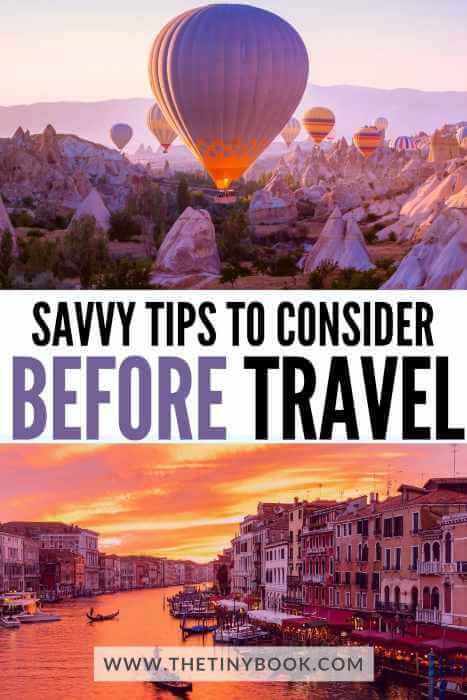 ---
You might also want to read:
---