Known as the cradle of western civilization, the island of Crete is a brilliant place to visit if you love history and want to learn more about the roots of Europe.
However, Crete occupies a very vast territory (it is the largest Greek island!), and it's very difficult to find one place to stay which makes it easy to check out many historical sites. In this article, I grouped the most important cultural places you can visit in each region and added some of the best-reviewed hotels or home rentals in the area. This way, it can be easier to decide where to stay in Crete for history and culture.
---
Disclaimer: Posts include affiliate links to products or services. I might earn a commission if you make a purchase, at no extra cost.
---
Best Places to Stay in Crete for History & Culture
Crete's complex past spans over 7000 thousand years or more, shifting between times of hardship and prosperity.
Therefore, you'll find fantastic museums, archaeological sites, monasteries, and ruins in every corner of the island, both on the land and under the sea!
Generally speaking, it can be safe to say that Heraklion can be the best region to stay in if you're a history buff.
Most remarkable sites and museums are located in a central position in Crete, in the region of Heraklion.
So you've probably already read suggestions claiming that it's Heraklion the region to stay in if you love history.
However, there are many other remarkable places to visit in Crete if you love history.
And not all of them are in Heraklion! Let's now see the highlights of Crete's historical sites, museums, and more.
Archaeological Sites and Ruins
The Four Minoan Palaces
You might also want to read: Guide to Driving in Crete: Everything You Need to Know + Tips for Car Rental!
Other than several stunning archaeological sites, here are four different Minoan palaces that have come to the light in Crete.
Three of them are located in Heraklion, they are the Minoan Palaces of Knossos and the Minoan Palace of Malia, in the northern area of the Heraklion region, and the Minoan Palace of Phaistos, close to the coastal town of Matala, in the southern part of Heraklion, occupying the important Messara Plain.
The fourth Minoan Palace is located in the Lasithi region. It's the Minoan Palace of Zakros.
All these archaeological sites are open to the public and range from the center to the east of the island.
However, if you take a map of Crete and look at those four spots on the map, it's clear that at least one major center of power should have been located in the west of Crete.
And you wouldn't be wrong…
A Fifth Minoan Palace?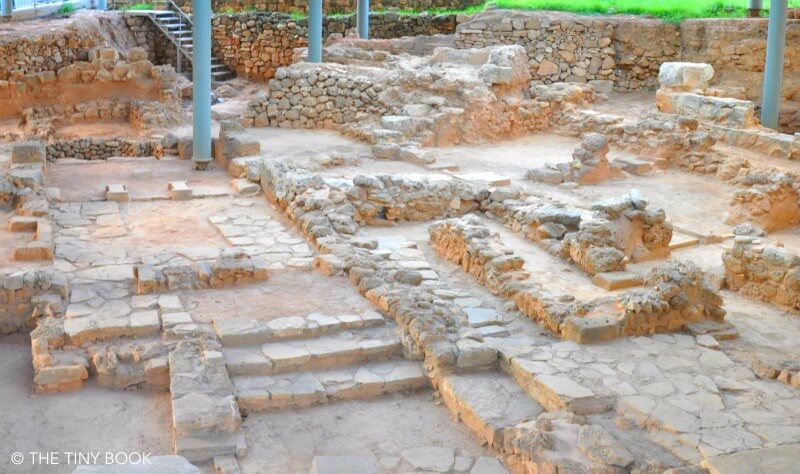 Many experts are convinced that a fifth Minoan center of power, probably the Minoan Town of Kydonia remains buried underneath the present city of Chania.
Right in the neighborhood now known as Kastelli Hills, located roughly opposite the Egyptian lighthouse, more or less behind the Mosque at the Venetian Harbor.
This low hill was occupied from the Early Minoan period to the end of the Late Minoan period.
However, the old town of Chania is also a densely populated area, and the Minoan town remains buried not just under modern Chania but also under other layers of ruins from different historical eras, including the Roman, Byzantine, Venetian, and Ottoman times. As a result, excavations are pretty limited.
Supporting the idea of Minoan Kydonia are the ruins that came to light years after the Nazi air raid of 1941. These are visible to the public in different spots in town, the most important one on the corner of Kanevarou and Kantanoleon streets (GPS coordinates: 35.517106, 24.019511).
CURIOUS FACT: Although the site is known as Kydonia its original name remains unknown.
Places to Stay Close to the Minoan Palaces of Crete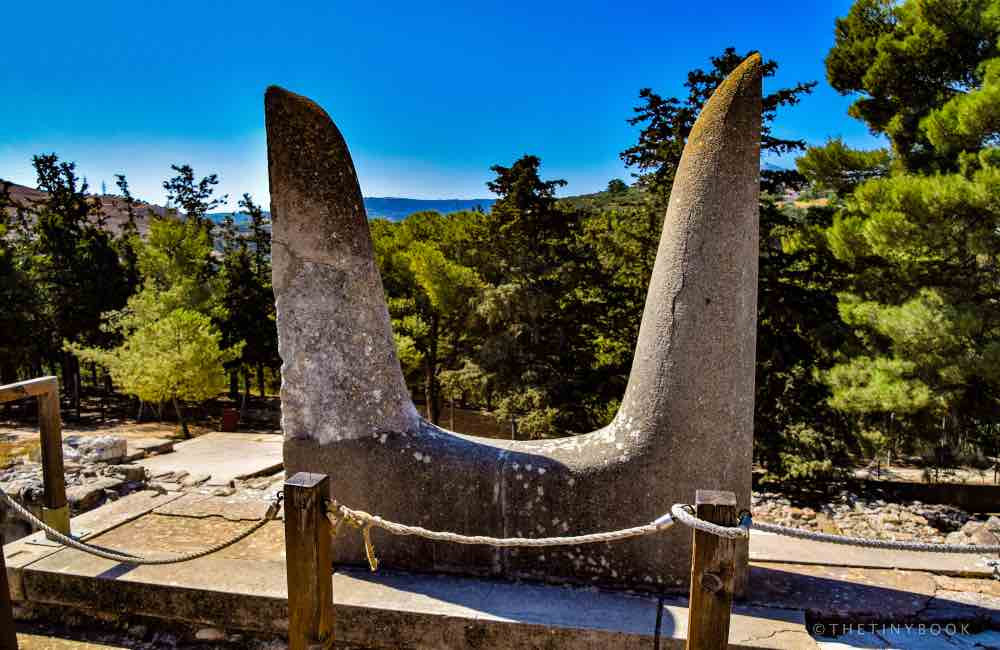 Where to Stay near Knossos
Knossos is the largest Bronze Age archaeological site on the island. Considered Europe's oldest city, the site is in the region of Heraklion.
The palace covers an important area of Kefala Hill, about 7 km to the south of the city center of Heraklion.
Where to Stay near Malia
Malia is on the North coast of Crete, East of Heraklion. It's the third largest of the four Minoan palaces. The palace is located 3 km from the modern town of Malia, a lively coastal resort.
The palace from the Middle Bronze Age underwent heavy damage during an earthquake and was rebuilt in the Late Bronze Period.
Where to Stay near Phaistos
Unlike the two previous palatial complexes, Phaistos is closer to the southern coast of the Heraklion region.
The complex lies 62 km south of the city of Heraklion and it is the second-largest Minoan Palace in Crete.
If you want to combine a visit to the site with a coastal town, check out Matala for a place to stay.
It is also important to know that, if you stay near Phaistos, you will also be able to visit both the ancient site of Gortyna and the ruins of Kommos and the archaeological site of Agia Triada, all of them in the surrounding area.
Where to Stay near Zakros
Known as Zakro or Kato Zakro, the site is considered to have been one of the four main administrative centers of the Minoans as well as an important commercial hub for trade to the east.
The site is located 38 km from Sitia. The Palace of Zakro was originally built around 1900 BC but rebuilt at least two subsequent times.
The whole complex extends from Upper Zakros (Epano Zakros), higher up on the hillside, and Lower Zakros Kato Zakros, near the sea.
The upper and lower parts of the site are connected by a gorge known as the Gorge of the Death where excavations brought to light numerous burials in the caves along the walls of the ravine.
Where to Stay near Ancient Kydonia
As we said before, many believe that the island hosted an essential Minoan complex or town in the west, probably the Minoan Town of Kydonia.
Unlike all the other sites located far enough from heavily inhabited areas, Kydonia stands beneath the center of Chania, making excavations difficult, so not many ruins have been unearthed.
Kalliopi's Home – Right opposite the most important excavated ruins of former Kydonia, on Kastelli Hill, this place boasts a 10/10 rating and outstanding reviews. The entire apartment can host up to 7 guests. It features a garden and a terrace and it's only 800 meters from the nearest beach (Koum Kapi).
Click here for more information and the latest prices.
Other Archaeological Sites in Crete
You can explore several ancient ruins and sites in every region of Crete.
Rethymnon
In Rethymnon, it's possible to visit the imposing Ancient Eleftherna, described in this Rethymnon post, not far from the area of Arkadi Monastery, but also the Ancient Minoan Necropolis of Armenoi.
Other important ruins are located near the modern Argyroupoli, the Ancient City of Lappa.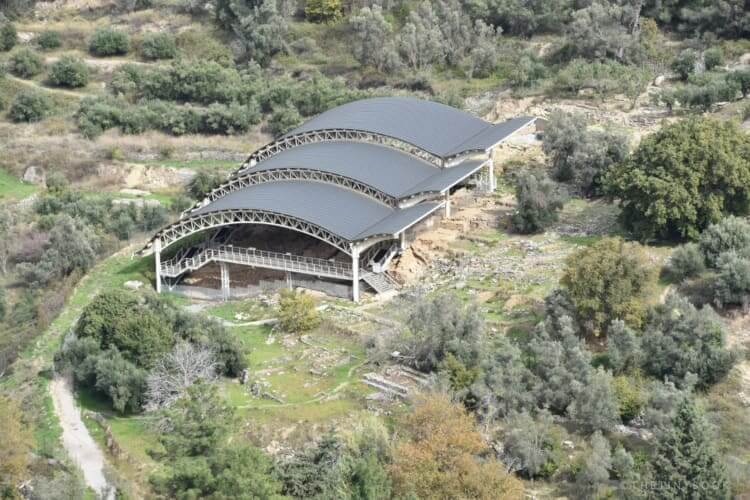 Where to Stay close to Eleftherna
Eleftherna (Also Eleutherna), also known as Apollonia, was an ancient city estate located about 25 km from Rethymnon and about 8 km from the Monastery of Arkadi.
Eleftherna was a Dorian settlement that grew ad flourished during the period known as the Greek Dark Ages (1100 BC-750 BC) and was inhabited until the Byzantine times.
Villa Satra – Hosting large groups (up to 10 guests), this traditional villa is in the modern village of Eleftherna. The house is surrounded by lush greens and it has a beautiful swimming pool with a stone-paved sun terrace and views of the Cretan Sea and the surrounding mountains. Nearby towns include Panormos and Stavromenos.
Click here for more information and the latest prices.
Where to Stay close to Ancient Lappa
Thought to have existed at least since the Geometric Period, Lappa flourished during the Roman times when it was at its peak of power. The settlement had luxurious thermae (hot baths) and it minted its coins.
Enastron – This is a beautiful, historic home housed in a 500-year-old mansion in Argyroupolis. It features traditional studios with stone details and comfortable amenities. The villa is also close to the beach of Episkopi, about 15 km from Lake Kournas, and 23 km from Rethymnon.
Click here for more information and the latest prices.
Arcus Suites – Arcus Suites is an entire neighborhood of renovated Venetian stone mansions, located in the heart of the village of Argyroupolis in Rethymno, offering modern 5-star comforts and characteristics features, such as stone arches, stone fireplaces, and wooden floors.
Click here for more information and the latest prices.
Chania
In the region of Chania. Close to the port of Souda, up above a hill, the imposing site of Ancient Aptera dominates the entrance of the bay of Souda.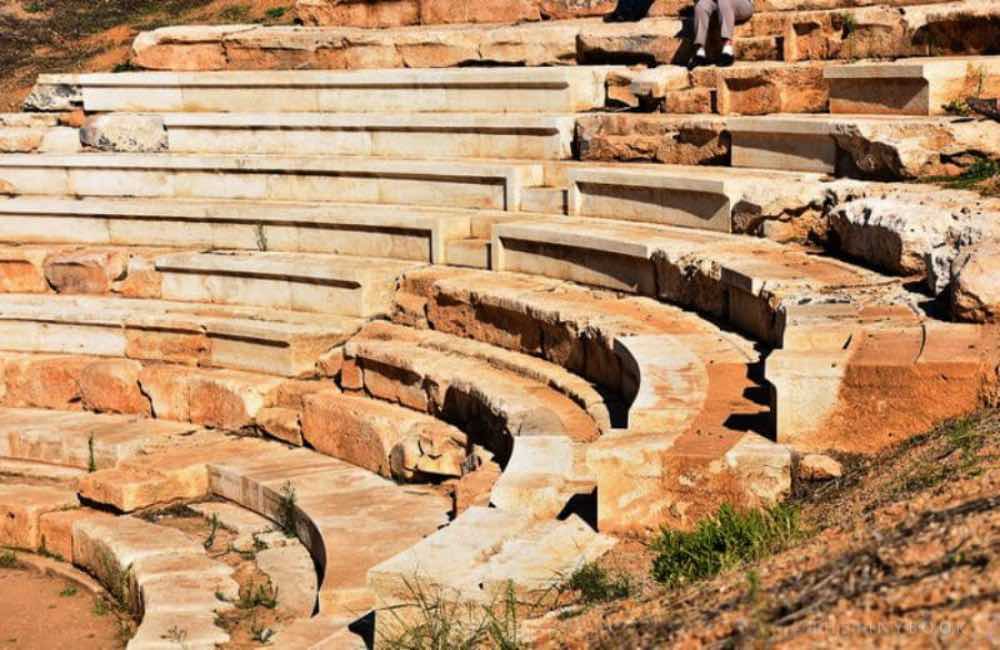 On the other hand, both Kissamos and Falasarna are excellent places to stay to visit Ancient Phalassarna and Ancient Polyrrenia.
Where to Stay close to Aptera
Aptera was an ancient Greek city located about a kilometer inland from the southern part of the Bay of Souda, 14 km from the center of Chania that strived from the Minoan period until the Hellenistic times.
Where to Stay close to Ancient Phalasarna
The archaeological site of Ancient Phalasarna is located about 10 minutes from the modern seaside settlement of Falasarna and about 14 km from Kissamos.
The harbor town flourished during Hellenistic times where you can still see stone quays and mooring stones connected to the sea through artificial channels.
You might also want to read: Fantastic Places to Stay in Falasarna or Top Things to Do in Kissamos.
Where to Stay close to Polyrrenia
Polyrrenia (or Polyrhenia) was a city-state that flourished during the Archaic Period, contemporary to another important site on the island, Ancient Lato.
The city continued to flourish in Roman times while its urban configuration lasted well into the Byzantine Era. Polyrrenia is about 8 km from the town of Kissamos, in west Crete.
Lasithi
Lasithi is rich in archaeological sites to visit. We have already mentioned the important Minoan Palace of Zakros, but there are also other places to visit in the region.
On the extreme eastern coast, close to Vai Beach, the Ancient Mycenean Site of Itanos is one of the many examples.
Lato, instead, is an archaeological site located close to Agios Nikolaos, and it's one of the best-preserved ruins on the island.
Those interested in an even more curious archaeological site should pay a visit to the sunken Minoan city of Olous, not far from the resort of Elounda.
Also in Lasithi, the important archaeological site of Gournias and its port are a clear example of Crete's important maritime past.
Spinalonga, the former leper colony in Mirabello Bay, is also a remarkable archaeological site on the island.
You might also want to read: Best places and areas to stay in Crete or also Best places to stay in Crete for families.
Where to Stay near Ancient Lato
The ruins of Ancient Lato can be found about 3 km from the gorgeous Cretan village of Kritsa, in the region of Lasithi.
Latos was a Dorian city-state built overlooking the Bay of Mirabello. The settlement was destroyed in about 200 BC, however, its port (known as Lato Kamara, close to Agios Nikolaos) remained active at least until Roman times.
Villa Kamari – The small villa is located in the village of Kritsa, less than 10 minutes from the ancient site of Lato, but also close to other historical landmarks, such as the church of Panagia Kera, also worth a visit. The island of Spinalong is less than 15 km from the home.
Click here for more information and the latest prices.
Where to Stay near Olous
The sunken city of Olous is among the most mysterious and fascinating ruins on the island.
Several discoveries were made by scholars and archaeologists, these include ancient texts that connect the town with Knossos and even the Greek island of Rhodes.
Elounda is the nearest place to stay for a visit. Today, it is possible to check out some remnants of the city by swimming in the bay of Elounda.
Where to Stay near Itanos
Located in the area of Erimopolis, Itanos was an important city and port that stands on a promontory, it was known as Itanum by the Romans.
According to archaeologists, the site was inhabited since the eighth century BC and played a remarkable role in the region for trade and commerce during different historic periods.
The whole area surrounding Itanos is rich in archaeological sites, including an outstanding Minoan town in the village of Roussolakos.
The area is very isolated. Therefore, the best places to stay in order to visit are the nearby city of Sitia or the small village of Palekastro.
You might also enjoy reading: More than 35 Fun & Interesting Facts about Crete that will Surprise You!
Religious Centers (Monasteries, Churches, Mosques & More)
The island of Crete is home to impressive monasteries, beautiful cathedrals, and lonely chapels in very inaccessible areas, either in the mountains or by the beaches of the south.
There are also several mosques, a testimony of the Ottoman occupation, as well as the last remaining synagogue of Crete, in Chania. Here are some of the religious buildings worth seeing in Crete.
Chania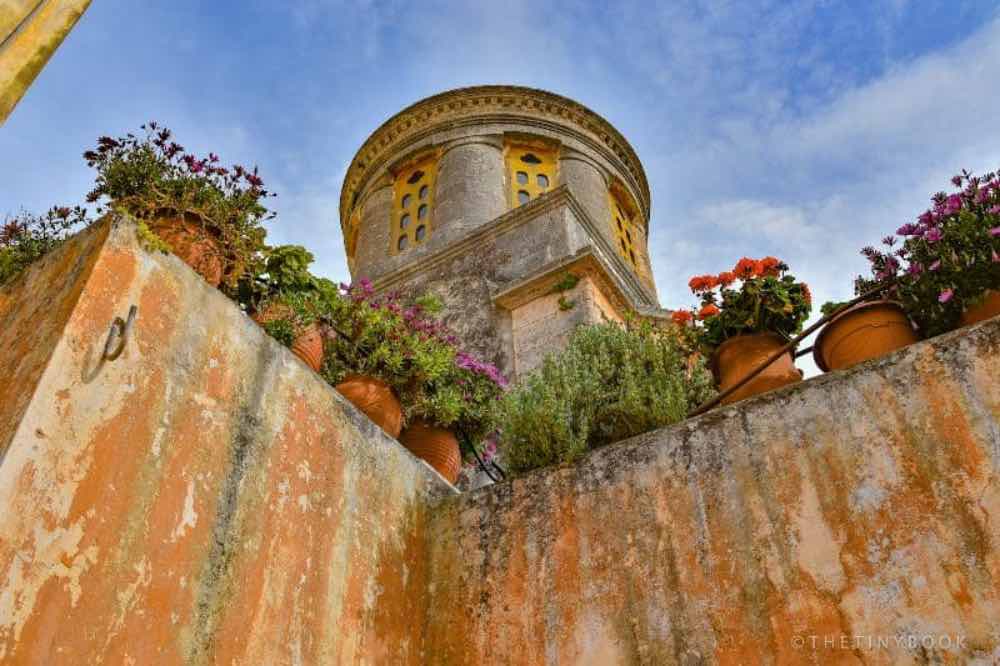 My two favorite monasteries to visit in Chania are Agia Triada Tzagarolon and Gouverneto Monastery, both in the Akrotiri Peninsula. In the same area, it's possible to visit the virtually unknown Korakies nunnery.
The beautiful Chrysoskalitisa Monastery (near Elafonisi) dominates the landscape above the Libyan Sea, in the south. At the same time, on the Rodopou Peninsula, you can pay a visit to the Monastery of Panagia Odigitria.
In the old town of Chania, instead, check the magnificent churches, the few remaining mosques, and minarets, as well as Etz Hayyim, the last synagogue on Crete, dating from the 15th century.
Rethymnon
The two most important monasteries in the area of Rethymnon, are key not only to the history of the island but also to Crete.
They played a decisive role in freeing Crete from the Turkish occupation.
Arkadi Monastery is a few minutes from the center of Rethymnon, while Preveli Monastery is on the southern coast of the region, near the famous Prevelie Beach.
In the center of the city, you can also visit some unique churches as well as several mosques, one of them inside the magnificent Fortress of Rethymnon.
Heraklion
There are beautiful churches to visit in the center of the capital, such as Crete's most important cathedral, Agios Titos, and the curious building that hosts the church of Agios Minas in the center of town. These churches are described in this article.
However, my favorite churches in this region are not as famous. The first of them is the old Byzantine church of the Panagia, in the little village of Fodele.
The second, Savvathiana Monastery is high above the mountain village of Rogdia. It's a fortified monastery badly damaged by the Turks during the period of Turkish domination on the island.
Lasithi
There are unique religious buildings located all over Lasithi. Here you can read about the most beautiful ones in Agios Nikolaos and the surrounding areas.
The most famous and important monastery in Lasithi is Moni Toplou, close to the beach of Vai and the important center of Sitia.
The impressive building is in a remote, solitary location, and it's currently one of Crete's best producers of wine and olive oil.
Closer to the Katharo Plateau, a few minutes from Agios Nikolaos, you can pay a visit to Panagia Kera, one of Crete's most important Byzantine churches, and its remarkable frescoes.
Museums and Landmarks
The same as archaeological sites to visit on the island are endless, there is no lack of museums and important monuments and constructions to visit on Crete.
Here I list the top five places (including museums or historic buildings) that you can visit in each of the regions.
Chania region
Archaeological Museum of Chania
Maritime Museum of Chania
Souda War Cemetery
Archaeological Museum of Kissamos
Folklore Museum of Chania
Heraklion Region
Archaeological Museum of Heraklion
Museum of Natural History
Museum Nikos Kazantzakis
Historical Museum of Crete
Ancient Technology Museum Kotsanas
Rethymnon region
Archaeological Museum of Rethymnon
Museum of Contemporary Art
Museum of Ancient Eleftherna
Museum of Arkadi Monastery
Paleontology Museum of Rethymnon
Lasithi region
Spinalonga Island
Kazarma, Sitia's Venetian Fortress
Archaeological Museum of Sitia
Giant Windmills of Lasithi
Archaeological Collection of Ierapetra
Crete's Regions: Deciding Where to Stay on the Island
When we talk about Crete, the first thing that comes to mind are the long distances that you need to travel around to visit several places on the island.
Besides, there's plenty to do in every region, so you might be wondering which is the best region to stay in to experience the most when it comes to the culturally rich scene of Crete.
However, there are also other things to consider, for instance, which will be your arrival point (port or airport. Two main airports receive international flights, Chania (West Crete) and Heraklion (center of the island).
Also, both Chania and Heraklion have ports receiving ferries coming from mainland Greece and cruise ships.
Take into account as well, that some ferries dock in Rethymnon and Sitia on some days during the summer.
Heraklion
most of the flights arriving in Crete land in Heraklion, so there's a chance that you'll go through the city during your trip.
Often labeled the best place to stay in Crete for history, it is indeed true that Heraklion is the capital of the island, therefore you will find very interesting museums as well as art galleries, exhibitions, and unique historic buildings, such as the Venetian Loggia or the Cathedral.
But first and foremost, Heraklion is the region of the most important archaeological sites: three different Minoan palaces (Knossos, Malia, and Phaistos) truly worth a stop.
Chania
Despite being the second region in importance on Crete, when it comes to holidays, Chania is one of the most popular places to stay on the island.
Chania is a great region where to stay in Crete mostly for the beaches. It is also home to the White Mountains, ideal if you are into hiking or outdoor adventures.
When it comes to culture and history, Chania hosts the newest archaeological museum on the island, but there are also beautiful monasteries, archaeological sites, a picturesque old town, and a busy night scenario.
Rethymnon
Rethymnon sees a lot of activity and visitors not only during the high season but all year round as it is a remarkable university town, making it a great place for nightlife and entertainment.
Although there are no remarkable Minoan ruins to visit, there are some important archaeological sites to check out, such as Eleftherna, and some of the most important monasteries in Crete which played a key role in liberating the island from the Ottoman Empire.
Rethymnon is an area with beautiful beaches, especially in the south. There are some unique mountain villages, a wonderful landscape, and family-friendly gorges.
And if all those reasons weren't enough, many people stay in Rethymnon as a compromise region, halfway from Chania and Heraklion.
Lasithi
Finally, one of the places I love the most in Crete is the region of Lasithi.
Solitary and utterly unspoiled, home to ancient untouched traditions, the extreme East of Crete is a fairly small region, but there's plenty to do and see in the area.
Starting from the lively town of Agios Nikolaos, the capital of the region, but also includes unique coastal villages, mountain settlements, great beaches, and magnificent natural scenarios such as the Lasithi Plateau.
Lasithi is a perfect place to stay if you want to visit the sites in Heraklion as well as the Minoan Palace of Zakros, perfect for history buffs but also ideal for those into hiking and outdoor adventures with its magnificent Gorge of the Death.
What Kind of Accommodation to Book in Crete
Crete is an island with a wide variety of choices when it comes to accommodation. Suiting every need, every style, and — most importantly — every pocket.
Hotels & Resorts:
Hotels: Crete has hotels in every category. From family-run hotels to international chains. From 1 to 5 stars.
Boutique hotels: Usually located in important urban centers. Boutique hotels cater to just a few guests and offer dedicated services.
All-Inclusive resorts: These are located in special areas, such as Elounda, Agia Pelagia, Platanias, or Kavros.
Check these regional hotel guides:
– Best Hotels in Chania: Accommodation Guide for All Budgets!
– Where to Stay in Rethymnon: Top Hotels in Rethymnon Town and Region
– Where to Stay in Heraklion: Insanely Helpful Accommodation Guide For Crete's Capital
– Best Agios Nikolaos Hotels: Where to Stay in Agios Nikolaos, Lasithi, Crete
– Best Hotels in Elounda
– Best Hotels in Matala
– Best Hotels in Falasarna
– Best Hotels in Hersonissos
Check these thematic hotel guides:
– Stunning Boutique Hotels in Chania Old Town
– 17 Picture-Perfect Luxury Resorts in Crete for a Top Class Experience!
– Where to Stay in Crete For Beaches: Best Places and Hotels in Each Region
– Best Places in Crete for Families: Where to Stay and Top Family Resorts
– Best Places to Stay in Crete for Young Couples: The Most Romantic Areas, Resorts, and Hotels
– Best Resorts and Spa Hotels in Crete for a Relaxing Getaway
My favorite way to travel in Crete is on the road. For me, the ideal road trip includes many stops & short stays.
This means choosing simple studios, family-run hotels, and rental houses away from the main cities.
However, many times I've stayed in city hotels, either for work or before taking a plane or a ship.
I've reviewed some of them, click on the links below you to read the reviews:
Check these hotel reviews:
– Unique Stays in Crete: Porto Maltese Boutique Estate in Agios Nikolaos
– Unique Stays in Crete: Domus Renier Boutique Hotel in Chania
– Unique Stays in Crete: Olive Green Hotel in Heraklion
– Unique Stays in Crete: Galaxy Iraklio Hotel in Heraklion
– Unique Stays in Crete: The Theodore Boutique Hotel in Chania
– Unique Stays in Crete: Pepi Boutique Hotel in Rethymnon
Property rental & Vacation homes:
Budget: This option includes renting a room or a studio (one-room apartment), both via online booking platforms as well as on-site upon arrival.
Mid-range: It's possible to book small apartments and suburban houses at convenient prices, mostly if booking in advance.
Luxury: You can rent a bigger house or a villa with a pool, bbq, and other amenities.
Even when it comes to homes often promoted as "Airbnbs" I usually prefer to book via Booking.com as it is more reliable and there are no cleaning fees.
Check these rental homes guides:
– Airbnbs and Vacation Homes in Heraklion
– Airbnbs and Vacation Homes in Chania
– Airbnbs and Vacation Homes in Rethymnon
– Airbnbs and Vacation Homes in Agios Nikolaos and Lasithi region
– Airbnbs in and Rental Homes in Paleochora
– Airbnbs and Rental Homes in Elafonisi
– Airbnbs and Rental Homes in Gavdos
– Unique Stays in Crete: Blossom Living Residence in Heraklion

Camping:
There are about 15 official camping sites in Crete. Check here for information about some of the facilities.
Although Greek law forbids outdoor camping in public places, many tourists camp illegally, especially in the south.
No matter what option you choose, remember to respect the delicate environment of the island.
Check this guide to camping in Crete:
– Camping in Crete: Where to Camp in Crete + 3 Tips To Have Outdoor Fun!
---
What about you? Do you love history? Where are you planning to stay in Crete?
Let me know in the comments below!
You might enjoy reading these Crete articles too…
---
RESOURCES TO BOOK YOUR TRIP TO CRETE:
FLIGHTS: Use Skyscanner to compare prices before booking a plane ticket.
FERRIES: Check out Ferryhopper for convenient ferry tickets.
ACCOMMODATION: Look for hotels and rental homes on Booking.com.
PRIVATE TRANSFER: Welcome Pickups offers local English-speaking drivers, flight monitoring, and a very convenient (flat) pre-paid fee
CAR RENTAL: Use Discover Cars to find an affordable car to rent.
TOURS: Live unforgettable adventures and cultural experiences with Get Your Guide.
INSURANCE: If things go wrong, you'll get coverage against illness, injury, theft, and cancellations. I recommend Safety Wing for peace of mind.
Pin this Accommodation Guide to the Best Places to Stay in Crete for History and Culture!
About the author of this blog: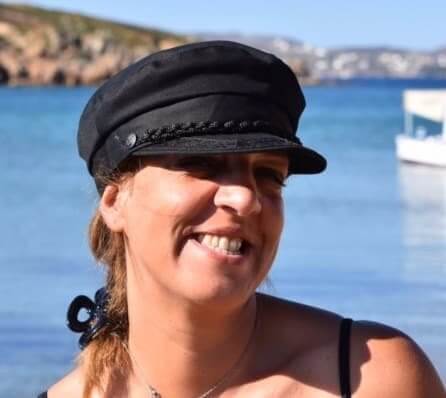 Gabi has been living in Crete for the last six years. On the island, she juggles being a solo mom, hosting culinary tours in summer, translating, and freelance writing for several travel blogs.
She's written for Greek Reporter, published several travel guides about Greece, and had more glasses of frappe than any regular person could ever handle.
COMING TO CRETE SOON?
Get in touch and let me know!