How would you like to explore Crete and its natural scenery in a completely different way? Camping can be the right answer to get out of your comfort zone and discover a different aspect of the island. If you are interested in getting off the beaten track, then this is the right post for you. In this article, we discuss all the aspects of camping in Crete… and a little bit more to make the most of the experience!
---
Disclaimer: Posts include affiliate links to products or services. I might earn a commission if you make a purchase at no extra cost.
---
If You Are Wondering How To Enjoy Camping in Crete…
While many people enjoy camping, quite a few have reservations about it.
While they're open about going on a trip, enjoying the outdoors, and having fun telling funny stories around a fire, there still have a few reservations about it. In fact, there might be several things that they don't enjoy about it.
There's always something that will ll leave them hesitant to go… and wondering if they would be really able to enjoy it.
If you're in this category and need (or want…!) to go camping, you will want to figure out how to enjoy a camping trip.
Here, you will find the best places to go camping as well as a few suggestions on how to enjoy camping in Crete turning it into an exciting adventure. And that'll be much easier than you'd think.
Camping Sites in Crete
Check the following camping sites in Crete if you want to give this experience a try!
Grammeno
(Paleochora, Chania region – South Coast)
Go camping in Crete right on the beach, a short walking distance from the center of Paleochora, on the southern coast. Gue
sts can either book a wooden cabin, hire a tent, a van, or a wooden trailer home. Alternatively, they can bring their own tent or van. Prices are published here.
Facilities: Produce from their own garden, barbecue facilities, WiFi, electricity, washing machines, hot water, a snack stand, and a mini-market. There's also a playground for kids.
On-site activities: Entertaining activities include jet-skiing, windsurfing, sailing, trekking, and more.
Extras:
– Restaurant serving traditional homemade dishes.
– Snack bar and breakfast & local Cretan products.
– Automatic vending machines.
– Free sunbeds and beach umbrellas
Camping – Bungalow Mithimna
(Kissamos, Chania region – North Coast)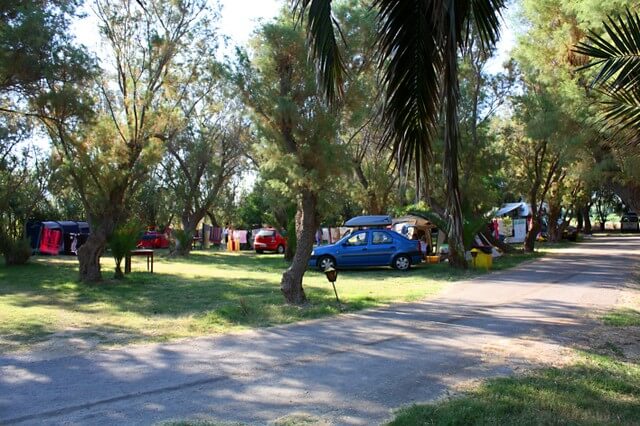 This campsite is in the area of Drapanias, not far from the imposing Kommolithi formations on the way to Elafonisi, and a few minutes from the western city of Kissamos, just right next to the beach.
A stay at this camping site comes with complimentary views of the mountains and the imposing bay of Kissamos.
Facilities: Populated with bushes and trees, finding a place in the shade won't be an issue at this campsite.
There are facilities for cooking, hot and cold water available, a convenient on-site mini-market as well as a restaurant serving local dishes.
Details:
– Pricing for tents and caravans here.
– Special discounts: Students and kids (12-18).
– Free sunbeds and umbrellas on the beach.
– Free Wi-Fi Internet.
Extras: They also offer tents for 2 or 4 persons, fully equipped studios with A/C, fully equipped apartments with A/C, and wooden cabins.
You might also want to read about more things to do in Kissamos, close to this camping site.
Camping Nopigia
(Kissamos, Chania region – North Coast)
Another camping site in Kissamos, Nopigia is located about 20 minutes from the center of Chania, just opposite the bay of Kissamos.
This is the perfect place if you're looking for a site with a few extra perks, including a gorgeous swimming pool and a Cretan tavern.
Facilities: Here, it's possible to rent fully equipped tents for up to 4 people in a quiet and shady space (also by the sea).
Prices are offered on this page. Prices are per day for 4 persons with tent and equipment included.
Extras:
– Daily breakfast with a small additional charge.
– Early booking and payment have a 10% discount.
– A living room, a wardrobe, tableware and cookware, single and double bedrooms with single beds and pillows.
– Fridge with freezer.
– Electrical current supply.
– Free wifi access-
– Fully equipped cooking room with gas and barbeque.
– A map of Crete.
Sisi Camping
(Sisi, Lasithi Region) – North Coast
This camping in Crete can be found just minutes from Sisi, a traditional fishing village close both to Heraklion and the region of Lasithi.
Close both to the sea and the mountains, the site offers plenty of trees for natural shade. The place is about a 10-minute walk from the beach and the small port of Sisi
Facilities: Electricity, cooking facilities, washing machines, hot water, swimming pool, and snack bar.
Prices are published here.
Details:
– Kitchen facilities.
– Tent rental available.
– Transfer services upon request (extra fee applies).
Location: The campsite is 40 km east of the ferry port and airport in Heraklion. The tourist centers of Malia, Stalis, and Hersonissos are only a short drive up the coast, with a wide variety of clubs, bars, and restaurants.
More Campsites In Crete That You Should Check
Crete Camping – Kato Gouves, Heraklion: Not far from the port, perfect for travelers arriving on the island by ferry. Convenient, clean, and well-reviewed, plus not far from the sea. Read more here.
Camping Elizabeth – Missiria, Rethymnon: Whether you're a backpacker that enjoys sleeping under the stars or a newlywed couple relishing the comfort of a 5-star hotel room in an eco-friendly habitat, Camping Elizabeth is a truly special place. Read more here.
Campsite Hania – Ag. Apostoli, Chania: In Camping Hania you will find a selection of temporary accommodations ranging from tents to mobile homes. If you are touring with your own caravan or mobile home, a shaded area under leafy olive trees will be allocated to you. If hotel accommodation is more suitable for you, they can also offer a variety of studios and apartments. Read more here.
No Problem Agia Galini – Agia Galini, Rethymnon: This place has often been recommended to me as one of the most friendly and best places to stay when camping in south Crete (and not just for the super economic prices!). Close to a small river, the site is in a large forested area with plane trees and olive trees where to set your tent or caravan and enjoy the hospitable environment. Read more here.
Camping Paleochora – Paleochora, Chania: Another popular spot on the southern coast, this is a very good camping option not far from one of the nicest towns in the south, Paleochora. Read details about the camping site here.
Three Tips To Enjoy Camping in Crete (or Anywhere Else) Without Extra Effort
You'd often find that many people's problems are the discomfort they might experience: bugs, the weather, isolation… these are only some of the many things that will cross your mind.
And you will certainly find several more negative points. Well… how about taking a few steps will avoid these?
These are my three top tips to make sure that everything goes well once you're on the spot!
Bring The Right Equipment
You'll need to stay warm and dry when you're camping. If you're not, you're far less likely to enjoy the trip. Proper equipment will be vital for this.
What you'll need will depend somewhat on where you're camping. At a minimum, you'll need sleeping bags, a tent, flashlights, batteries, and several other things.
You can pick these up in quite a few places. EcoGearFX has proven to be popular and the equipment is more affordable than you'd think.
Camping Sites in Crete: There are about 15 official camping sites in Crete. Check here for information about each facility.
Although Greek law forbids outdoor camping in public places, many tourists camp illegally, especially in the south.
No matter what option you choose, remember to respect the delicate environment of the island.
If you enjoy spending time outdoors, check out the most stunning gorges in Crete (and savvy tips to explore them!
Practice Setting Up The Tent
When you first get to a campsite, you'll have quite a few things to do. One of the more important is setting up your tent.
That can often be more difficult than you'd like, especially if you recently bought a new one. It's worth spending a while practicing setting it up before you go.
It would be best if you didn't do this only once; doing so two or three times is recommended. It will typically be easier to do this when you're at home.
You could have to put up with bad weather once you reach your campsite, for instance. Knowing exactly how to set up your tent quickly and easily before getting there can be helpful, and it is one more step taken towards enjoying your camping experience.
Make Campfire-Ready Meals
One of the most significant issues that many people have when camping is food. It can be much more difficult to prepare and cook.
You can make this much easier. Having campfire-ready meals is a priority. These are pre-made meals that you bring with you on the trip.
All you'll need to do is finish them off on the campfire or stove. That shouldn't take too long, depending on what you're making.
Taking this approach will save you a lot of effort. With how tired you could be after a day in the outdoors, that could be more than welcome.
How To Enjoy A Camping In Crete: Wrapping Up
If you don't know how to enjoy a camping trip, then the prospect of going on one may seem stressful. It doesn't have to be, especially when exploring this gorgeous island.
You can take advantage of multiple tips and tricks when you're on a trip. Making sure that you have certain things taken care of will be vital.
The right cooking equipment, easy-to-use ingredients, and a way to get everything cleaned up after the meal.
After that, you can plan out a range of activities while you're on vacation, you can hike in the mountains, or have a long relaxing swim if you're camping near a beach (the south of Crete is perfect for camping!).
Doing so will make you be certain that you and everyone else are able to enjoy yourselves and enjoy the magnificent outdoors on the island.
What's not to like? Are you ready to enjoy your camping trip in Crete?
Read more about Crete
🛌 Suggested Accommodation in Crete:
🗺️ More resources to book your trip to Crete
Pin These Top Tips for a Camping Trip in Crete!
---
You might also want to read these posts about Crete's regions:
---
About my blog: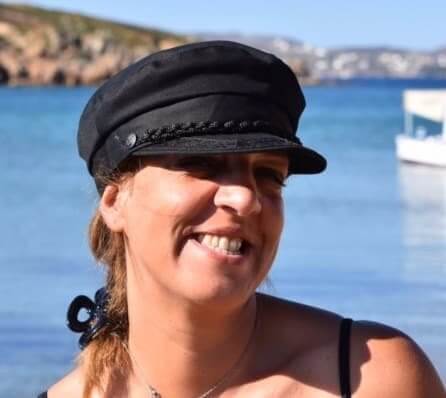 I moved to Crete in 2016. During these years, I learned much about the island.
In Crete, I juggle being a solo mom, hosting culinary tours, and writing for several travel blogs.
I've written for Greek Reporter, published travel guides about Greece, and had more glasses of frappe than any regular person could ever handle.