Right in the heart of Heraklion town, we've found a unique place for a cozy stay during your visit to Crete and I'll tell you everything about it. Advantages? Plenty! Unbeatable location, both central and super quiet. State-of-the-art facilities, every comfort is just one button-click away… and more extras. The place is so welcoming and comfy that you won't want to leave! Read on and discover why Blossom Living Residence Heraklion Living is the place to choose in town when looking for a vacation rental in Heraklion!
---
Disclaimer: Posts include affiliate links to products or services. I might earn a commission if you make a purchase, at no extra cost to you.
---
Review
This is a sponsored post. I was a guest for a weekend at the Blossom Premium Living Residence, yet all opinions remain, as usual, my own and unbiased. A heartfelt thank you to all the management, Dimitris, Katerina, and staff for the care and service.
The Blossom-Premium Living Residence in Heraklion
When looking for a place to stay in a city such as Heraklion, big, super busy, and quite chaotic, especially in summer, you will certainly look for a relaxing space, that's close to the center of town, enough to walk there but without being surrounded by noise at all hours.
Especially if you're staying in town for more than a couple of nights, and you're interested in taking long day trips around the region, always coming back to base, and base being cozy, comfy, and welcoming… well, there's such a place and this time it's not a hotel, but a vacation apartment.
You might enjoy: The Most Interesting Museums in Heraklion (Plus Bonus Tips To Visit Them!).
The Blossom Premium Living Experience
This amazing apartment has been completely renewed a very short time ago. Honestly, it's so impeccable that we felt we were the first guests to set foot in the residence (which is not like that, because they've already collected top reviews!).
All the spaces are very well-thought and very comfortable, the kid's room, for instance, would look small at a first sight, instead, it has all the right corners for kids to enjoy their stay, including a small book collection, and kid-sized bathrobes.
The mattresses are extra comfortable too, while the wardrobes are very spacious.
Our en-suite room was dreamy, not just because it was equipped with a convenient, well-lit, and ready-to-use workstation, with an ample desk and a printer, but also because the bed was simply heaven!
There are two bathrooms, both big, and very modern, with walk-in showers. Besides, all spaces have air conditioning and heating (we visited on an odd snowy day in winter, and did not feel cold any time).
You might also enjoy: How to Get from Heraklion to Matala, Crete (and from Matala to Heraklion) without Getting Lost!.
The seating room features a big smart tv with Netflix, perfect for our snowy stay, there are table games to entertain you, and there is also a terrific balcony, with a wooden deck, three different seating areas, and a small but fragrant herbs garden, ideal for those who're into cooking!
And if you like cooking, you will fall in love with the gorgeous kitchen, with top-quality utensils, microwave, and Nespresso machine.
During our stay, we always ate at the apartment (it was really cold!), I admit that one evening we ordered because we were really tired, but cooked too, and that kitchen is just perfect!
The property is managed by the owners, Dimitris and Katerina, who really know how to provide unparalleled hospitality (and who kindly shipped to Chania my cosmetics bag with medicines that I forgot at the apartment, thank you!)
You might also enjoy: Heraklion or Chania: Which Cretan City You Should Visit in Crete.
Snapshots of Our Stay at Blossom Premium Living Residence
All the Details
Location: Heraklion Historical City Center, 250 meters from Morosini Fountain.
Highlights of Blossom Premium Living Residence
Fully equipped, secure, stylish, modern.
Spacious 2 bedrooms and 2 bathrooms.
Smart TVs with Netflix (living room and master bedroom).
Fully equipped kitchen, in-home washer and dryer.
Spacious private balcony for relaxing moments with outdoor swing chair, furniture and beautiful scenery of plants and herbs.
With touchless tech to fully control lighting, A&C and TV for the ultimate safe experience.
Neighborhood Info
The apartment is situated in a quiet street of the city center, easily accessible and walkable to all the things you want to visit and see in town.
You may walk to the main cultural sites, restaurants, bars, cafes, boutiques, and more.
Easily accessible to public transporation, the port or the airport. Only steps from Liontaria Square.
Right meters from the apartment there are 2 supermarkets for your daily needs.
In the nearby area, there's one of the best restaurants in town (Kouzineri).
The flat is only a short walk from my favorite Bakery in town, Kirkor (I describe why I love Kirkor, here).
Where to Park
During our stay, we parked our car at Central Parking: 26 Koronaiou St. less than a 100 steps away from the residence. However, there are other places to park around too (check them all here).
You might also enjoy: The Most Awesome Things to Do in Heraklion on Your Crete Vacation.
More Things to Know about Blossom Premium Living Heraklion
How do I get to the Blossom Living Residence Heraklion?
From the Heraklion Airport, you can get to The Blossom-Premium living residence by taxi, the trip is 12 minutes.
Where can I park when staying at the Blossom Premium Living Residence?
There are several private parking facilities around.
Is the Blossom Living Residence Heraklion family-friendly?
It is! There is accommodation for two kids in a dedicated children's room
What are the times for check-in and check-out?
Check-in at The Blossom-Premium Living Residence s as from 3:00 pm and you can check out any time before 11:00 am.
How many people can the apartment accommodate?
Up to 4 guests, and it is also perfect for couples.
This was a great experience when it comes to vacation rentals in Heraklion, you can check the property and book a stay here.
.
Wouldn't you love to stay at Blossom Premium Living Residence?
Let me know in the comments below!
Read more Herklion posts:
– Wine Tasting Crete: The Most Exhilarating Wineries in Heraklion – A guide to the best wineries in Heraklion.
– Amazing Free Things to Do in Heraklion on Your Crete Vacation! – Things to do in Heraklion on a budget.
– What to See in the Minoan Palace of Phaistos, Crete – A guide to visiting the Archaeological Site of Phaistos.
– Best Tours of Knossos for Every Budget and Travel Style! – A guide to picking the best tours of Knossos Palace.
– How to Easily Get from Heraklion to Chania: Practical Guide by a Local – A guide to travel from Heraklion to Chania, and the other way round!

Let's Start by Getting Ready for Crete!
RESOURCES TO BOOK YOUR TRIP:
Book your flight: I use Skyscanner to compare prices before booking a plane ticket.
Book your ferry: When ferries are more convenient than air travel, I use Ferryhopper.
Book your accommodation: I've tried many different platforms for accommodation, but none of them beats the advantages of Booking.com.
Book your car: The best way to find an affordable car to rent is to use a powerful search engine that compares all the rental companies in the market. I use Discover Cars.
Book your tours: Live unforgettable adventures and cultural experiences with Get Your Guide. For instance, you can Visit Elafonisi, discover Balos Beach, hike Samaria, or explore Knossos.
Don't forget travel insurance: Things can go wrong at times, but travel insurance will protect you against illness, injury, theft, and cancellations. I recommend Safety Wing for peace of mind.
This Deserves a Pin!
Pin this Review to the Gorgeous Blossom Blossom Premium Living Residence in Heraklion for Your Next Trip to Crete!
About the author of this blog: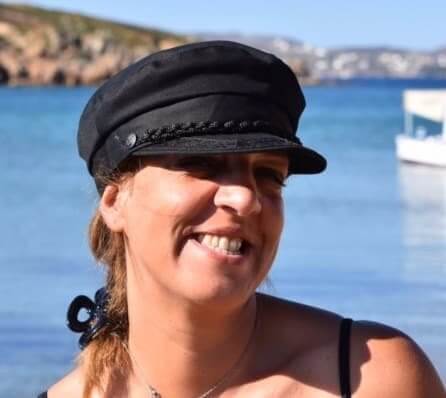 Gabi has been living in Crete for the last five years. On the island, she juggles being a solo mom, hosting culinary tours in summer, translating, and freelance writing.
She's written for Greek Reporter, published several travel guides about Greece, and had more glasses of frappe than any regular person would be able to handle.
COMING TO CRETE SOON?
Get in touch and let me know!