Alagni is an inland village of Crete, a mountainous place in the appellation area of Peza, Heraklion. It lies on sandy limestone soil, about 500 meters above sea level. An area with an ideal microclimate. Cooled by the northern breeze of the Aegean and protected from the African hot winds by the mountain.
Soon after the hustle of the capital, endless fields extend along the road as I drive through the landscape. Half an hour later, the wine trail signposts lead the way to a place I've been longing to visit, Lyrarakis Winery for wine tasting in Crete.
---
Disclaimer: Posts include affiliate links to products or services. I might earn a commission if you make a purchase.
---
Lyrarakis Winery Crete
Those interested in wine tourism and local tastes must take a look at the original vineyard of Crete. Why not start with a visit to Lyrarakis Winery, in Heraklion?
Land and Values: Everything about Lyrarakis
I park under generous olive trees and walk past a yard of aromas. Oregan, rosemary, mint, lavender, and the local malotira are a prelude to the more intense fragrances I'm about to experience.
After a warm welcome with a glass of wine, the sommelier, Anna Sofoulaki, greets me with a map of the fields. She guides me to a garden from where it's possible to see the extension of the cultivated fields.
We're in one of the most impressive agricultural areas of Crete, with a longstanding heritage in wine production.
In 1966, two brothers set the roots of the company, now run by the second generation of winemakers. They have added academic knowledge to the passion already permeating the family business.
It is soon clear that the cellars store the same values of the wines they produce: authentic and in strong connection with the indigenous culture.
Following principles of sustainability and featuring a solid relationship with the local community.
Walking among the fields, bunches of grapes under the Cretan sun are a promise for a good upcoming harvest. A young man joins us in silence, letting Anna continue with her explanation.
Later on, he would follow us into the cellars too, still not saying much, but with the extreme confidence of someone feeling at home. He's Bart Lyrarakis, CEO of the company.
Lyrarakis Mission: Rescuing Native Varieties
Of all the things I learn through the visit, one thing pleasantly surprises me. As a newcomer to the local wine experience, I've studied hard to, among other things, recall that in Crete:
There are four PDO-level appellations which are Peza, Arhanes, Dafnes, and Sitia.
Six more generic regional appellations complement the previous four (Chania, Rethymno, Lasithi, Kissamos, Heraklion, and Crete itself).
And that there are eleven indigenous varieties… Well, not anymore.
One of the distinctive activities of the winery, right from the start, has been the commitment to rescuing native varieties. Lyrarakis has always been part of what they define as a painful process of a complex and evolving nature.
One of the winery's pride dates back to 1992, a year marking the rescue of Plyto and Dafni, bottled and distributed four years later.
After learning this story, it's not surprising to hear that they planted a promising native grape seven years ago. This can now be considered a new local variety.
Melissaki, a Greek name clearly recalling honey, is surprising Cretan wine lovers. This piece of news, in my modest opinion, has not yet been spread enough as it should be.
Wine Tasting in Crete at Lyrarakis: Experience, Surprises, and Varieties
Tasting white and rosé
At a very long table in the cozy tasting room, the experience includes local cheese, sundried tomatoes, olives, and rusks. Perfectly matching the following labels.
We started tasting the winery points of pride: Plyto (2016), with aromas of citrus and pear, and a pleasant aftertaste. And Dafni, a well-known rarity among local wines, has aromas of herbs, such as the bay leaf, rosemary, and lavender.
The other white coming along is Vidiano, also known as the Chardonnay of Crete, produced with the technique of batonnage, a method used to provide balance, creating a fuller taste.
Right after, we focus on the newcomer, Melissaki, or bee wine. A forgotten variety that brings a completely new experience with hints of herbs (I feel thyme, my favorite herb), white fruits, and a pleasant recall of Cretan honey.
The Kendros Liatiko (2016), with apricot, peach, honey, and bergamot aromas is probably one of the best experiences during the session. A clear rosé that comes from very old vines, about 850 meters above sea level. Used to sweet Liatiko labels, this dry wine is unforgettable.
Next, comes a darker rosé, almost a claret in color and unique in taste. It's the Legacy Rosé (Syrah and Kotsifali), fruity and incredibly aromatic.
Tasting reds and a few extras
The huge concentration of stone in the local soil helps retain important quantities of water. This comes as an aid when harvesting vines without irrigation. Mandilari, from the Plakura Vineyard, is one of the results. Deep red color, intense yet fresh, with superb aromas of red fruit.
Karnari Kotsifali (2012) was such a surprise that I took a bottle home with me. This local variety is also known because it lacks color. The ruby color of Lyrarakis Kotsifali teaches us that winemaking is the art of the impossible. As far as taste, it's spicy and with aromas of red fruits, warm and lightly tannic.
The afternoon ends with a glass of Zazazu Demi-Sec (Vidiano, Vilana, and Moscato Spinas), the first local sparkling wine. Ideal alone, or to produce explosive cocktails, like the one Anna mixes adding a few drops of Agourida.
Agourida is nothing but the simple green grape juice from the first press. A traditional replacement for lemon in the salads of the past is now bottled and sold with success.
However, that's not all, Malvasia di Creta (sundried Plyto, Dafni, Vilana, and Vidiano) is the last reward. The combination of probably the best varieties of the island results in this nectar of rich aromas, with an intensely fruity and rich taste that reminds me of childhood cakes.
Just as the sun was getting down on the horizon, I couldn't think of a better glass of wine to end this wonderful day at Lyrarakis Winery.
Visit Lyrarakis Winery Crete
Lyrarakis Winery has wine-tasting facilities in Alagni, (Peza, Heraklion). To reach the facilities follow these coordinates 35°11'05.6″N 25°12'29.6″E; or even better, visit their website to customize your own degustation package, or splurge and choose their Premium Cellar Experience.
Important details to visit
The visit lasts about 1 hour and a half.
The wine-tasting facilities are open from April to October, from Monday to Saturday (11 am – 7 pm).
The winery is closed on Sundays.
If you're interested in a visit between November – March, it's better to get in touch via mail, since during that period, visits are subject to availability.
There are dozens of excellent wineries in Crete, wine tasting can be a never-ending experience on the island.
You can check other wineries in Crete by getting in touch with the local Wine Association, Wines of Crete.
Others we have visited are Klados Winery (in Rethymnon) and Fragospito Winery (ex Gavalas) (from Heraklion).
Read more about Crete
🛌 Suggested accommodation in Heraklion:
🗺️ More resources to book your trip to Crete:
---
You might also want to read these posts about Crete's regions:
---
About my blog: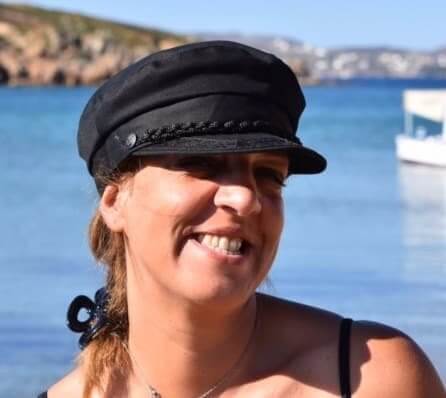 I moved to Crete in 2016. During these years, I learned much about the island.
In Crete, I juggle being a solo mom, hosting culinary tours, and writing for several travel blogs.
I've written for Greek Reporter, published travel guides about Greece, and had more glasses of frappe than any regular person could ever handle.