Greece may be known for its stunning beaches, crystal-clear azure waters of the Mediterranean, and sunny weather, but it also offers fantastic winter vacations.
In fact, tucked away in the mountainous landscapes of Greece, you'll find some magical skiing destinations perfect for thrill-seekers and snow enthusiasts.
So, if you're looking for a fun-filled winter holiday, here are the best places to go skiing in Greece and indulge in winter sports while basking in the country's natural beauty and warm hospitality.
---
Disclaimer: Posts include affiliate links to products or services. I might earn a commission if you make a purchase.
---
Where to Go Skiing in Greece
PLANNING A LAST-MINUTE TRIP TO GREECE?
Be sure to book accommodation and tours in Greece ahead of time to ensure availability!
🛥️ Book ferry tickets with Ferryhopper.
🛌 Find hotel deals on Booking.com.
🚘 Compare car rental prices with Discover Cars.
💳 In need of money? Use WISE as a digital card and top-up from the app.
Looking for the best-selling winter experience in Greece? Look no further! Check out this Mount Olympus: 2-day Hiking Trip to Mytikas Peak.
During the trip, you will hike to the highest peak of Greece to visit the site of the throne of Zeus and walk through the National Park of Olympus.
Best Ski Resorts in Greece
In no particular order, these are the best places to ski in Greece.
Parnassos
Nestled in the heart of central Greece, Mount Parnassos is one of the premier destinations for skiing in Greece. Specifically, the town of Arachova will offer a thrilling winter vacation for snow enthusiasts.
The town is home to the Parnassos Ski Center, a well-known resort with excellent facilities, well-groomed slopes, and picturesque views of ancient forests and dramatic cliffs.
It also features a range of pitches, making it suitable for all skill levels, from beginners to advanced, where they can carve their way through the snow-covered mountainside.
Additionally, Arachova features cozy taverns where you can indulge in delicious local cuisine and experience the vibrant lifestyle of a folk mountainous town.
Where to Stay in Arachova
These places to stay in Arachova enjoy the most convenient location in the area and enjoy ravishing reviews. Take a look!
Mount Olympus
Once known as the home of the Greek Gods, Mount Olympus today has many resorts offering exciting skiing experiences.
In fact, with its towering peaks reaching over 2,900 meters, this mountain is a paradise for winter sports enthusiasts.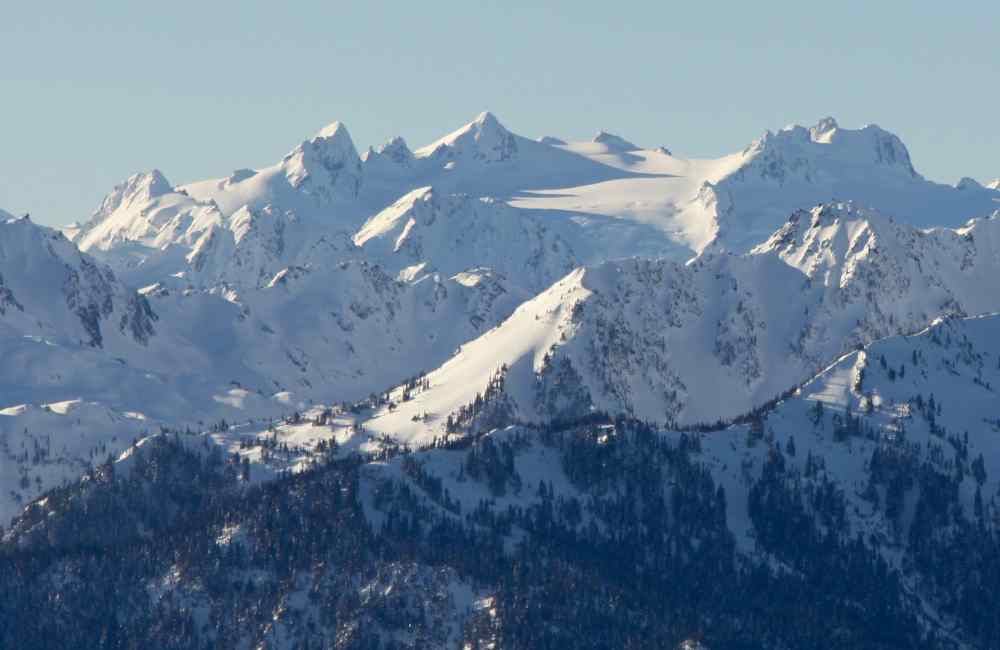 The Olympus Ski Center provides well-maintained slopes suitable for all levels of skiers and snowboarders, who, while gliding down the slopes, can enjoy awe-inspiring views of the surrounding landscapes.
Additionally, the region around Mount Olympus boasts charming traditional villages, allowing you to immerse in the local culture and savor authentic Greek cuisine.
Where to Stay Near Mount Olympos
Booking early is critical during the winter season. If you're interested in spending your winter holidays skiing in Mount Olympos, check out the following hotels:
Bellou Estate: An award-winning rural hotel in Agios Dimitrios village, the property has eco-friendly apartments with a fireplace and views of Mount Olympus. The property serves a Greek breakfast with homemade pies, jams from the farm's strawberries, and fresh eggs of the day, while the restaurant offers home-cooked meals. There's also a library and children's playground. The Ermes ski lift is only 19 km from the property
Click here for more information and the latest prices.
Vasilitsa
Vasilitsa, located in the western part of Macedonia in Greece, is a hidden gem among skiing fans. This picturesque ski resort offers an unforgettable winter experience with its stunning natural surroundings and well-maintained slopes.
Specifically, Vasilitsa Ski Centre features various ski runs suitable for all levels, from beginners to advanced skiers.
Also, with its high altitude and favorable snow conditions, Vasilitsa ensures ample opportunities for adrenaline-pumping downhill runs while also catering to those who prefer cross-country skiing or snowshoeing through its scenic trails.
Besides engaging in exhilarating winter sports, visitors will also love the breathtaking scenery of snow-capped mountains and pine forests surrounding the ski center.
The region is filled with traditional villages, cozy accommodations, and local taverns, allowing visitors to indulge in Greek hospitality and cuisine.
Where to Stay in Vasilitsa
Due to its popularity, this is one of Greece's top places for sky holidays. For that reason, booking accommodation in advance is always a good idea. These are my recommended hotels in Vasilitsa.
Kalavryta
Kalavryta, a charming town in the mountainous region of northern Peloponnese, is a captivating destination for skiing lovers.
This picturesque town is home to the Kalavryta Ski Center, which boasts excellent facilities and spectacular ski runs.
The ski center offers a range of slopes suitable for beginners and challenging runs for more experienced skiers and snowboarders. Therefore, with its favorable snow conditions and breathtaking views, Kalavryta provides an exhilarating skiing experience.
After a day on the slopes, you can also explore the town's rich history, including the renowned Kalavryta Holocaust Memorial and the cog railway that takes you up to the summit of Mount Helmos.
Kalavryta offers many accommodations and traditional taverns, where one can savor delicious Greek cuisine and immerse in the locals' warm hospitality.
Where to Stay in Kalavryta
One of the most picturesque areas in Greece to visit in winter, Kalavryta is a fantastic winter destination, and it also offers some truly unique places to stay.
Pisoderi
Located in the northern region of Florina in Greece, Pisoderi is a hidden gem for skiing enthusiasts.
This charming ski resort of Vigla-Pisoderi offers a unique and peaceful skiing experience within the beautiful scenery of the Verno Mountains.
Pisoderi Ski Centre features well-maintained slopes and modern facilities, catering to all skill levels and making it a fantastic destination for both novices and experienced skiers.
Furthermore, the resort's diverse range of ski runs and trails allows visitors to explore a variety of terrains while admiring the breathtaking views of the enchanted landscape.
Pisoderi has a tranquil and family-friendly atmosphere, with many accommodations and dining options for fantastic après-ski moments.
Where to Stay in Pisoderi
Check out the following recommended hotels in Pisoderi for your winter break in Greece.
Metsovo
Metsovo, a picturesque town nestled in the heart of the Pindus Mountains in northern Greece, is a hidden gem both for skiing and cultural exploration.
Metsovo's natural landscape and unique traditional architecture provide a unique backdrop for winter sports enthusiasts.
The nearby ski center, Karakoli, offers a range of slopes suitable for all skill levels, from beginners to advanced skiers.
With its reliable snow conditions and well-maintained runs, the ski center provides an exhilarating experience amidst the stunning mountain landscapes.
In addition to skiing, visitors can immerse themselves in the local culture by exploring the cobblestone streets, admiring the stone-built houses, and visiting the town's renowned museums and galleries.
The vibrant local cuisine and warm hospitality further enhance the experience, making Metsovo an idyllic destination for those seeking a blend of skiing adventure and cultural immersion in Greece.
Where to Stay in Metsovo
If you plan to travel to Metsovo during your winter adventure in Greece, these are some of the hotels you will love:
Pelion
Situated in central Greece, Pelion is a hidden gem that can offer an enchanting skiing experience.
Specifically, as it is nestled between the azure Aegean Sea and the rugged mountains, this region offers both winter sports and breathtaking natural beauty. Fancy skiing while watching the sea?
The Pelion Ski Center boasts a variety of well-groomed slopes, providing delightful runs surrounded by lush forests both for skiers and snowboarders of all levels.
Home to a perfectly mild climate, visitors can enjoy a mix of snow and sunshine, making it an ideal destination for those who prefer a more temperate winter getaway.
Beyond skiing, Pelion offers various activities, such as hiking through picturesque trails, exploring charming traditional villages, and indulging in the region's renowned gastronomy.
Therefore, a ski vacation in Pelion promises a delightful blend of outdoor adventure, cultural exploration, and stunning landscapes, creating an unforgettable winter in Greece.
Where to Stay in Pelion
Another popular winter destination in Greece, Pelion offers some unique places to stay; take a look!
Kaimaktsalan
Kaimaktsalan is a ski resort on Mount Voras, offering thrilling winter sports activities to skiers and snowboarders of all levels, with a diverse range of ski runs and slopes.
So, whether you are a beginner or an advanced rider, you will find the right winter thrill!
Additionally, after an adrenaline-fueled day on the slopes, you can relax in the nearby natural hot springs, renowned for their therapeutic properties.
Therefore, Kaimaktsalan is a true winter paradise, combining stunning alpine landscapes with the opportunity to unwind and rejuvenate in the healing waters.
Where to Stay in Kaimaktsalan
These are some of the hotels we recommend in Kaimaktsalan.
Petrogonima: Located in Palaios Agios Athanasios village, just 32 km from Edessa city and close to Vorras Ski Centre. It has traditionally decorated rooms with a fireplace, spa bath, seating, dining area, and a kitchenette stocked with breakfast essentials. Free storage for ski equipment is accessible.
Click here for more information and the latest prices.
Rouga Mountain Boutique Suites & Spa: The place is centrally situated in scenic Palios Agios Athanasios, only 16 km from Kaimaktsalan ski center; the hotel offers rooms with views of the slopes of Mount Voras, all with a fireplace and free wood. Breakfast includes traditional pies, homemade jams, and local specialties. Chocolate therapy and hot-stone massages are provided upon request and at extra charge. Guests can rent ski equipment on-site.
Click here for more information and the latest prices.
Tria Pente Pigadia
Tria Pente Pigadia is in the enchanting region of Drama in eastern Macedonia and a true haven for skiing enthusiasts in Greece. It is known for its pristine beauty and excellent snow conditions, making it a remarkable winter destination.
Tria Pente Pigadia Ski Center features a variety of well-groomed runs, allowing visitors to glide through the snow-covered mountains while enjoying the scenery.
Tria Pente Pigadia is also famous for its impressive vertical drop and challenging off-piste routes, attracting adrenaline-seeking skiers and snowboarders.
After an exhilarating day on the slopes, visitors can unwind in the cozy mountain lodges, sip on warm beverages, and relish the local cuisine.
Where to Stay Near Tria Pente Pigadia
A beloved winter resort among locals and visitors alike, Tria Pente Pigiada is a popular destination in Greece among ski enthusiasts. These are some of the best hotels in the area:
Sfendamos Wood Village: Located a short drive from the 3-5 Pigadia Ski Center, these chalets are surrounded by maple trees and stand at an altitude of 1300 meters, overlooking Mount Vermio. All the chalets have a kitchenette, a bedroom, and a seating area with a fireplace (wood is offered free of charge). The restaurant and snack bar are housed in the central chalet and offer local, homemade recipes by the fireplace.
Click here for more information and the latest prices.
Tips for Skiing Beginners
For skiing beginners in Greece, here are a few tips to make your experience enjoyable and safe.
Firstly, take advantage of ski lessons or group classes offered at the ski resorts. Professional instructors will help you learn the basics of skiing and provide guidance on proper technique and safety precautions.
Secondly, start with easy slopes suitable for beginners and gradually progress to more challenging runs as you gain confidence and skills. Avoid attempting advanced slopes before you are ready.
Thirdly, invest in appropriate ski gear, including well-fitting boots, helmets, and comfortable clothing. Dress in layers to adjust to changing weather conditions, and don't forget to stay hydrated and take breaks when needed to avoid fatigue.
Lastly, make sure to familiarize yourself with the rules and safety guidelines of the ski resort and always ski within your abilities.
With these tips in mind, skiing beginners can have a fantastic and safe experience exploring the slopes of Greece.
In conclusion, Greece may not be the first destination that comes to mind for skiing, but it offers a truly unique and captivating experience for winter sports enthusiasts.
From the towering peaks of Mount Olympus to the enchanting slopes of Kalavryta and hidden gems like Vasilitsa and Kaimaktsalan, there are plenty of options for skiing in Greece.
So, with its diverse range of landscapes, reliable snow conditions, and well-maintained ski centers, Greece is undoubtedly a delightful winter playground.
Furthermore, beyond the exhilarating skiing opportunities, you can immerse in the rich culture, explore ancient sites, indulge in local cuisine, and experience the warm hospitality of the Greek people.
Whether gliding down the slopes of renowned mountains or sipping hot chocolate by the fireplace in charming alpine towns, Greece offers a memorable winter getaway for all.
Are you skiing in Greece this winter?
Read more about Greece in Winter
Pin it! Best Places to Go Skiing in Greece
About my blog: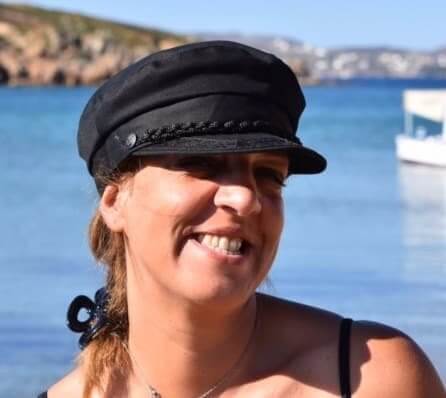 I moved to Crete in 2016. During these years, I learned much about the island.
In Crete, I juggle being a solo mom, hosting culinary tours, and writing for several travel media.
I've written for Greek Reporter, published travel guides about Greece, co-authored DK Eyewitness Top 10 Crete, and had more glasses of frappe than any regular person could ever handle.