I've often praised the Cretan cuisine and I've even crafted a Gastronomic tour of Chania that has been putting me in contact with tourists daily. I know for a fact that everyone loves Cretan food as well as Greek cuisine. So, here, I've put together a list of the best Greek cookbooks that have helped me learn and enjoy the Greek table.
---
Disclaimer: Posts include affiliate links to products or services. I might earn a commission if you make a purchase, at no extra cost to you.
---
Let's Start by Getting Ready for Crete!
RESOURCES TO BOOK YOUR TRIP:
Book your flight: I use Skyscanner to compare prices before booking a plane ticket.
Book your ferry: When ferries are more convenient than air travel, I use Ferryhopper.
Book your accommodation: I've tried many different platforms for accommodation, but none of them beats the advantages of Booking.com.
Book your car: The best way to find an affordable car to rent is to use a powerful search engine that compares all the rental companies in the market. I use Discover Cars.
Book your tours: Live unforgettable adventures and cultural experiences with Get Your Guide. For instance, you can Visit Elafonisi, discover Balos Beach, hike Samaria, or explore Knossos.
Don't forget travel insurance: Things can go wrong at times, but travel insurance will protect you against illness, injury, theft, and cancellations. I recommend Safety Wing for peace of mind.
A quick guide to the best hotels in Crete
Budget: So Young Hostel in Heraklio, Cocoon City Hostel in Chania, Matthias Hotel Apartments in Rethymnon, and Villa Galini in Agios Nikolaos.
Mid-range: Capsis Astoria Heraklion in Heraklion, Porto Antico in Chania, Archipelagos Hotel in Rethymnon, or Hotel Port 7 in Agios Nikolaos.
Luxury: Galaxy Iraklio Hotel in Heraklion, Hotel OFF in Chania, Avli Lounge in Rethymnon, or Minos Beach Art Hotel in Agios Nikolaos.
Check more: Where to stay in Crete.
Greek & Cretan Cookbooks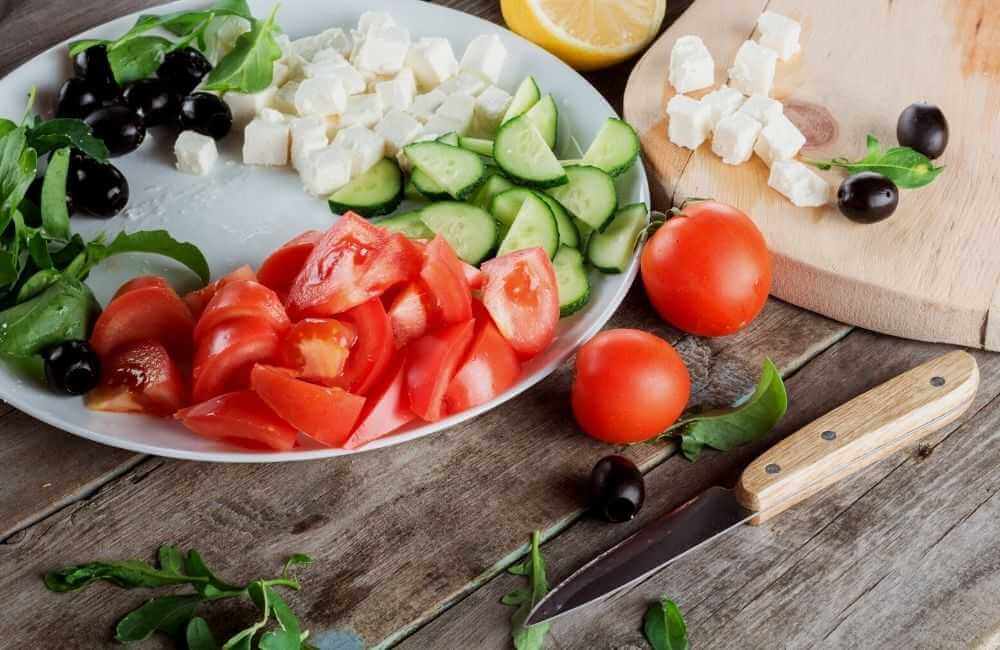 One of the best ways to experience the local culture of any place we visit is not only by trying their staple dishes but also by replicating them once we're back home… It's a great way for aromas and memories to remind us of our holidays. Here are my favorite cookbooks for Cretan and Greek recipes. This way, you'll be able to bring some Greece home when you cannot travel there.
The Best Books About the Cretan Diet
The following are some of the best cookbooks about the food and the culinary traditions of the Greek island of Crete.
They include general information about the local ingredients and cooking methods, as well as a variety of authentic recipes that have been prepared and served on the island of Crete for generations.
Best Cretan Cookbooks
In no particular order…
The Cretan Diet
120 Authentic Recipes For Long, Healthy, And Happy Living
(Aura Tatu and Mitch Fatouros, 2018)
The Cretan diet, considered one of the healthiest diets in the world, is genuinely reflected in the recipes and photos contained in this book: Wild greens, fruits, pulses, bread, rusks, little protein, and plenty of olive oil.
This book puts emphasis on the main philosophy of Cretan cuisine: seasonal ingredients, better if local, plenty of vegetables, generous amounts of olive oil!
Foods of Crete
Traditional Recipes From the Healthiest People in the World
(Koula Barydakis and Bill Bradley, 2006)
Traditional but also super easy to cook recipes with simple steps and ingredients which are even out of Crete.
This book proves that you can cook Cretan anywhere in the world. One of the best books out there to cook authentic dishes from the island, with very simple steps to replicate at home those flavors that you love from Crete.
Cooking With Cretans
Greek and Mediterranean Cuisine Done Right!
(Michael Tomadakis, Steven Tomadakis, et al., 2015)
This book collects a selection of Cretan and Mediterranean dishes that are easy to make with simple ingredients that you can find at home.
Healthy and simply cooking for every occasion, from the common everyday table to those special meals when you want to show off your skills as a cook. A great place from where to pitch ideas when you have no clue of what to prepare for dinner!
The Mediterranean Diet of Crete
Traditional Recipes from the Healthiest People in the World
(K. Baridakis, B. Bradley R.D., 2018)
Over a hundred traditional recipes from the island of Crete with an emphasis on authentic flavors and simplicity.
Since the diet on Crete is largely based on vegetables and fruit, there's also an incredible array of vegan and vegetarian dishes as well as detailed steps to cook some of the best dishes from the island.
Cretan Cuisine
Traditional Mediterranean Recipes For Eating Healthy and Living Well
(Aura Tatu, 2018)
Another book I enjoy using at home! It includes traditional recipes by a local mom and cooks from Maleme, in the region of Chania.
There are countless everyday options and creative ideas made with fresh ingredients that have become a staple of the local diet. Moreover, the book explains the most distinctive traits of the local customs and the culinary history of Crete. Super enjoyable and practical.
Cretan Cooking
(My most favorite recipe book for the best Cretan dishes!)
(Maria and Nikos Psilakis, 2003)
I cannot recommend this book enough! I've even included it in my Best Books About Crete list. This book was given to me as a present by my Cretan partner and it has been since then a must-go-to book when we want to try something we've never cooked before.
Extremely educative, it clearly explains the popular cooking methods and use of herbs, grains, pulses, meat, and olive oil. A real must in any kitchen. I simply love this book and it lives on my kitchen counter!
Greek Food Recipe Books
This list includes my favorite books to cook the best Greek dishes even when you cannot find all the authentic ingredients, they usually suggest creative replacements for those cheeses, greens, and herbs you can only find in Greece. Choose your favorite and give it a try!
Best Greek Cookbooks
In no particular order, these are some of the books I keep in my kitchen…
The Foods of the Greek Islands
Cooking and Culture at the Crossroads of the Mediterranean
(Aglaia Kremezi, 2018)
According to Newsweek, this is "a real working guide to preparing the traditional dishes found all over Greece". And that description simply sold it to me!
If you love the tastes of Greece, this is a book to consider. It includes stories and the recipes that the author collected from local housewives, fishermen, bakers, and farmers. Dishes passed from generation to generation by word of mouth coming from islands such as Crete, Kithira, Santorini, Chios, Crete, Skopelos, Kos, and more!
The Olive and the Caper
Adventures in Greek Cooking
(Susanna Hoffman, 2004)
From the Back Cover: "The Olive and the Caper is all things Greek: fall-off-the-bone lamb shanks seasoned with garlic, thyme, cinnamon, and coriander (…) Inspired by the passionate cooks, bakers, fishermen, and housewives the author befriended over thirty years of extended stays in Greece, Susanna Hoffman presents more than 250 recipes based on the original and still best Mediterranean diet".
A book that's full of great ideas and fun, entertaining stories of Greek wanderlust! LOVE-IT!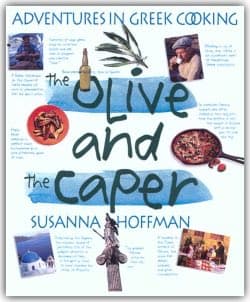 Ikaria
(One of the Best Greek Cookbooks Ever Published!)
Lessons on Food, Life, and Longevity from the Greek Island Where People Forget to Die: A Cookbook
(Diane Kochilas, 2014)
Can't write a Greek Recipe Book Guide and live Diane Kochilas out of it. Her books have inspired dozens of housewives and professional cooks alike, and have put a new label of freshness and creativity to Greek cuisine, boosting its revival all over the world.
With Ikaria, she combines recipes and travel stories introducing the food-as-life philosophy of this Greek island, known as the place where people forget to die.
The book includes stunning photos from the island and unique stories from the islanders.
The Complete Book of Greek Cooking
Explore The Classic Mediterranean Cuisine
(Rena Salaman, Jan Cutler, 2017)
The book features beautiful pictures and easy, delicious, step-by-step recipes from the most authentic tradition of Greek gastronomy.
Another go-to when it comes to preparing the tastiest ideas at the core of the local cuisine. The Complete Book of Greek Cooking also features interesting insights into the life and the culture of Greece.
My Big Fat Greek Cookbook
Classic Mediterranean Soul Food Recipes
(Christos Sourligas, Evdokia Antginas, 2019)
This small book collects the best-known star dishes of Greek cuisine. Basic preparations such as tzatziki, moussaka, rizogalo (rice pudding) avgolemono sauce, keftedes (meatballs), lentils, spanakopita (spinach pie), and many other staples that you should know how to cook if you are passionate about preparing Greek dishes at home.
Sixty-five pages of Greek recipes easy to cook anywhere in the world!
My Greek Table
Authentic Flavors and Modern Home Cooking from My Kitchen to Yours
(Diane Kochilas, 2018)
From the editor: "Celebrity chef and award-winning cookbook author Diane Kochilas presents a companion to her Public Television cooking-travel series with this lavishly photographed volume of classic and contemporary cuisine in My Greek Table: Authentic Flavors and Modern Home Cooking from My Kitchen to Yours".
Recipes include a variety of appetizers, main courses, and desserts, all of them easy to prepare and with fool-proof instructions.
The Food and Wine of Greece
More Than 300 Classic and Modern Dishes from the Mainland and Islands of Greece
(Diane Kochilas, Vassilis Stenos, 1990)
Easy instructions with ingredients available in any corner of the world, this is an incredible collection of traditional Greek recipes and countless ways to variate and give an extra twist to any dish.
Although it has no pictures, this is one of the best Greekcookbooks around, it's another staple Greek food book by the well-known chef Diane Kochilas.
Discover everything about Cretan food…
>> Check this organized food tour in Chania <<
---
Have you tried cooking any Greek dish at home?
Let me know in the comments below!
---
Read more:
Amazing things to do in Heraklion
The Most Amazing Beaches in Sifnos Island
Mouthwatering Street Food you Need to Taste in Chania, Crete
Gorgeous Villages in Crete You Should Visit
Where to Stay in Rethymnon: Great Accommodation Guide Unforgettable Day Trip to the Lasithi Plateau, Crete
Pin This Guide to the Best Greek Cookbooks and Shine in the Kitchen!
About the author of this blog: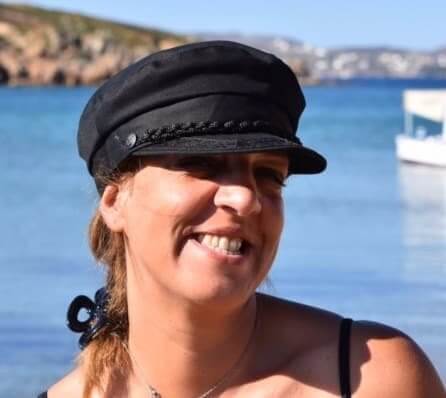 Gabi has been living in Crete for the last five years. On the island, she juggles being a solo mom, hosting culinary tours in summer, translating, and freelance writing.
She's written for Greek Reporter, published several travel guides about Greece, and had more glasses of frappe than any regular person would be able to handle.
---
You might also want to read:
---