With crystal-clear waters, sandy beaches, and stunning landscapes, Sifnos has something to offer for everyone, including kids. However, planning a family vacation can be challenging, especially when it comes to finding activities that are both enjoyable and suitable for kids. That's why I've put together a guide to the best things to do in Sifnos with kids. From beaches and water activities to hiking and cultural sites, this guide will help you plan a memorable and fun-filled vacation in Sifnos.
---
Disclaimer: Posts include affiliate links to products or services. I might earn a commission if you make a purchase at no extra cost.
---
Sifnos with Kids: Top Things to Do
General Things to Know about Sifnos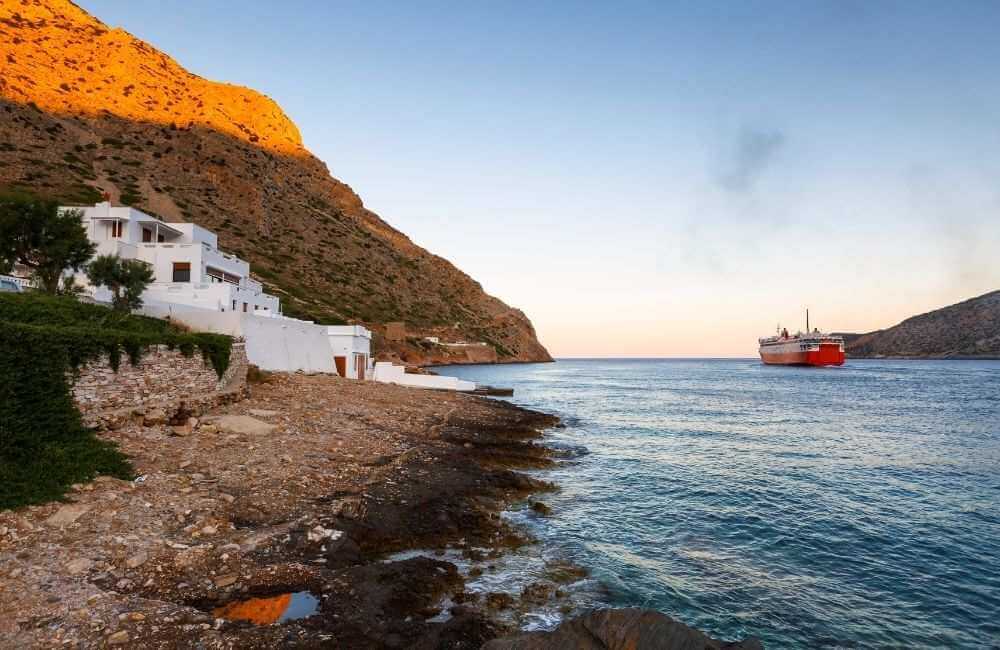 Sifnos is a wonderful Greek island home to a variety of impressive beaches, some of them quite popular for the pristine waters and golden sand, the island is a perfect family vacation destination with interesting attractions for everyone.
Sifnos boasts a mild climate most of the year, with long, dry summers, and pleasant temperatures from the end of May until the end of September.
You will find the highest temperatures during July and August, which are also the months with more tourists. Winters are short and not as cold as on the mainland, although it can be rainy and sometimes windy as well.
Map of Sifnos, Greece
What to Do in Sifnos with Kids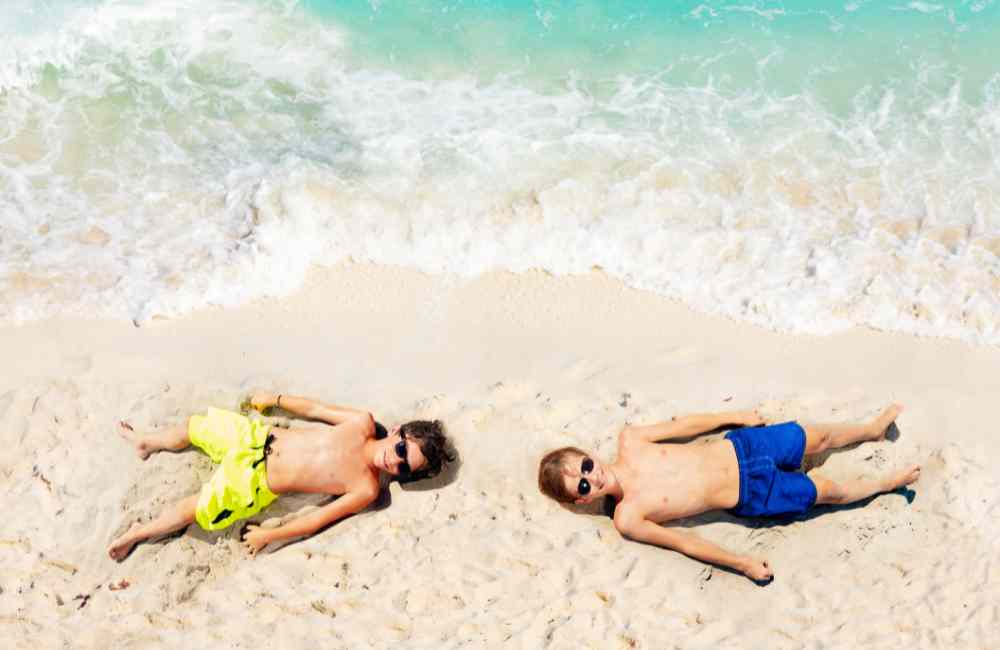 Perfect for families in search of sun-drenched holidays, filled with endless days by the sea, delicious Greek food, and fantastic outdoor activities, the island has a lot to offer.
Let's see what are the best things to do in Sifnos for the whole family!
Beach and Water Activities
If you're planning a family vacation to Sifnos, you won't want to miss out on the island's beautiful beaches. So, let's explore some of the best water activities to do with kids.
Visit Vathi Beach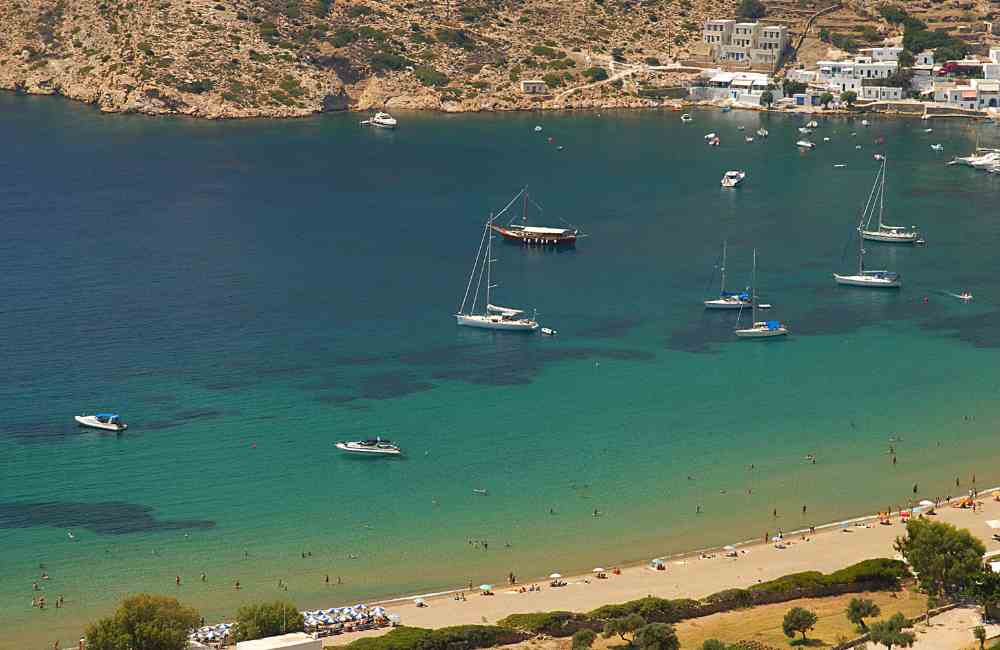 This stunning beach is perfect for families with young children. The water is shallow and calm, and there are plenty of shady spots to avoid the scorching sun and relax.
The place is ideal for families with kids as the sea is safe, protected from winds and waves, and very shallow.
On the beach, there are tavernas and traditional restaurants where it's possible to have a great Sifnian meal any hour of the day.
Try Snorkeling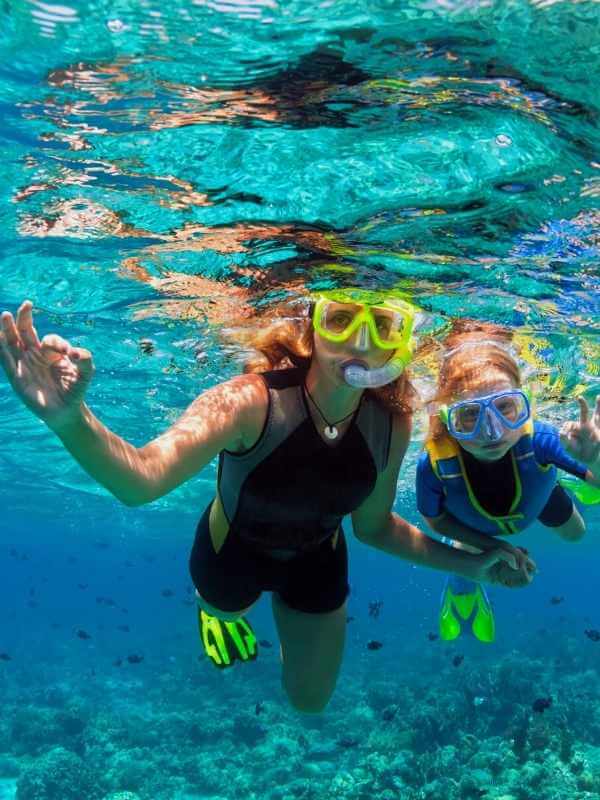 Sifnos has some of the clearest waters in Greece, making it a great place to go snorkeling.
Kids will love spotting colorful fish and other marine life. Moreover, there are several kid-friendly beaches in Sifnos for you to pick from, shallow and sheltered bays where they can swim safely while you relax.
Kayak or Paddleboard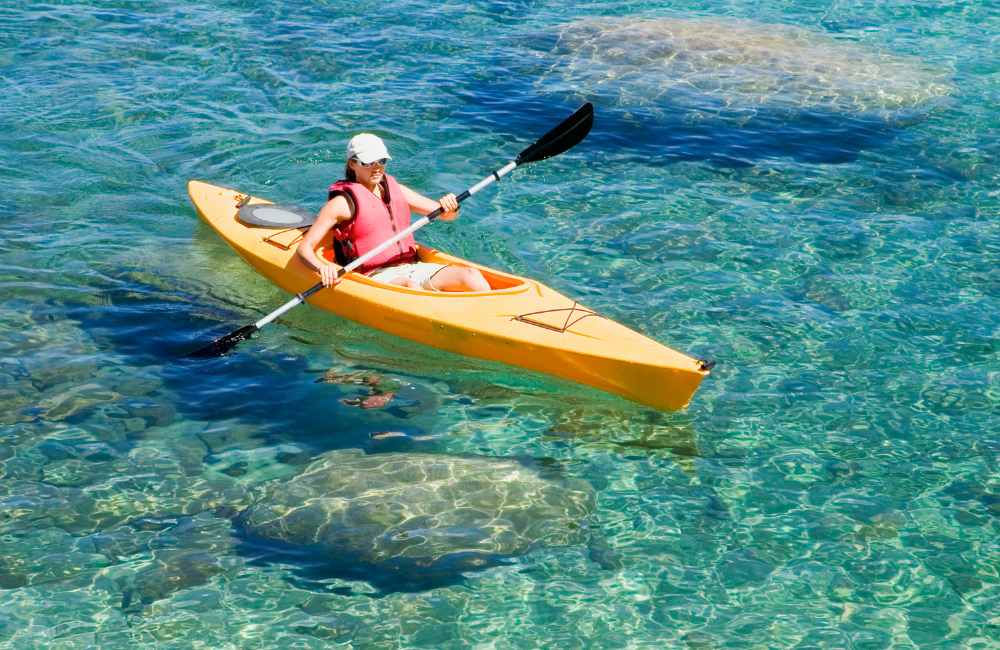 Rent a kayak or paddleboard and explore the island's beaches and coastline. Kids will love paddling around and discovering hidden coves and beaches.
For instance, you can check out sea activities offered in Vathi Beach by Bola, including SUP, canoe and double canoe, kayak, and sea bikes. They also offer extra equipment including GoPro rental and sunset SUP. More details on their website.
Take a Boat Tour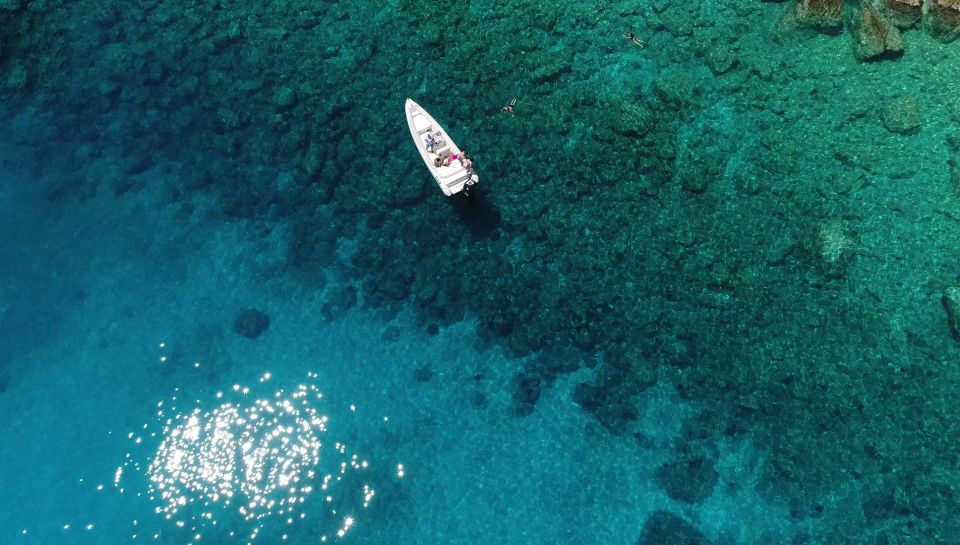 Book a boat tour and explore the island's stunning coastline. Many tours include stops for swimming and snorkeling. These are some of the tours offered on the island for families:
Build Sandcastles
Sifnos has plenty of beautiful sandy beaches, perfect for building sandcastles and playing in the sand. Head to sandy beaches such as Platis Gialos, Kamares, or Vathi to enjoy this fun entertainment with the kids.
Visit Platis Gialos Beach
This popular beach has plenty of amenities, including sun loungers, umbrellas, and beach bars. It's a great place to spend a day with the family.
Go Scuba Diving
Older kids can try scuba diving and explore the underwater world of Sifnos. Several dive centers on the island offer courses and guided dives.
Sifnos Diving Center, for instance, offers different courses for children, including the following ones:
Bubble Maker: A great way to introduce children to scuba diving in a pool in less than six feet of water.
Seal Team: The PADI Seal Team is for young divers who are looking for action-packed fun in a pool by doing exciting scuba AquaMissions.
Many more courses for adults as well.
Enjoy a Sunset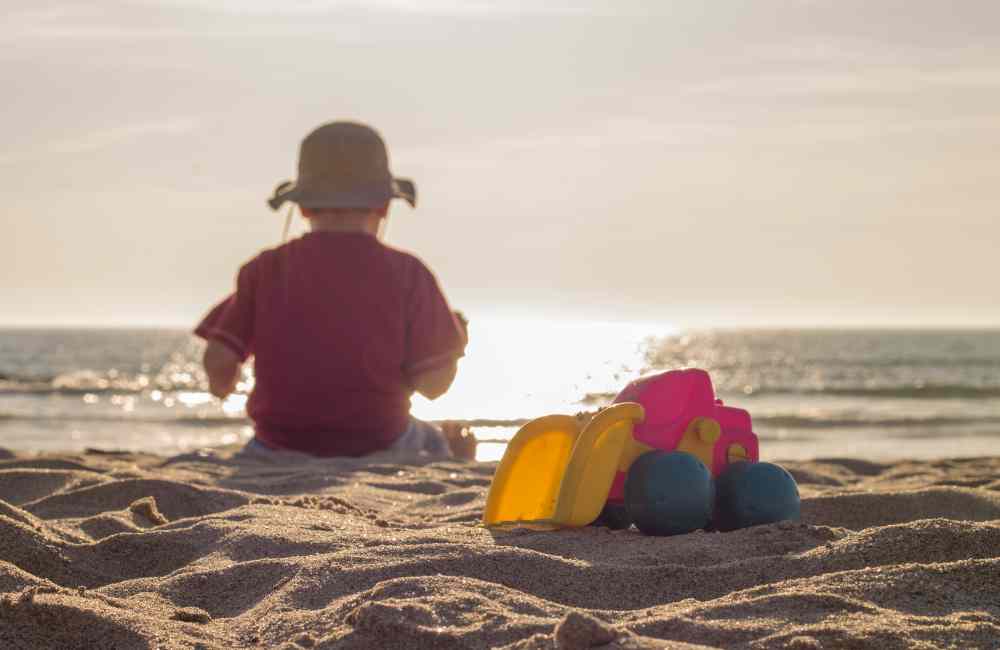 Watch the sunset from one of Sifnos' beautiful beaches. It's a magical experience that the whole family will love.
Carry your photo camera, and snap plenty of memories while soaking in the views!
Hiking and Nature Exploration
Sifnos offers plenty of opportunities for hiking and nature exploration adventures with kids. Let's see some of the most beautiful nature paths and outdoor activities:
Hike to Profitis Ilias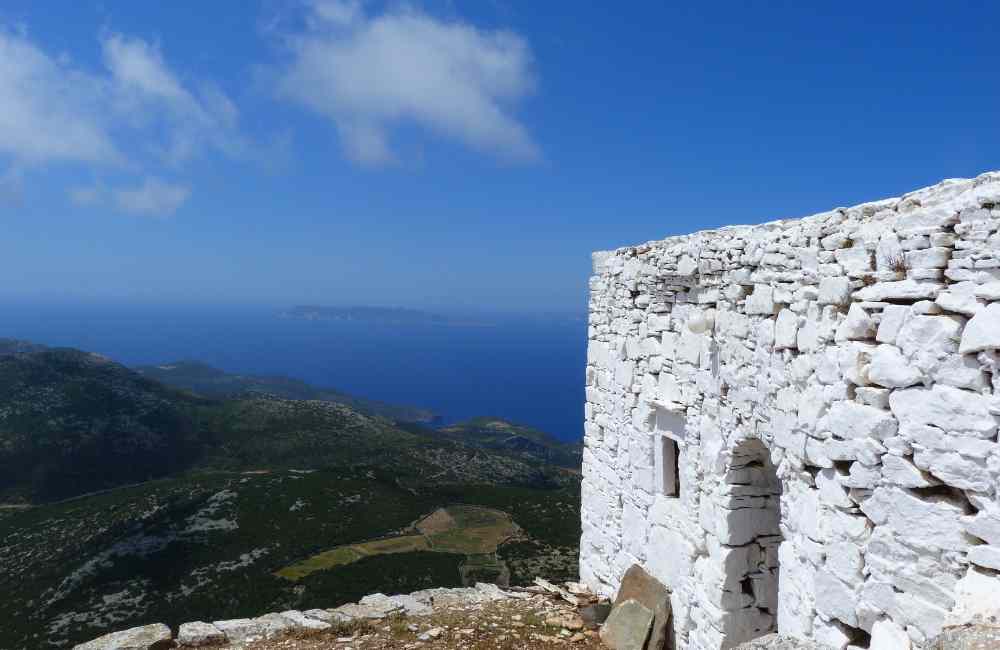 This is the highest peak on the island and offers panoramic views of Sifnos. The hike is relatively easy and suitable for families with kids and the views from the top are fantastic.
The trail covers a 6.5-km out-and-back trail that begins near Apollonia, Sifnos' capital. The route is moderately challenging that takes from 2 to 3 hours and since it's a popular trail, you won't be alone during the activity. As usual, there's more info on the hiking site All Trails.
Walk the Kastro Trail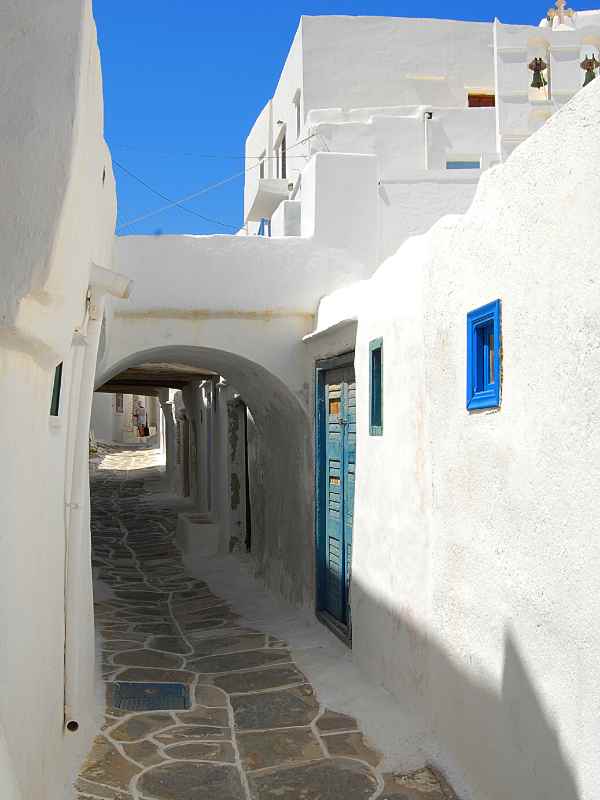 This trail takes you through the narrow streets of Kastro, the ancient village that was once the capital of the island. Kids will love exploring the village and seeing the defensive walls and narrow passages, the old houses, and the small churches.
Hike to Fikiada Beach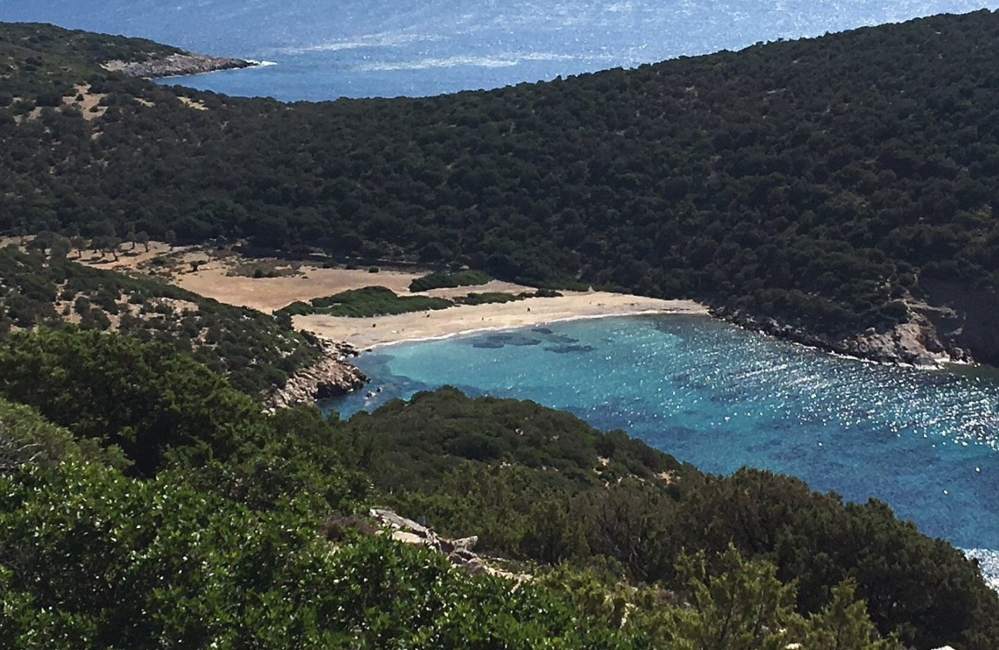 This secluded, long beach can only be reached on foot, and the hike is relatively easy to enjoy with your kids. Fikiada is located in the south of Sifnos.
Once there, you can check out the small chapel of Agios Giorgos Kontos, located on the edge of the bay. Don't forget to check out the quiet, small sandy bay located between the little church and the main beach of Fikiada.
Horse-Riding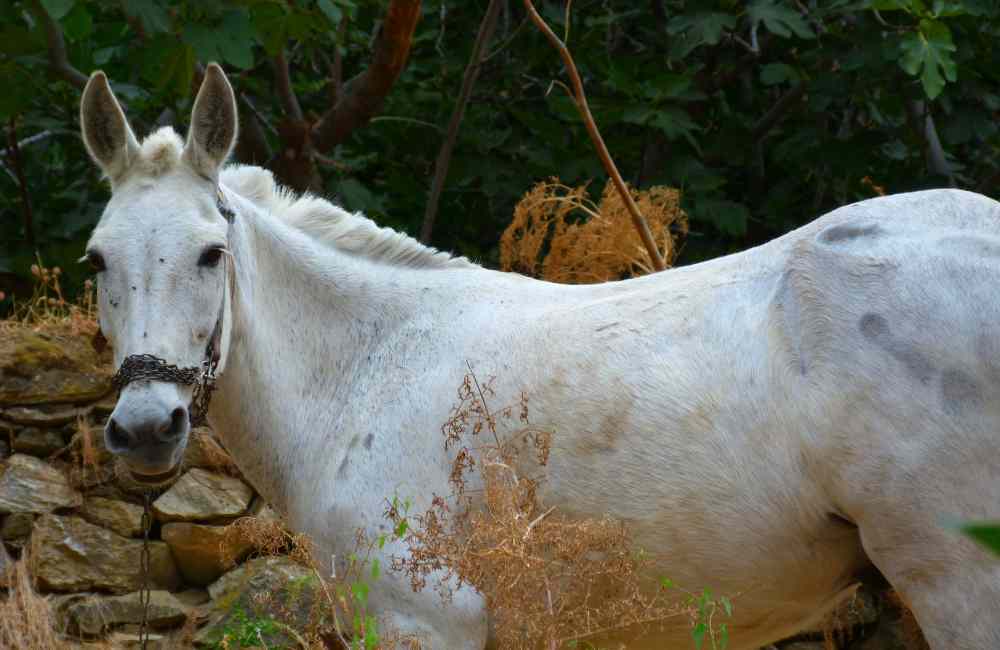 Sifnos has several stables that offer horseback riding tours. Kids will love riding through the countryside and seeing the island's natural beauty.
The island is home to magnificent trails that can also be explored by horse. For instance, you can check out all the activities offered by Sifnos Horseriding, a family-run company that offers both a new way to explore the island and the continuation of a centuries-long tradition in Sifnos.
Cycling in Sifnos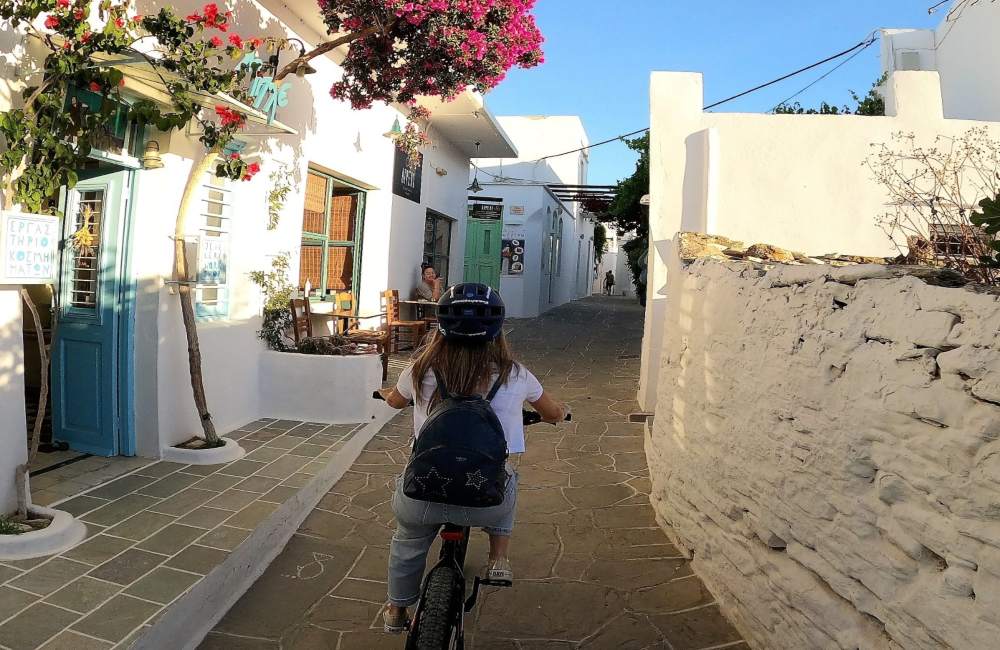 Sifnos has several cycling routes that are suitable for families with kids. Kids will love cycling through the rural parts of the island and seeing the island's traditional villages and beautiful landscapes.
You can spend a whole day riding on stone-paved villages, checking out dozens of windmills and small whitewashed churches, reaching amazing beaches, and making a stop to swim.
You can follow off-road trails with an e-Bike to discover the best sights on the island. Check out Sifnos Bike Experience to learn more about bike rental on the island for the family.
Historical and Cultural Sites to Visit in Sifnos with Kids
The island offers a lot to do for the whole family, visiting historical sites is a great way for families to spend time together and learn about old traditions. After all, every trip is a learning experience!
Visit the Monastery of Chrysopigi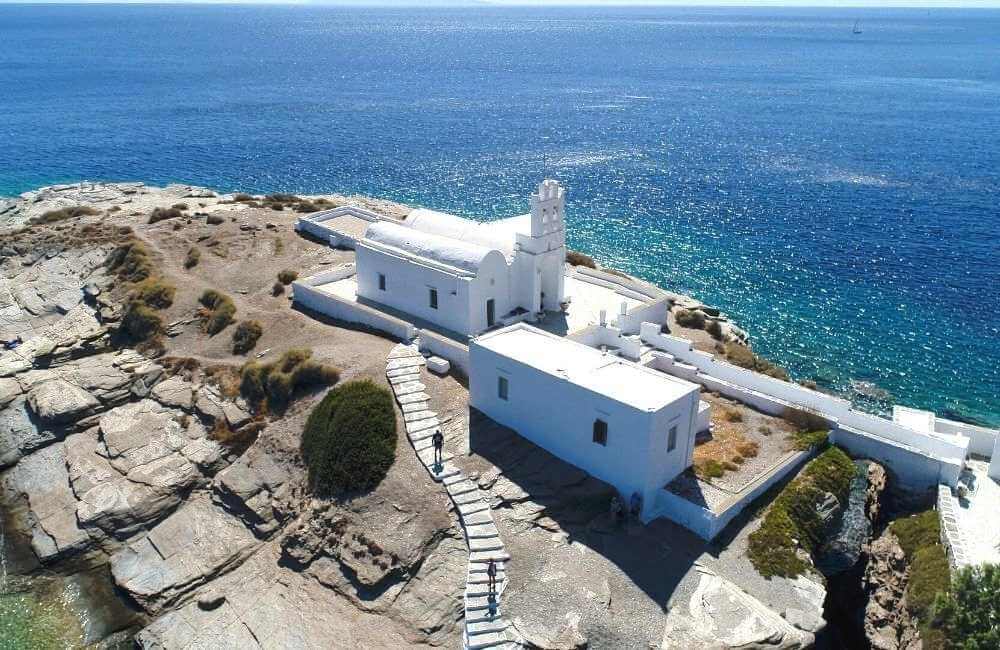 This beautiful monastery is located on a rocky peninsula and offers stunning views of the sea. Kids will love exploring the monastery and learning about its history.
Explore the Ancient Mines
Sifnos was once known for its gold and silver mining industry, although there were also marble, iron, and copper mines. Today, there are several abandoned mines on the island that you can explore, some of them are flooded and are located at sea level.
Kids will love learning about the island's history and seeing the old mining equipment.
Visit the Acropolis of Agios Andreas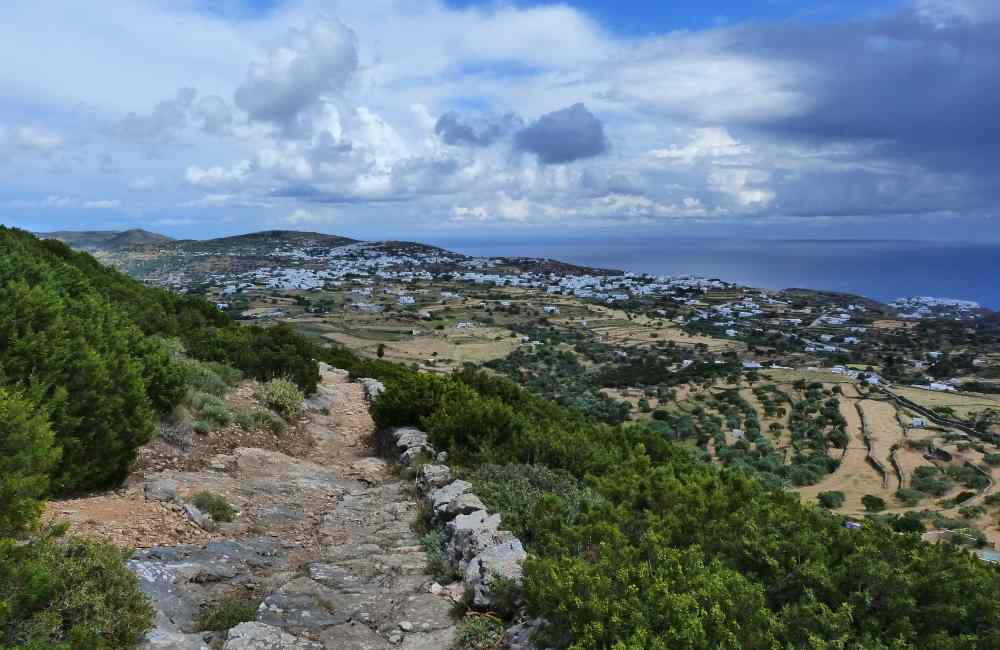 This ancient site is located on a hilltop and offers stunning, panoramic sea views. Kids will love exploring the ruins and imagining what life was like in ancient times.
Visit the Museums
The Folklore Museum of Sifnos is located in the village of Apollonia and offers a glimpse into the island's traditional way of life. Kids will love seeing old tools, folk costumes, and household items. Moreover, the island's most important craft, pottery, has a special place in the museum which offers a great insight into one of the most characteristic crafts of Sifnos.
The Archaeological Museum in Kastro is a great place to learn about the island's ancient history. Kids will love seeing the ancient artifacts and learning about the island's rich history.
Food and Dining in Sifnos for the Family
Generally, Greece is known for its delicious and healthy cuisine. But every region has its distinctive dishes. Let's see some of the best food experiences you can have with your kids.
Try the Local Specialties
Sifnos is famous for its traditional dishes, such as chickpea balls, meat pies, and mastelo, lamb cooked in a clay pot. Encourage your kids to try these local specialties, as they are sure to be a hit.
Look for Family-Friendly Restaurants and Visit the Local Markets
Many restaurants in Sifnos are family-friendly and offer kids' menus or special dishes for children. Look for restaurants with outdoor seating or a relaxed atmosphere where your kids can run around and play.
Moreover, Sifnos has several local markets where you can buy fresh produce, cheese, and other local products. Take your kids to the market and let them pick out some fruits or snacks for the day.
Having a Picnic
Sifnos has many beautiful beaches and green spaces where you can have a picnic with your family.
Pack some sandwiches made with local Feta cheese, seasonal fruit (watermelon and grapes are two local favorites), and other snacks, including spinach pies or revithokeftedes, and enjoy a relaxing day in the sun.
Take a Cooking Class
Many restaurants and cooking schools offer cooking classes for kids in Sifnos, an island where gastronomy has always played an important role.
This is a great way to introduce your kids to the local cuisine and learn some new recipes together including delicious cakes, local cookies, and pies
Try the Street Food
Sifnos has several street food vendors selling delicious snacks such as souvlaki, gyros, and crepes. Take your kids to try some of these local treats and enjoy a casual meal on the go.
Best Areas to Stay in Sifnos for a Family Holiday
Sifnos is a fantastic destination for a family holiday with many fun and educational activities. So, let's see some of the best areas to stay in Sifnos while on a family holiday.
Kamares
Kamares is the main port of Sifnos and a popular area to stay. It has a long sandy beach, several restaurants, and shops. Furthermore, it is a great base to explore the island, as it has good transport links to other areas.
Platis Gialos
Platis Gialos (or also Platys Gialos) is a beautiful beach area with crystal-clear waters and golden sand. It has several family-friendly hotels, restaurants, and shops. So, Platis Gialos is a great place to stay if you want to relax and enjoy the beach.
Apollonia
Apollonia is the capital of Sifnos and a charming village with narrow streets, white-washed houses, and several restaurants and shops. It has a lively atmosphere and is a great area to stay if you want to experience the local culture.
Faros
Faros is a small fishing village with a beautiful beach and several taverns. It has a relaxed ambiance and is a great area to stay if you want to escape the crowds and enjoy some peace.
Vathi
Vathi is a secluded bay with a beautiful beach and pristine waters. Still, it has several family-friendly hotels and other amenities, making it perfect for those seeking a relaxing family vacation in nature.
Best Kid-Friendly Hotels in Sifnos
There are several excellent hotels and vacation homes scattered all over the island, these are some of the best hotels we recommend for a family vacation:
Iliofegaro: Located 300 meters from the beach of Kamares, these Cycladic-style rooms come with sea or mountain views and include a TV, an electric kettle, a coffee maker, and a mini fridge. The apartments are close to a mini market, as well as cafes and traditional taverns. There is also on-site parking available.
BOOK NOW
Aerides Boutique Rooms: A fantastic family-friendly complete in Vathi, with gorgeous sea views, and direct access to the sandy beach. The place also offers a shared kitchen for guests.
BOOK NOW
Petali Village Hotel: The ideal place for families in Apollonia, this hotel is only steps from Apollonia's center. It features a pool and a poolside snack bar while the charming rooms have panoramic views over the sea and the surrounding countryside. A pastry shop and an outdoor dining terrace are also available. The nearest beach is only 5 km from the hotel.
BOOK NOW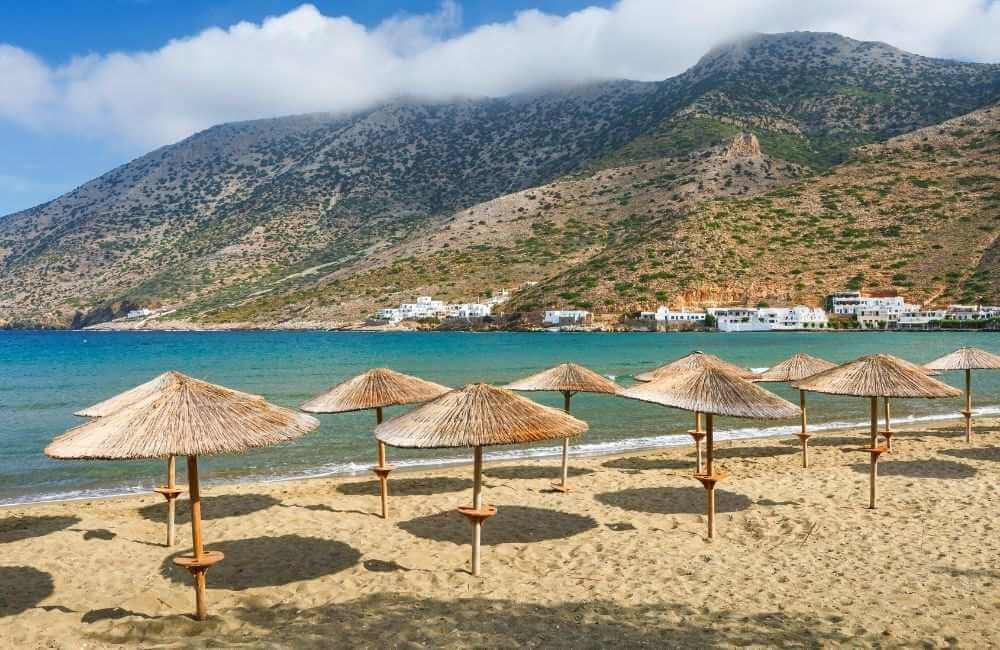 Sifnos is undoubtedly a fantastic destination for a family vacation, with plenty of activities and attractions to keep kids entertained.
From exploring the island's beautiful beaches and picturesque villages to trying delicious local cuisine and learning about the island's history and culture, there is something for all ages.
So, what are you waiting for? Pack your bags and get ready for the ultimate family vacation in Sifnos!
Pin This Guide to the Best Things to Do in Sifnos with Your Kids!
---
You might also want to read about these other kid-friendly destinations in Greece:
---
About my blog: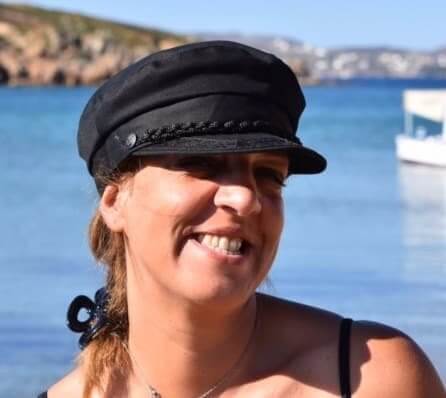 I moved to Crete in 2016. During these years, I learned much about the island.
In Crete, I juggle being a solo mom, hosting culinary tours, and writing for several travel blogs.
I've written for Greek Reporter, published travel guides about Greece, and had more glasses of frappe than any regular person could ever handle.