Not every culinary experience in Greece is about tzatziki and tavernas. Fine dining has a place too, and it's one of a kind. While wandering the tiny alleys of Chania's Old Town you are bound to find many hidden gems, Serenissima Restaurant is one of them. Surrounded by the austere Venetian walls of the dining room space, at Serenissima's table, you will discover one of the best restaurants in Chania, if not the best.
Where to eat in Chania Old Town
Serenissima Restaurant in Chania's Old Town
The elegant atmosphere of the restaurant perfectly matches the culinary proposals of the ever-changing menu. The set is a unique Venetian building, the 6th oldest in Chania's Old Town, which dates back to approximately 1550.
In this environment, Serenissima proposes a cutting edge menu made of fresh Cretan ingredients and a touch of French expertise.
The Restaurant
A dedicated kitchen staff, led by the young Cretan chef Iosif Petrof, create exciting and sophisticated dining experiences.
It's been two years since my first dinner at Serenissima Restaurant and I can't wait to meet Chef Petrof again. Every explosive flavor I tasted during that evening is still fresh in my memory. And each of the unexpected ingredients.
Tête-à-tête: Chef Iosif Petrof
He receives me with the cordiality and simplicity you would expect from an old-time friend, and not from a creative genius. Or maybe yes.
Maybe it's in the simplest things in life where magic can be found. And this man knows how to work wonders
Chef Iosif Petrof's background includes three years of culinary arts studies at the Institut Paul Bocuse in Lyon, France and over 10 years working in some of the most important kitchens of France and London.
He came back to his island about five years ago. In Chania, he teaches a young generation of future local chefs but also enjoys creating a plethora of surprising dishes.
"First of all, we cook for us", he says, "because what we don't want is to get bored". Behind this statement rests a menu that changes completely every 20 days.
When it comes to the Cretan culinary traditions, Iosif cannot help comparing it to French cuisine: "The way of life in Crete is simple. Likewise, to a simple way of life corresponds more simple food."
However, and above all, one could describe his cuisine as anything but simple.
Chef Petrof manages to combine plain local products. And he turns them into spectacular works of art, not only from the visual viewpoint.
Inside Serenissima's Kitchen
Chef Petrof works with an even younger team of fewer than 10 people – six of them in the kitchen. Every day, they bring Chania's proposal of restaurants to a whole new level.
At the restaurant, it is possible to dine à la carte. On the other hand, it is also possible to choose one of the creative menus: Terre, Mer, and Vegan (earth, sea, and vegan).
The menu includes a selection of local and international cheese as well. The wine list has been handpicked by their certified sommelier to partner with every dish, and it includes some of the best local Cretan wines as well as Greek and international labels.
Their sommelier will guide you to choose the perfect wine to combine with your dinner.
And you? Have you ever been to Chania? And if so, have you tried this experience? Let me know in the comments below! Also, you can click here to book this fine dining experience in Chania.
Are you into cooking?
>>Check the best Greek cookbooks<<
---
Would you like to try this place?
Let me know in the comments below!
---
Travel Plans for Crete?
More Resources to Organize Your Trip!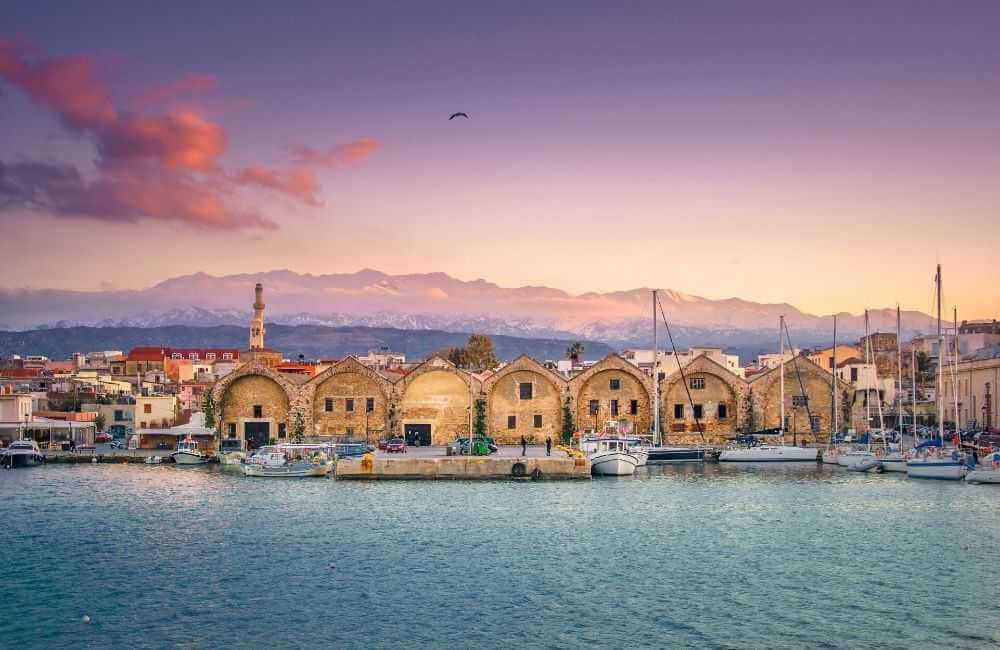 Start by heading right to my tips to plan a trip to Crete for in-depth details you need to know about Greece. You can also check my post to better know what to pack for a trip to the island or read this info to visit Crete with children!
Get in touch if you need extra help to plan your trip. If you want to tour West Crete, check my guide. Want more? Join my Private Facebook Group to connect with like-minded travelers who love Crete as much as you do!
Make Sure You've Got Everything For a Hassle-Free Vacation!
I never move around the islands without my Osprey backpack, a sturdy but light travel partner that I love. For short trips, I carry this little crossbody bag. If I drive, I pack my Nikon D7200 and a good travel guide: Lonely Planet's Best of Greece & the Greek Islands.
When it comes to plane tickets, compare prices with a powerful search engine. However, nothing beats traveling by sea in Greece. With Ferry Hopper, you can book in advance at the lowest price.
For accommodation, I use Booking.com. Traveling to remote places is easier with Discover Cars. Other times, I join organized tours with GetYourGuide, which features anything from cooking lessons to airport transfer!
Are you coming to Crete any time soon?
Get in touch and let me know!