If you plan to visit Crete or Greece in general, there are a few rules you need to follow before and during your holidays. This article presents all the information you need about traveling to Crete during Covid. The entry requirements to Greece and the general rules you have to follow while in Greece. You will also get to know where you can take a PCR test in Athens and Crete.
>>Find a Covid Test Center in Crete<<
This article was last updated on March 27th, 2022
Currently (2023 season) travel has resumed normally and there's no sanitary emergency on the island.
---
Disclaimer: Posts include affiliate links to products or services. I might earn a commission if you make a purchase.
---
Disclaimer
This guide is not an official source of information. The rules and regulations may change on a daily basis. Hence, it is wise to always check the info from the official website for entering Greece here. This article tries to put everything together so that you have all the information organized in one place.
Entry Requirements to Greece
In short, apart from your passport, you need two other documents relating to Covid. The first is a QR code generated by a form you submit online. To be specific, you should fill in the Passenger Locator Form (PLF) until midnight of the day before your arrival.
To give an example, if your plane lands in Greece at 13:00 on the 15th of August, you need to submit the PLF by 23:59 on the 14th of August. The form will ask for personal details such as your phone number and the full address of your hotel in Greece. You can submit the form either through the official website travel.gov.gr or through the Visit Greece app.
If you plan to stay in more than one location in Greece, you can include just the first destination in the form. Once you have submitted the form, you will receive an email with the QR code. You will show that code on your phone (or printed) during the border control check.
For any questions about the PLF, you can call the PLF hotline at +30-215-560-5151, available 9 am-5 pm from Monday to Friday.
The second document that you need to have with you to enter Greece proves your health status. Under this category, there is no single document that you should bring with you. The border control can accept any of the following five:
A negative PCR test result. You should take this test in a laboratory up to 72 hours before you enter Greece.
A negative rapid test result took up to 48 hours before your arrival.
A vaccination certificate issued by an official entity. Greece accepts most vaccines approved by the World Health Organization, from Pfizer to Sputnik, among others. The certificate language can be English, German, French, Italian, Spanish, or Russian.
A certificate of recovery from Covid. This document should come from a public authority or a certified laboratory. You can use this certificate if you first tested positive on Covid at least 30 days before entering Greece. Remember that this document is valid for up to 180 days.
Proof that you tested positive for Covid between 30 and 180 days before your arrival in Greece. This scenario is the same case as above, but this time you need a positive PRC or Rapid test instead of the certificate of recovery.
All Your Questions About Entering Greece During Coronavirus Times
Check down here for the answer to all the questions you might have before booking your next holiday to Crete (and the rest of Greece)!
What if my PCR Test Result is Older than 72 Hours?
The Greek authorities are clear: if you do not have any of the above-required documents, including the PLF form, you cannot enter Greece. The border control will deny entrance and ask you to return with these documents.
Which countries can I travel from if I want to spend my holidays in Greece?
The above rules apply to citizens above 12 years old in the EU, Schengen Area, USA, UK, Australia, Canada, Israel, Japan, and UAE, to name a few.
Travelers from these countries will not face quarantine, in contrast with citizens from countries heavily affected by the pandemic, such as India. You can see the entire list of countries from where Greece accepts tourists here:
Australia 🇦🇺
North Macedonia 🇲🇰
The United Arab Emirates 🇦🇪
The United States 🇺🇸
The United Kingdom 🇬🇧
Israel 🇮🇱
Canada 🇨🇦
New Zealand 🇳🇿
South Korea 🇰🇷
Qatar 🇶🇦
China 🇨🇳
Kuwait 🇰🇼
Ukraine 🇺🇦
Rwanda 🇷🇼
Russia 🇷🇺
Saudi Arabia 🇸🇦
Serbia 🇷🇸
Singapore 🇸🇬
Thailand 🇹🇭
Bosnia and Herzegovina 🇧🇦
Montenegro 🇲🇪
Bahrain 🇧🇭
Belarus 🇧🇾
Albania 🇦🇱
Japan 🇯🇵
Lebanon 🇱🇧
Armenia 🇦🇲
Azerbaijan 🇦🇿
Jordan 🇯🇴
Moldova 🇲🇩
Brunei 🇧🇳
If your country of residence is not on the above list, you can enter Greece only for essential travel. In that case, the reason for your visit could be business, health, family, or personal.
Children below 12 years do not need any documents other than their ID. The only requirement is that their guardian has all the necessary papers as described above.
Can I Travel to Greece by Land?
Yes, Greece has open borders with Albania, North Macedonia, and Bulgaria. If you travel via these countries, you would still need to bring the required documents.
The entry points are Promachonas, Ormenio, Evzonoi, Nymfaia, Niki, Doirani, Kristallopigi, Kipi, Kakavia, Kastanies, and Exohi. They are all open 24 hours a day, 7 days a week.
Will I Be Tested on the Borders?
Yes, you may get tested on the borders. Regardless of the country of origin, the border control force may select you for random test sampling. In other words, you will take a Rapid test and then wait for the result. If the test result is negative, they allow you entrance to Greece.
If tested positive, you have two options. You can choose to return to your country of origin if you are near the border. Alternatively, you can decide to spend up to 10 days in quarantine at a seclusion hotel in Greece.
In the latter scenario, the Greek state covers all accommodation expenses.
In any case, the ferry operators and airlines would ask you to complete a health status questionnaire before you enter Greece. You may also have to perform a temperature check.
Lastly, you have to wear a mask during your entire trip if you use public transport.
Will I Need to Quarantine when Arriving in Greece?
If you attempt to enter Greece without the required documents, you may need to quarantine for ten days in Greece, in a hotel paid for by the Greek government.
In addition, regardless of your documentation, you are subject to random testing. If your Rapid test result upon arrival is positive, you may also face quarantine.
What Rules Should I Follow while in Greece?
The short answer is you follow the rules that apply to every Greek citizen.
However, the rules can change on an ongoing basis. You can always check here for the latest updates.
Do I Need to Wear a Mask in Greece?
Yes, at the time of writing (7th of July, 2021), you are required by law to wear a mask if you are indoors or in a crowded outdoor space, such as a marketplace or a bus station.
However, this information changes constantly according to the daily cases registered nationwide. The most updated information can be found on the Protocol for Arrivals Greece website.
The Greek state also recommends but does not require wearing a mask in all outdoor spaces.
How Many People Can Share a Vehicle?
Unless members of the same family, up to three passengers can share the same taxi or other private vehicles with up to seven seats. The number increases to four if the vehicle has up to 9 sears.
Are There Any Rules if I Want to Visit a Greek Island?
Yes. Although you can freely travel around mainland Greece and the islands Lefkada, and Salamina, getting to the rest of the islands, including Crete, requires further action.
In detail, before you board the ship to a Greek island, you need to have one of the following:
proof of vaccination. There should be at least 14 days since your last vaccine dose
negative PCR test result. You should take this test up to 72 hours before arrival on the island. There are laboratories in every city and island around Greece. More on that later,
negative Rapid test result. You should take the test up to 48 hours before travel,
and the self-test declaration that you should sign less than 24 hours before entry to the island. You can buy a self-test from any pharmacy or health center. The cost would be anything between 5 and 12 euros,
proof that you recovered from Covid anytime between two and nine months before entering a Greek island.
Is There a Curfew in Greece?
No, as of Monday 28th of March (2022), there is no longer a curfew in place. Restaurants and bars can stay open 24/7.
Can I Visit Organized Beaches in Greece?
Yes, you can. There are a few guidelines that beach bars follow to remain open. For example, umbrellas and sitting areas need to allow plenty of space between visitors. As a result, although recommended, you do not need to wear a mask while you are on an organized beach.
The Greek government has imposed new measures regarding Covid-19 that will take effect from 16 July until 31 August 2021.
Every beach bar owner will decide if their facilities will host only vaccinated guests or not. Hence, each bar will be either "pure" (welcomes only vaccinated guests) or "mixed" (welcomes everyone). In any case, they have to ask you for your vaccination certificate or your recent PCR/Rapid test.
Are Bars and Restaurants Open in Greece?
Yes, they are. If the sitting area is indoors, you have to wear a mask before and after your meal. On the other hand, if you sit outdoors, you do not need to wear a mask. However, remember to always bring your own mask with you as you may need it to enter a building in cases such as going to the restroom.
Covid-19 new rules for indoor sitting in Greece as of July 16th, 2121 – update: As per the new measures, you can visit an indoor space if you have been vaccinated against or recovered from Covid.
If you have not been vaccinated but have a recent PCR/Rapid test, you can enter the building if you want to visit the restroom, order, or pay.
When it comes to outdoor sitting areas, every bar and restaurant owner must decide whether the store will be "mixed" or "pure".
There will be signs that designate whether the store can welcome every guest or only vaccinated visitors. In the latter scenario, you will have to show your vaccination certificate or a document that proves you have recovered from Covid.
If the store welcomes both vaccinated and unvaccinated guests, you also show a PCR or Rapid test to sit outdoors. The PCR test must not be older than 72 hours, whereas the Rapid test must be less than 48 hours.
The staff will scan the documents with an official app to double-check their authenticity.
What Phone Number Should I Call if I Feel Sick or Want to Get Tested?
The Greek government has created a dedicated 4-digit number you can ring for all questions related to Covid. The number is 1135, and you can also use it to find the nearest test centers in your location. The personnel there will be more than happy to provide all answers regarding Covid.
Where to Get a PCR Test in Greece?
Unless you are vaccinated, chances are you would need to contact a PCR or Rapid test during your stay in Greece. Your origin country may also require that from their end for your trip back home.
Thankfully, every island, municipality, and city in Greece has many laboratories you can safely visit or call to arrange a Covid test in your accommodation. If in doubt, feel free to ask your host, and they will be able to arrange everything for you.
For those curious to know where to get a PCR test in Athens, Heraklion, Chania, Rethymnon, and Lasithi, keep reading to learn everything you want to know.
Where to Get a PCR Test in Athens
Taking a PCR test in Athens is easy. Wherever you go in and around the capital of Greece, you can always find a nearby laboratory or testing center. For example, apart from private labs, medical centers such as Iasys and Bioiatriki conduct Rapid PCR tests daily.
There are more than 30 Bioiatriki centers spread around Athens. You can check the map here or call them at 210 6966000 to schedule an appointment. You will pay 60 euros for a PCR test or 20 for a Rapid test.
If you enter or exit Greece via the Athens Eleftherios Venizelos Airport, you can choose to get tested there. You will find payable testing services between entrances two and three at the arrival level. The cost would be 60 euros for the PCR test and 15 euros for the Rapid Test.
Where to Get a PCR Test in Crete
If you are traveling to Crete, then check where to get the PCR in each region:
Where to get a PCR test in Heraklion
If you want to get tested in Heraklion, here is a list of some available test centers in the area:
Asklepios Diagnosis: Efodou 3 & Machis Kritis 10. Phone number 2810528000. Prices: 60 and 20 euros.
Biomedigen: Located in Papanastasiou 3. Phone number 2811810469
Herodotos Diagnostic Center: Irodotou 148, Nea Alicarnassos. Phone number 2810240100
Simantiraki Maria: Zografou 11. Phone number 2810346949
Where to get a PCR test in Chania
Here follows a list of available labs in Chania:
Affidea: Chatzidaki 5, Chania. Phone number 2821053940
Gavrilakis General Clinic M. Mpotsari 76-78, Phone number 2821070800 (open during the weekend – results within 6 hours)
Medical SA: Solomon 23. Phone number 2821056320
Marinakis Michalis: Square Eleftherias 2. Phone number 2821050565
Tsetepi SA: Papanastasiou 9. Phone number 2821028828
Koutsopoulou-Tzemanaki: Located in Sfakion 10-12. Phone number 2821042429
Where to get a PCR test in Rethymnon
Here follows a list of available labs in Rethymnon:
Mourtzanou Efthymia: Located in Moatsou Themistokli 43. Phone number: 2831054238
Henodiagnosis: Located in Daskalaki 5. The phone number is 2831054944
Fanourgaki-Papadaki: Located in Parren Siganou Kallirois 4. Phone number: 2831026858
Where to get a PCR test in Lasithi
Here follows a list of available labs in Lasithi:
Apidianakis Ioannis: Located in Lasthenous 13, Ierapetra. Phone number: 2842026227
Vardaki-Tsoukaki: Located in Thermopylon 2, Agios Nikolaos. Phone number: 2841022221
De Philippe Lucia: Located in Kazani 7, Agios Nikolaos. Phone number: 2841025585
Foutakis Stefanos: Located in Megalou Alexandrou 4, Sitia. Phone number: 2843023452
So here you have it: all the guidelines that you should be aware of while in Greece. Although it is important to plan and know all the rules, do not forget to enjoy your holidays while in Greece. Respect the rules, stay safe, and enjoy!
Read more about Crete
🛌 Suggested Accommodation in Crete:
🗺️ More resources to book your trip to Crete
Written by Dimitrios Tsevremes
Passionate about travel, spirituality, and sports, I have lived in 5 countries and traveled to more places than I have counted. Writing, for me, is a way to express myself and my creativity. Whether I write for my blog or a freelancing gig, I always fall in love with the process and often lose my sense of time. If you want, you can check out more about me and my work here.
Pin it Now! Covid-19 Rules For a Safe Trip to Greece!
---
You might also want to read these posts about Crete's regions:
---
About my blog: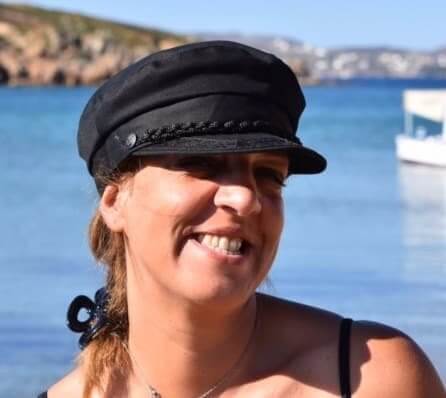 I moved to Crete in 2016. During these years, I learned much about the island.
In Crete, I juggle being a solo mom, hosting culinary tours, and writing for several travel media.
I've written for Greek Reporter, published travel guides about Greece, co-authored DK Eyewitness Top 10 Crete, and had more glasses of frappe than any regular person could ever handle.