Located about 40 kilometers west of Chania, Kissamos is a tranquil seaside village where you can spend a relaxing vacation in Crete. Perfect base to explore Balos and Falasarna, and an excellent departing point for a trip to Elafonisi, many people choose Kissamos as their place to stay in Crete. In this post, you will find some of the best rental homes and hotels in Kissamos, west Crete.
---
Disclaimer: Posts include affiliate links to products or services. I might earn a commission if you make a purchase, at no extra cost to you.
---
Best Hotels in Kissamos, Crete
Things to Know About Kissamos
Let's Start by Getting Ready for Crete!
RESOURCES TO BOOK YOUR TRIP:
Book your flight: I use Skyscanner to compare prices before booking a plane ticket.
Book your ferry: When ferries are more convenient than air travel, I use Ferryhopper.
Book your accommodation: I've tried many different platforms for accommodation, but none of them beats the advantages of Booking.com.
Book your car: The best way to find an affordable car to rent is to use a powerful search engine that compares all the rental companies in the market. I use Discover Cars.
Book your tours: Live unforgettable adventures and cultural experiences with Get Your Guide. For instance, you can Visit Elafonisi, discover Balos Beach, hike Samaria, or explore Knossos.
Don't forget travel insurance: Things can go wrong at times, but travel insurance will protect you against illness, injury, theft, and cancellations. I recommend Safety Wing for peace of mind.
Set about 40 kilometers from Chania, west of the region, Kissamos is a gorgeous town receiving hundreds of visitors every year eager to take a Balos day cruise from its small port, Kavousi.
Known also as Kastelli Kissamou, the area offers quite a lot to do apart from just enjoying the wide Kissamos Bay with some great pebbled beaches.
If you decide to stay in the area around Kissamos, you're in for a treat.
You'll be able to experience the local rural life, visit wine-making facilities, and taste the fantastic olive oil produced in the region.
Departing from Kissamos, it is also easy to visit the archaeological sites of Polyrrenia and Ancient Phalassarna, hike through the gorge of Topolia, and spend time on some of the best beaches in the west, including Falasarna, the incredible Balos, and the southern Elafonisi, Kedrodasos, or Aspri Limni.
Kissamos is also well-connected to Chania's main bus station, with frequent buses all year round.
Besides, if you're interested in visiting other areas in Greece, the port of Kavousi is also a departure point to visit Kythira island (and Anthikythira) as well as the Peloponnese (Gytheio).
Where to Stay in Kissamos, Crete
In no particular order, these are some of the best hotels in Kissamos.
You will also find value-for-money studios, villas, and other types of accommodation in the area.
Crystal Bay Hotel
The three-star Crystal Bay Hotel in Kissamos is a small but lovely property, right opposite the beach.
Enjoying great reviews in reference to comfort, clean facilities, and helpful staff, this is one of those gems you cannot afford to miss!
This modern property features a swimming pool and a poolside snack bar only 15 kilometers from Balos Lagoon.
Rooms and studios come with modern decor in soothing earthy tones, contemporary design, and balconies with sea views.
The hotel staff can arrange car rentals for those travelers who wish to explore Elafonisi or other areas near Kissamos.
Click here for more information and to get the latest prices.
Looking for details to visit the nearby region and the best beaches in Chania? Check out this guide to car rental and driving in Crete.
Anemomili Village
Right in the heart of Drapanias, about 10 minutes from the center of Kissamos, Anemomili Village features gorgeous windmill-like studios and apartments built around a large outdoor swimming pool and a sun terrace.
All rooms include a fully equipped kitchen, with a refrigerator and a TV. The accommodation on the ground floor opens out to a terrace with direct access to the garden. Apartments located on the first-floor offer balconies with sea views.
Guests can order Cretan meals cooked in the traditional wood-fired oven of the complex.
At the property, there is also a children's playground, as well as a pool bar serving snacks and refreshing drinks. Private parking is also available.
Click here for more information and to get the latest prices.
Mediterranean Hotel & Apartments
Right in the area of Korfalona, one of the most popular beaches near Kissamos, the Mediterranean Hotel & Apartments offers regular rooms and apartments (for 2 to 4 people) all featuring a fridge or a kitchenette, a TV, and a balcony.
Moreover, the property offers its guests a delicious daily breakfast served by the large swimming pool.
The on-site tavern serves Cretan and international cuisine in a shaded area by the pool while a bar offers drinks and cocktails all day long.
The hotel is close to Balos while Elafonisi lies only a 45-minute drive away.
On-site parking is provided free of charge.
Click here for more information and to get the latest prices.
Christina Beach Hotel
Located right on the seafront of the village, Christina Beach Hotel offers modern and convenient rooms only steps from the center of Kissamos.
Offering comfy accommodation and convenient facilities including a pool bar, a swimming pool, and rooms with a kitchenette and furnished balconies.
For the guests, there is a daily freshly-made breakfast that can be enjoyed either in the breakfast area or in the room.
The hotel is only meters from the center of Kissamos, close to delicious local taverns, souvenir shops, banks, and convenience stores.
To visit nearby locations, the staff can arrange car rental while and free public parking is available near the property.
Click here for more information and to get the latest prices.
Galini Beach Hotel
Situated just steps from Telonio Beach, Galini Beach Hotel is a beachfront property located on the Gulf of Kissamos offering amazing views of the sea.
The family-run property enjoys top reviews for its traditional Greek hospitality and modern amenities.
Every morning, the property offers a delicious breakfast and the possibility to relax on the beach and enjoy the clear blue waters of Western Crete.
This hotel is conveniently close to Kissamos' best shops, restaurants, and cafes as well as a short drive from wonderful beaches, including Falasarna, Balos Lagoon, and Elafonisi.
Click here for more information and to get the latest prices.
Giannoulis – Grand Bay Beach Resort (Exclusive Adults Only)
Grand Bay Beach Resort is located close to the small town of Kolymbari, about 20 minutes from the center of Kissamos, and it is one of the most popular properties on the bay of Chania.
The resort boasts well-appointed suites with sea or garden views as well as easy access to the beach. The hotel features also a restaurant, a swimming pool, and a poolside bar.
Click here for more information and to get the latest prices.
Spilia Village Hotel & Villas
Located only 12 kilometers from Kissamos, Spilia Village Hotel & Villas is a beautiful complex nestled in a green plain amongst citrus orchards and olive groves.
The village offers traditional stone-built rooms with modern facilities, a swimming pool, a peaceful garden, and a pool bar.
The main building of the hotel is housed in a former factory while the on-site traditional tavern serves carefully prepared Cretan cuisine.
All rooms are charmingly decorated boasting their original Venetian arches and exposed wooden ceiling beams. Some bathrooms include hot tubs or aero-massage bathtubs.
Click here for more information and to get the latest prices.
Balos Beach Hotel
Located on the main road of the village, which connects the area to Balos and Falasarna, the Balos Beach Hotel is one of the most traditional places to stay in Kissamos.
Set only 9 kilometers from Balos, this hotel offers modern, self-catering accommodation in a beautifully rugged corner overlooking Kissamos Bay.
The property offers suites, apartments, and studios with balconies with mountain or sea views, a kitchen, and satellite TV.
Surrounded by gorgeous gardens, the accommodation comes with an ecological-cleaned pool, a hot tub, and a children's pool.
There is also a modern fitness room with all the necessary equipment.
Click here for more information and to get the latest prices.
As it's possible to see from this article, there are several great places to stay in the area, here, I've wanted to bring you some of the best rental homes, villas, and hotels in Kissamos for you to pick the one that best fits your needs!
---
Have you ever thought about staying in Kissamos, Crete?
Let me know in the comments below!
You might also want to read these articles about west Crete:
---
Pin it! Best Villas and Hotels in Kissamos, Crete
About the author of this blog: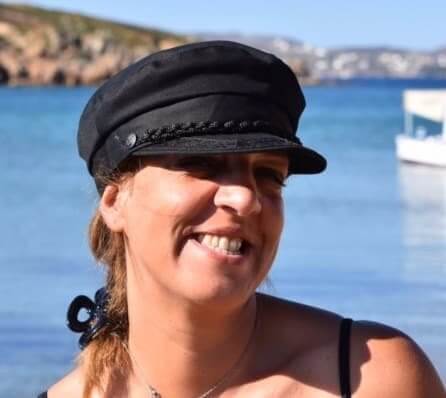 Gabi has been living in Crete for the last five years. On the island, she juggles being a solo mom, hosting culinary tours in summer, translating, and freelance writing.
She's written for Greek Reporter, published several travel guides about Greece, and had more glasses of frappe than any regular person would be able to handle.
COMING TO CRETE SOON?
Get in touch and let me know!