Crete and Santorini are both beautiful Greek islands and it can be really difficult to decide between them! Crete is much larger and, when you're away from the main cities, it is tranquil — perfect for those who enjoy walking and mountain biking.
Santorini, in sharp contrast, is the most picturesque of the Greek islands, known for its amazing sunsets and its romantic character, so not surprisingly, in high season it does get very busy.
This article will help you decide between Crete or Santorini… in case you're wondering, which one is best?
---
Disclaimer: Posts include affiliate links to products or services. I might earn a commission if you make a purchase, at no extra cost to you.
---
Last-minute plans for Greece?
Get there: Use Ferryhopper to book your tickets.
Stay: Find accommodation deals on Booking.com.
Move around: Compare car rental prices with Discover Cars.
Tours: Visit popular places with GetYourGuide.
Read more: Pack the Lonely Planet Guide to Greece.
Crete or Santorini: Which One Should Be Your Next Escape to Greece?
We bring you some key facts about both islands to help you make the best decision for you and your family.
Let's begin by taking a look at the different traits of both Santorini and Crete to understand which island is the one that offers you an unforgettable vacation.
Crete or Santorini? Basic Details
Dimensions:

Crete is about 275 km in length, whereas Santorini is about 19 km in length. Therefore, while it would be easy to see a lot of Santorini in a short time

, on

Crete it might be better to try and enjoy one part or region of Crete rather than cover the whole island

.
Prices: Prices tend to be higher in Santorini for hotel rooms at any time of the year due to the island's popularity. Crete offers better fees and a wider choice of hotels and rooms to rent all year round.
Things to Know about Crete and Santorini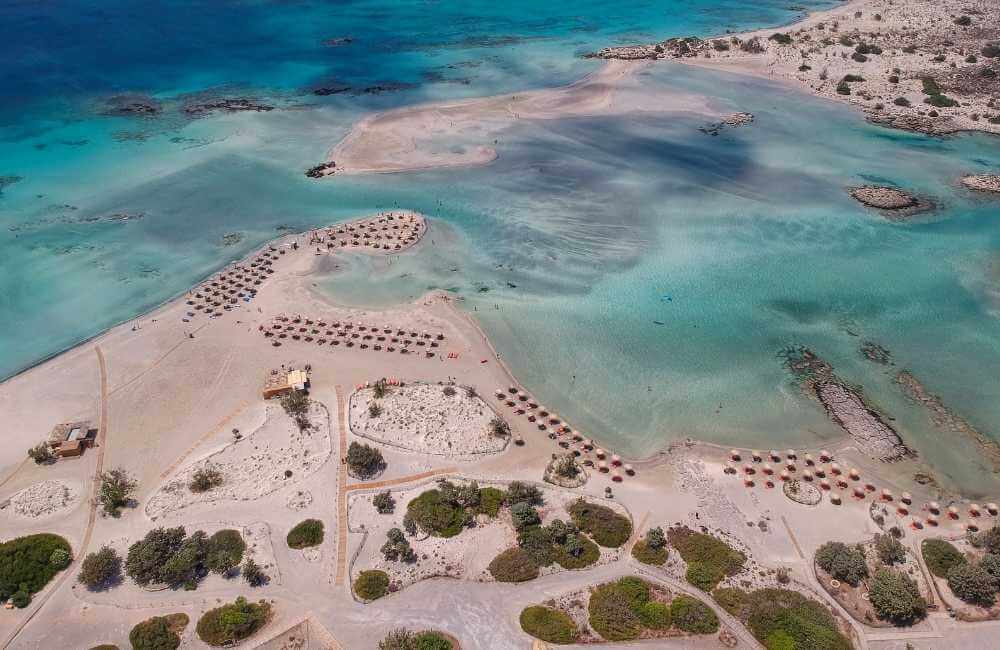 Crete is the largest of the Greek islands and is situated in the southernmost part of the Mediterranean, just south of the Cyclades.
It has two international airports, one in the capital Heraklion and the second one in Chania, on the west coast. There are also two important ferry ports (also in Heraklion and Chania).
Santorini is one of the Cycladic islands. It is situated on the Aegean Sea and its present shape was created by a devastating earthquake that took place in the sixteenth century BC.
It features a rugged appearance and is not the best coast in Greece for those looking for amazing beaches. On Santorini, there is a small international airport and a new port called Athinios.
Suggested Length of Your Vacation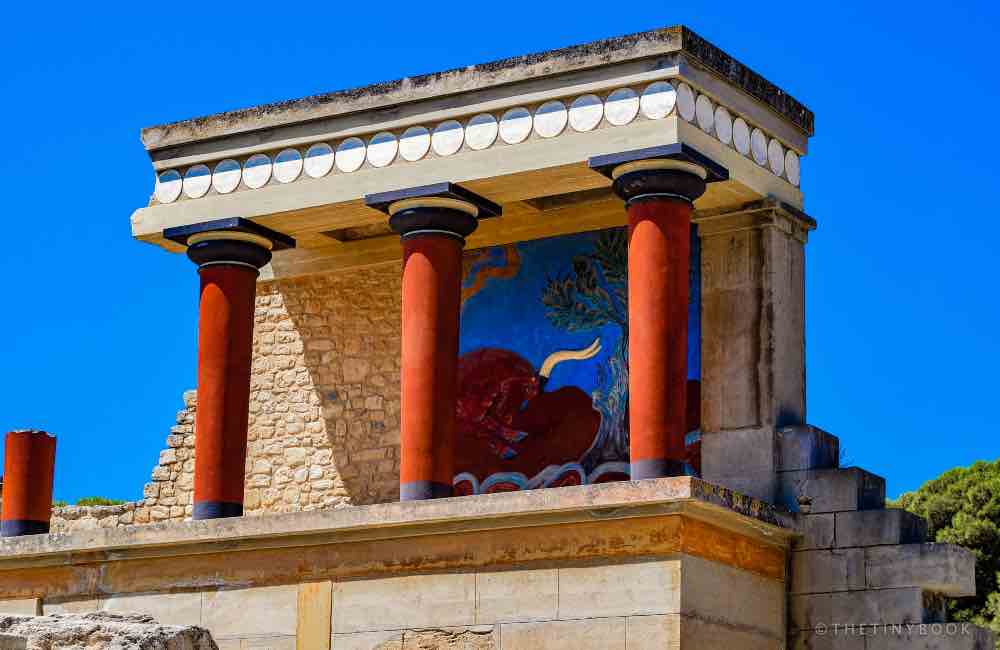 Crete is a beautiful island that needs plenty of time to explore because there is just so much to do. Besides, it is easy for visitors to get distracted when they start delving into its rich mythology.
One week is the minimum requirement, but a two-week holiday or a bit more ensures that you have time to visit most of the places of interest, without getting too exhausted!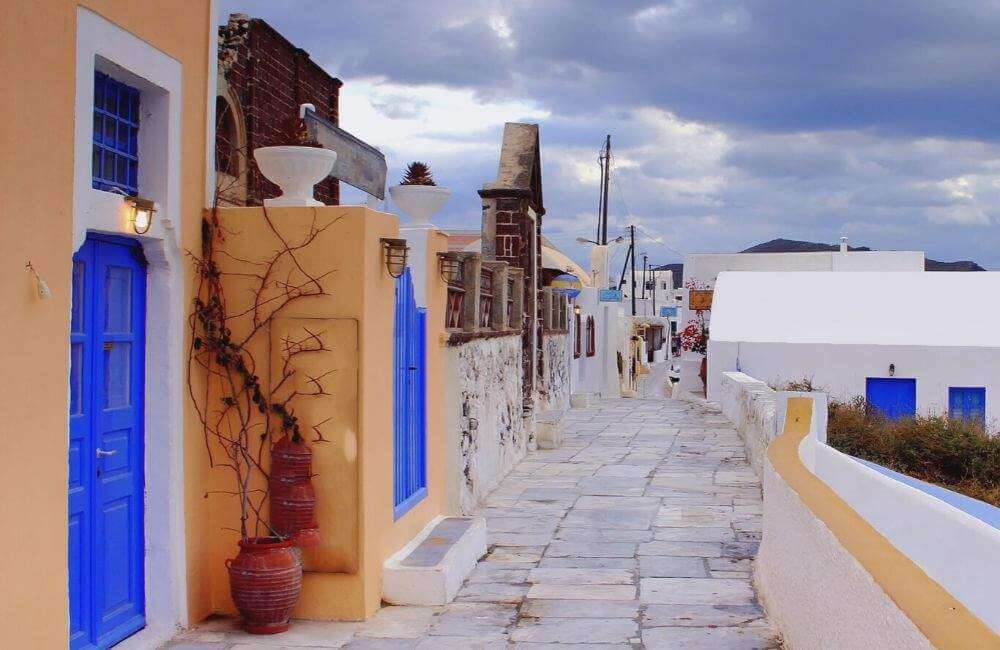 If you are looking for a destination that can be enjoyed in 4-5 days as a long weekend break, Santorini fits the bill perfectly.
If compared to Crete, the island looks so small that it would be easy to see the best Santorini landmarks in a day. In fact, you can see all the main places of interest comfortably in a small time frame.
>>You can even visit Santorini on a day trip from Crete, a great opportunity to see the best of both islands! Click here for more information and to get the latest prices.
Ease of Getting Around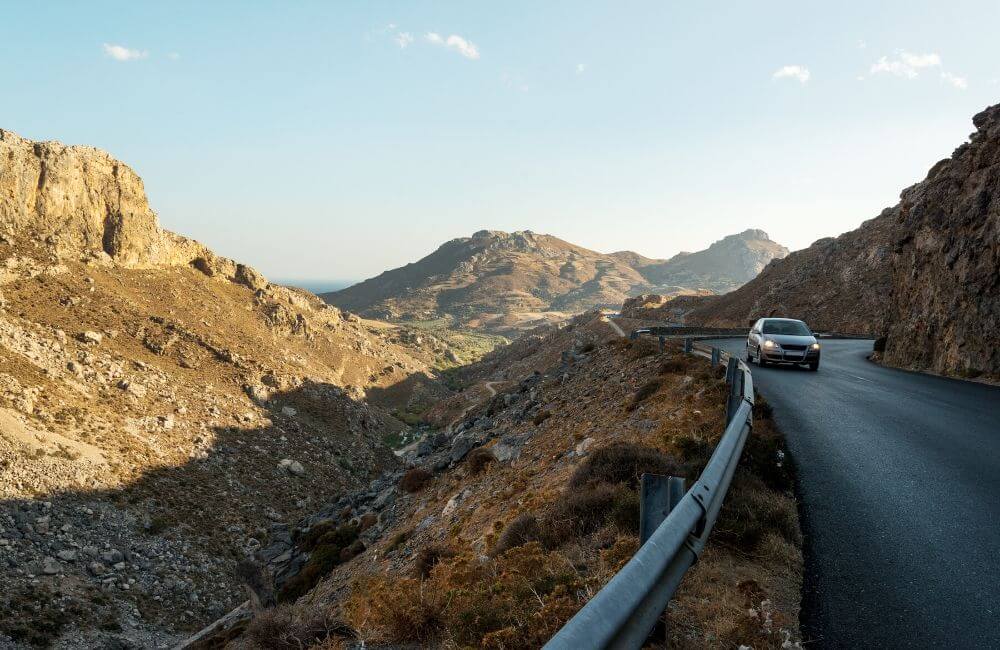 The easiest way to get around both islands is to hire a car, but it can be fun to hire a boat to make an excursion too.
Crete has a good bus network but because of the size of the island, the journey times are often too long to successfully take buses for day trips.
I've put together a helpful guide to driving in Crete as well as a list of the most entertaining boat trips around the island.
The best way to explore Santorini instead is a mixture of bus journeys and on foot. The KTEL bus routes all fan out from Fira, the island's capital, and travel to many parts of the island in a very short time.
Taxis have reasonable fees as well, while an organized tour of the island like this one offers great mobility opportunities if you're spending a short time on Santorini and want to see as many places as possible in a short time. Plus it includes a stop for the sunset in Oia.
Crete or Santorini? Beaches and Coastline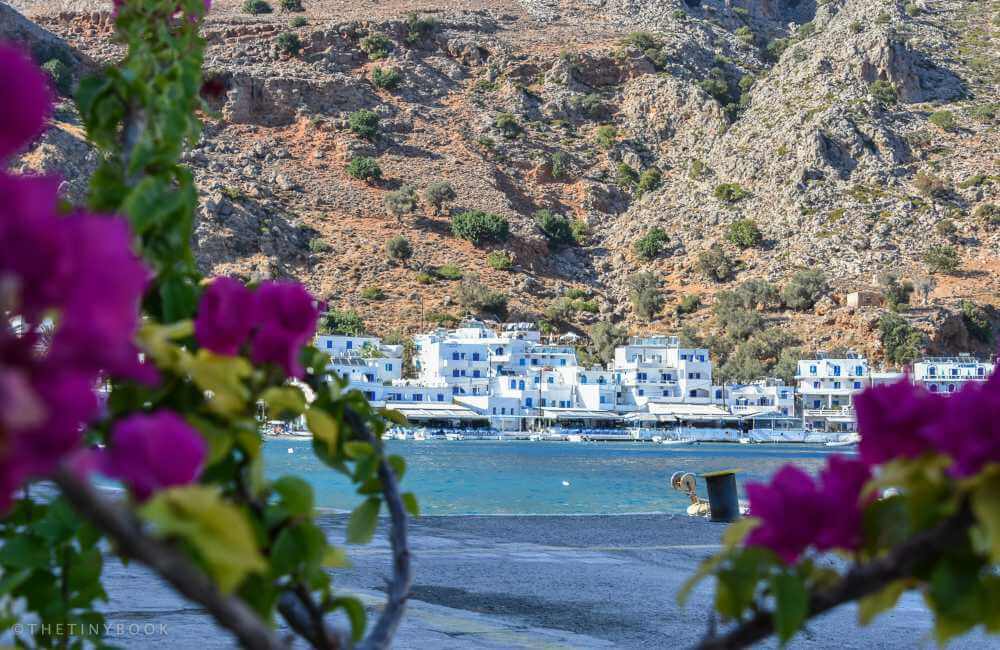 Crete's coastline is not only long but it is most varied with stunning beaches, isolated coves, and pretty fishing villages like Loutro, on the southern coast.
There are a number of rocky islets that are environmentally protected as they have a rich diversity of Cretan wildlife.
There are also some interesting islands to visit, such as Gavdos and Chrissi, which you can explore on an organized tour from the coastal town of Ierapetra.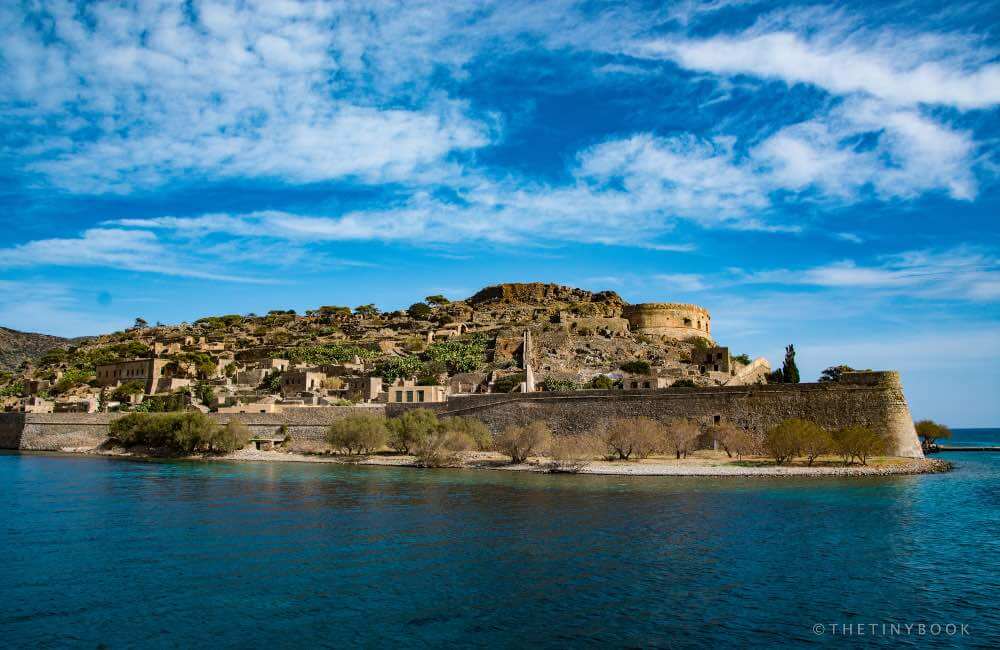 One of the most popular offshore islands is Spinalonga near Elounda which was once a leper colony. Crete also has two of the most beautiful beaches in Greece – Balos, and Elafonisi.
Balos is a lagoon with clear blue water while Elafonisi Beach has gorgeous powder-pink sand.
Santorini is geologically a dramatic island as its capital town sits on the clifftop of the sea-filled Caldera. The views from Fira and Imerovigli over the Caldera are absolutely stunning.
From both towns, it is possible to hike all the way to Oia. From Fira, instead, you can also walk down numerous rock-cut steps to reach the harbor below.
Away from the Caldera, the island has some lovely sandy beaches – but be warned, they are black volcanic sand and get very hot underfoot. The best beaches are Perissa, Kamari and Perivolos and the famous Red Beach.
Towns and Villages to Visit
Both islands have traditional towns and villages to discover. In all of them, time seems to almost stand still.
In Crete, the old town of Chania is the perfect place to wander, with its beautiful Venetian harbor, Venetian mansions, an Egyptian lighthouse, and charming alleyways.
Rethymnon is another city on the island hosting a pretty old town with cobbled streets and colorful houses. This article compares both cities so you can have a better idea of which could suit you best.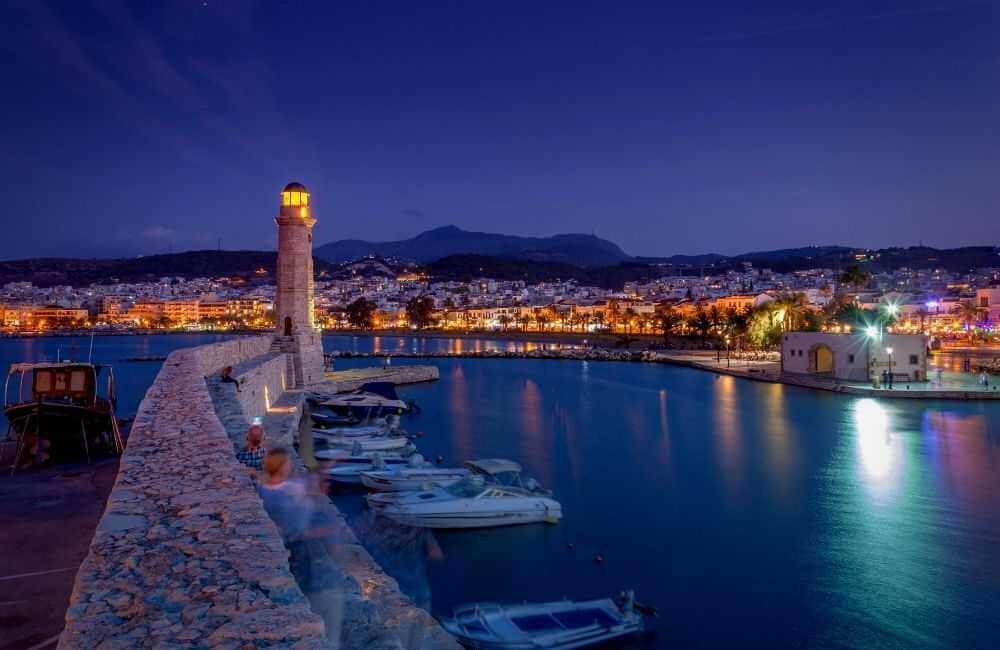 In the east, Elounda is a renowned village, famous for its luxury hotels and spectacular countryside, besides, Elounda is a popular destination with the rich and famous.
If you have a hire car, you can explore some of the charming hill villages situated inland.
In Santorini, Fira, Imerovigli, and Oia are three important settlements always busy. They are popular for their amazing views, charming accommodation, and unique views of the sea.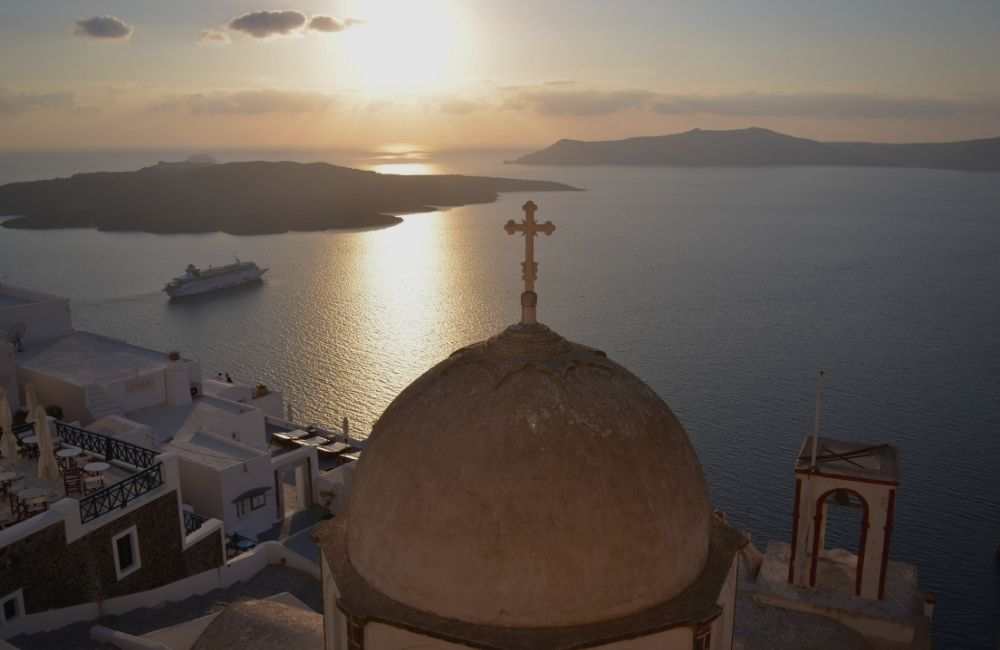 However, there are over 20 other villages you could visit in Santorini, such as Pyrgos, Exo Gonia, and Vothonas, and most of them rarely see a tourist!
Pyrgos is the highest village on the island and it is perfect for walking around. It features numerous pretty white-washed Cycladic cubic homes and characteristic blue-domed churches.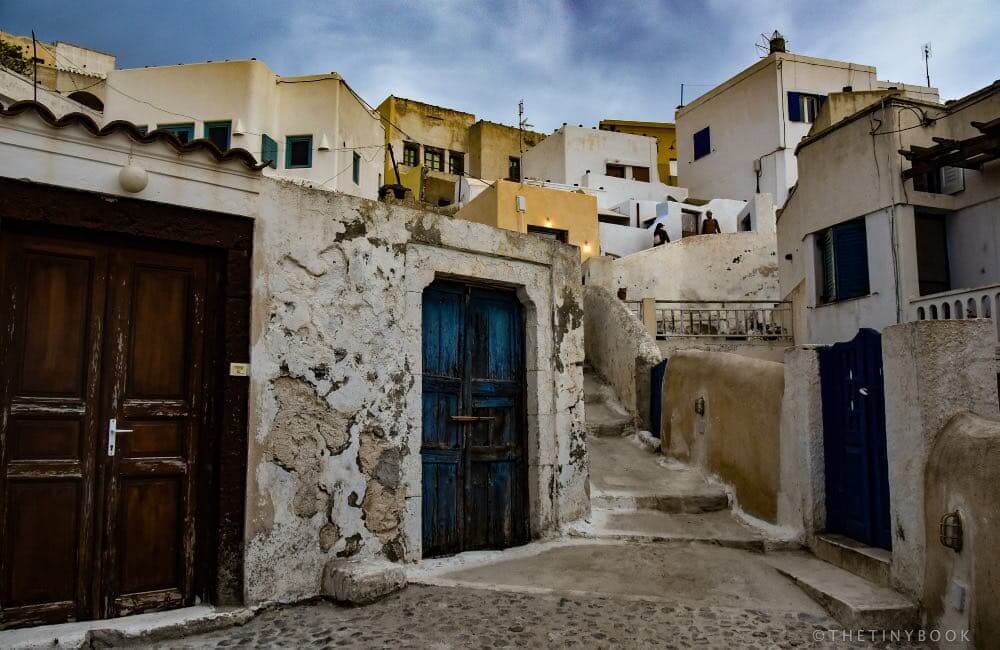 Another village worth a visit is Akrotiri, not only for its archaeological site and famous Red Beach but also because it has an equally famous lighthouse from where sunsets are simply breathtaking.
Crete or Santorini: Top Places to Visit
Let's start with the island where I live, Crete… there are hundreds of stunning places to see, these are the most popular ones and the ones you shouldn't miss!
Knossos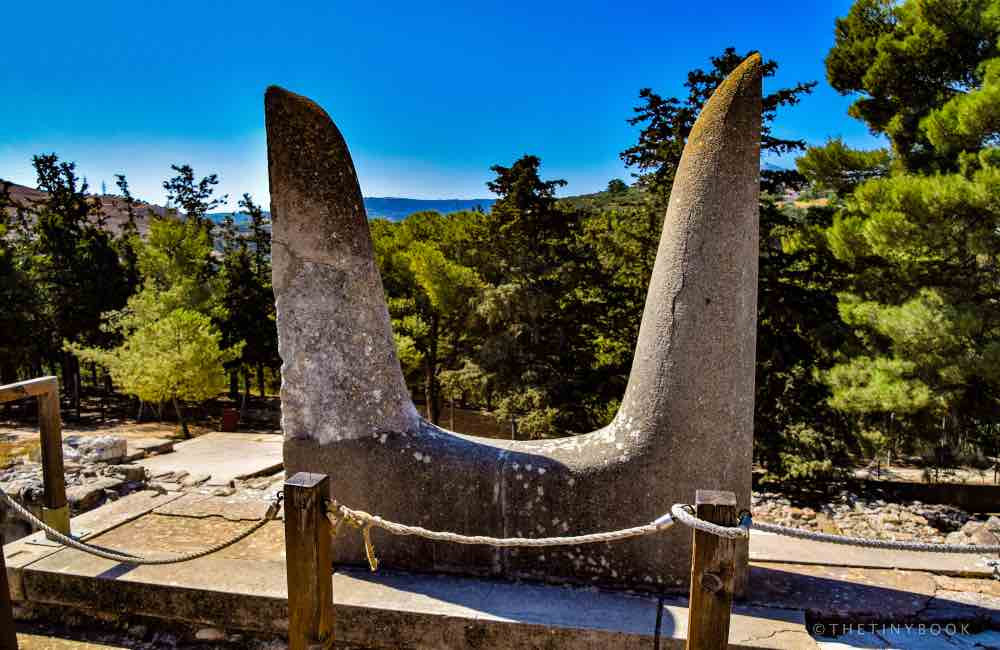 This world-famous archaeological site with its magnificent Minoan Palace was once the capital of Minoan Crete and is Europe's oldest city. Read more about the site here.
Heraklion Archaeological Museum
One of the best museums on Crete, it is situated in the island's capital. This museum has the largest collection of Minoan artifacts and reveals the sophistication of the Minoan civilization. Read more about this museum here.
Samaria Gorge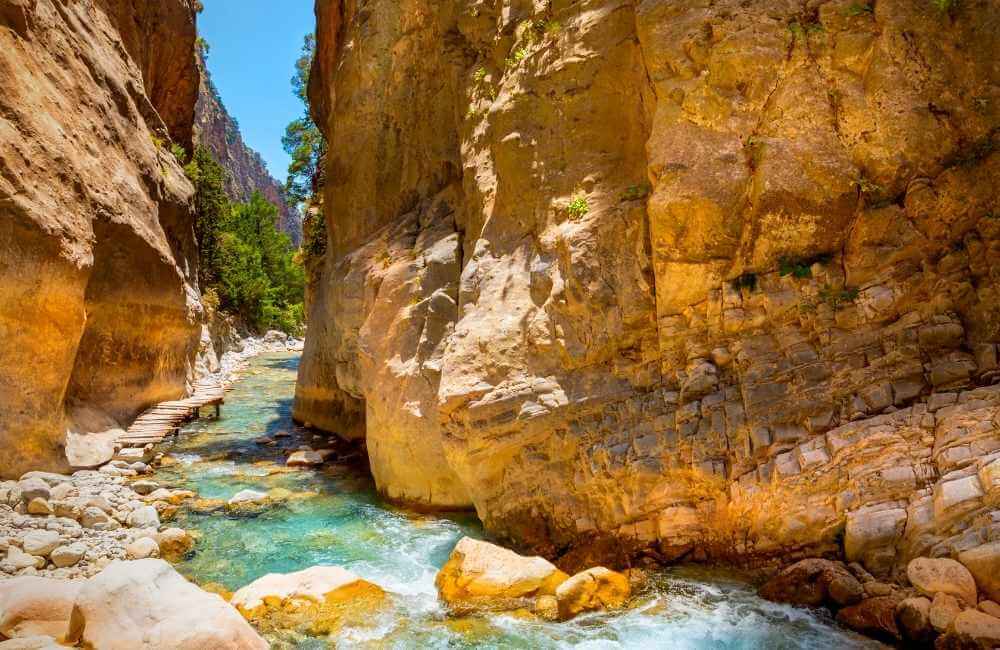 This spectacular ravine is 13 kilometers in length and leads walkers through a rocky gully that is nearly 300 meters high in some places.
The hike takes about 5 hours (sometimes even more) and takes you from the center of the island to a small coastal bay in the village of Agia Roumeli, in western Crete. Read more about Crete's gorges here.
Lake Voulismeni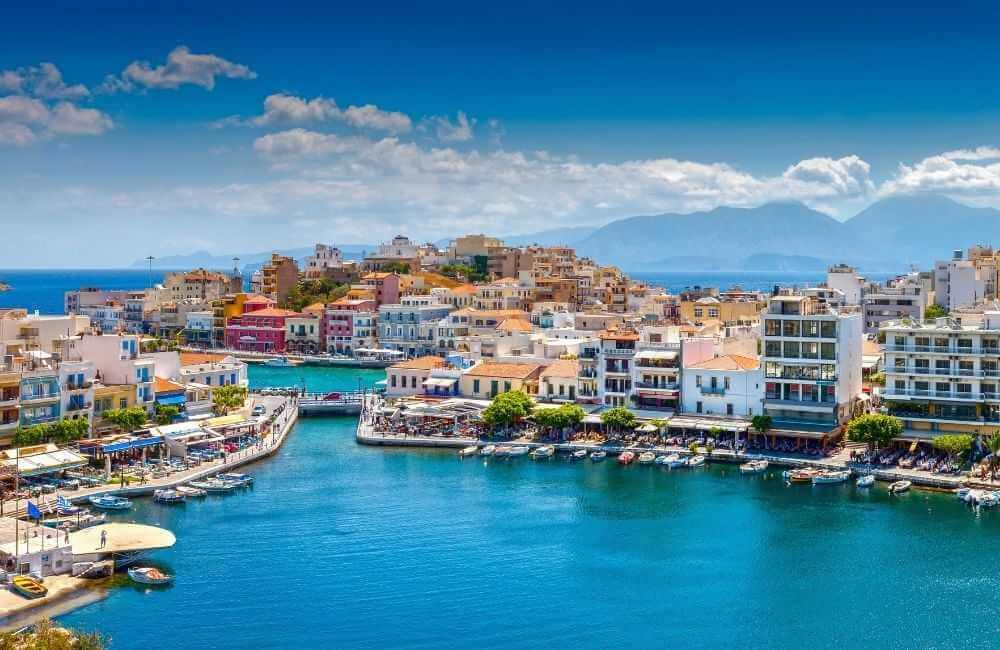 A unique site in the small town of Agios Nikolaos, in the eastern region of Lasithi. In the past, it was believed that the lake was bottomless due to its deep waters.
Today, this is a popular meeting point in town, home to some of the best restaurants in Agios. Read more about Agios Nikolaos here.
Chania Old Town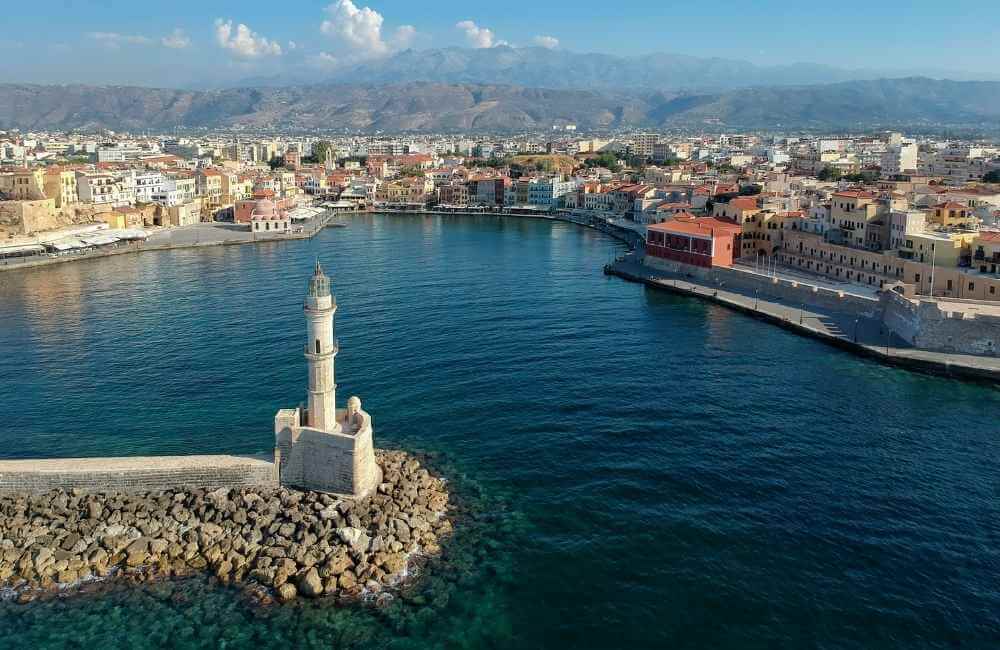 One of the most charming coastal towns in the Mediterranean, the ancient Venetian town of Chania is located in western Crete, a region where there are also stunning beaches and fantastic mountain trails.
The old town is one of the most picturesque places to visit on the island. Read more about the Chania region here.
Santorini
A favorite of mine since the first time I visited, Santorini offers plenty of entertaining things to do and places to see in every corner. These are some of the most popular places to enjoy.
Fira
The island's capital city is regarded by many as the most beautiful in Greece with its Cycladic cube-shaped white houses, blue church domes, steep cliffs, and amazing sunsets.
The streets of Fira are narrow and winding and the only way to explore them is on foot. Read more about Fira and all the villages on the island that you can visit.
Oia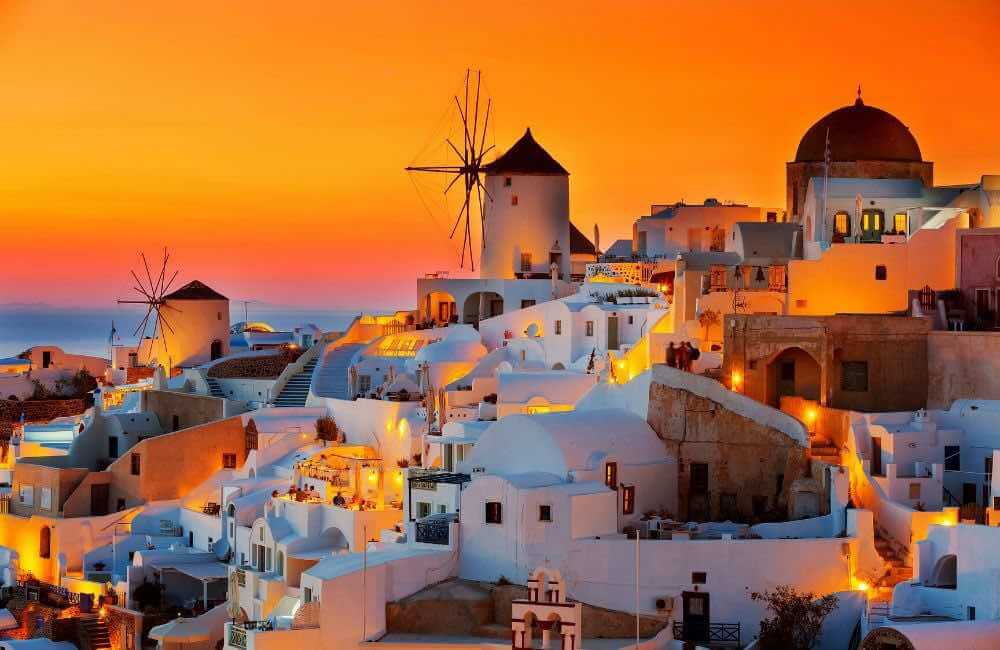 Situated on the northwestern tip of the island, Oia is famous because it is one of the most romantic places to watch the island's amazing sunsets. It is said that the Oia sunsets are the most photographed in the world. Read more about the best places to take photos in Santorini.
The Volcano and the Sulfur Springs
The best way to explore the island's caldera is to jump on one of the many boat trips which will also take you to the volcano where there is an easy path to follow.
Some also visit the sulfur springs which smell really bad but it is said that the mud is beneficial to the skin. Read more about the best ways to get to Santorini.
Akrotiri
The Minoan site at Akrotiri is small but very interesting and there is a museum on site that is open in the mornings.
There are several other archaeological sites on the island, including the stunning ancient city of Thera, on top of Perissa Beach. Read this article if you're looking for the best places to stay in Santorini.
Sports on Both Islands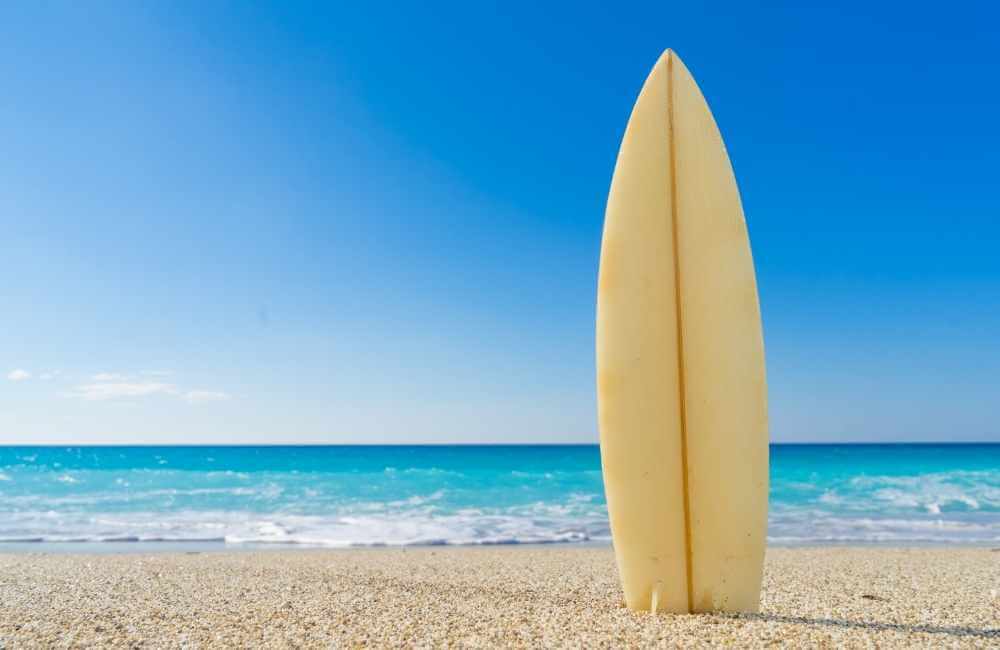 Both islands offer an array of water sports including snorkeling, scuba diving, windsurfing, water skiing, and stand-up paddle boarding (SUP).
There are internationally recognized diving courses available in some resorts too and for family fun, there are several water parks in Crete as well as one at Perissa in Santorini. Crete has endless water sports activities available from late April until the end of October.
For those who enjoy hiking, there are some excellent hiking trails on both islands. On the other hand, keen golfers will enjoy the different 18-hole golf courses in Crete and the new Vedema Golf Resort in Santorini.
Crete or Santorini: Which is Best for Foodies?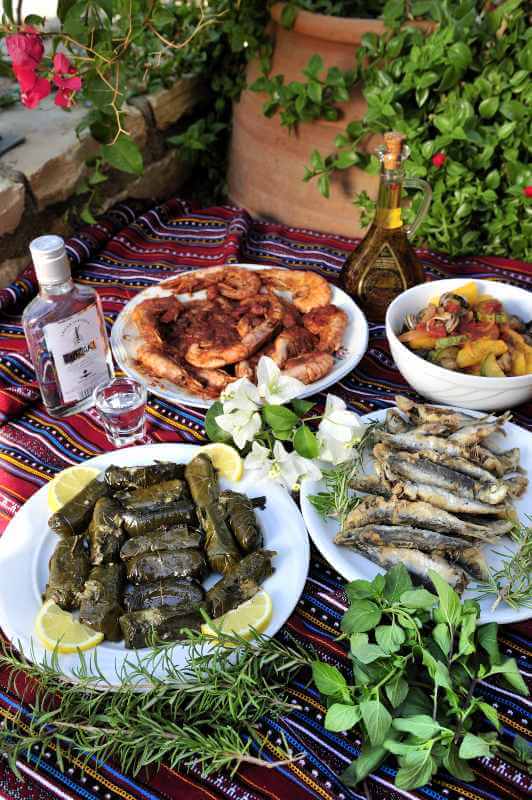 There are plenty of traditional Greek dishes you can enjoy in both Crete and Santorini including meats cooked over charcoal and delicious oven-baked casseroles.
The best way to try out a range of dishes is to order a variety of meze, an array of dishes to share that include vegetables, fresh fish, and meat specialties.
A good meze is like a banquet that should be enjoyed at a leisurely pace through the evening.
Cretan Food
Crete has some unique local specialties to enjoy. Dakos is the locally made barley rusk that is dipped in olive oil, before being covered with a layer of chopped fresh tomatoes and capers and topped with crumbled goat cheese.
On the island, there are numerous local kinds of cheese to enjoy as well as an incredible variety of pies. For example, kaltsounia is a popular Cretan pie fried in olive oil and filled with cheese or wild greens.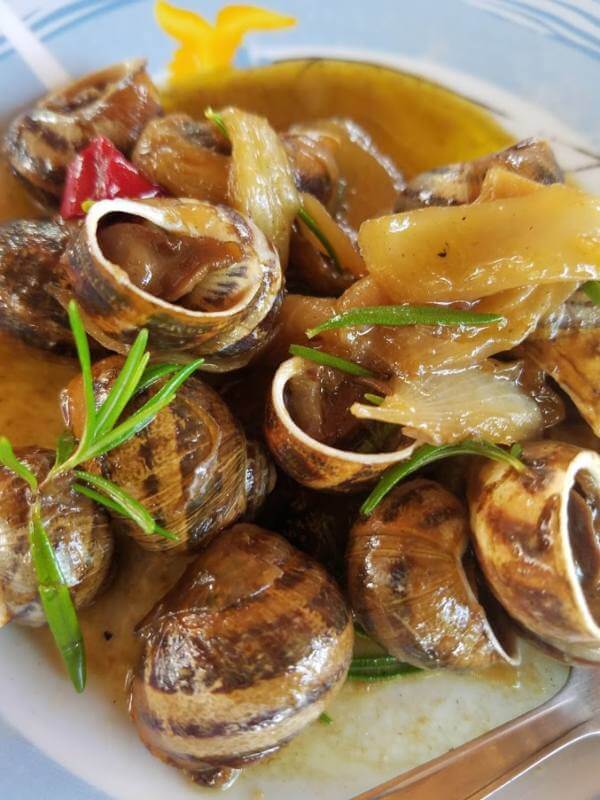 There are many meat delicacies to sample too including smoked pork, lamb, and even fried snails (locally known as chochlioi boubouristi).
On Crete, you will also find seasonal vegetable dishes and large use of pulses. Crete produces top-quality wines and tsikoudia which is the local spirit made from fermented grapes.
Santorini Cuisine
Santorini has an array of indigenous island dishes, this is because, for centuries, the island remained quite remote and not influenced by the outside world in any way.
Tomatoes and capers have always grown abundantly and fish and meat are enjoyed with plenty of vegetables and pulses. Look out for the island's white eggplants (aubergines) that are stronger and sweeter tasting than their purple cousins!
Fava is a popular dish made with yellow split peas cooked and served in a purée with red onions, a drizzle of olive oil, and fresh lemon juice.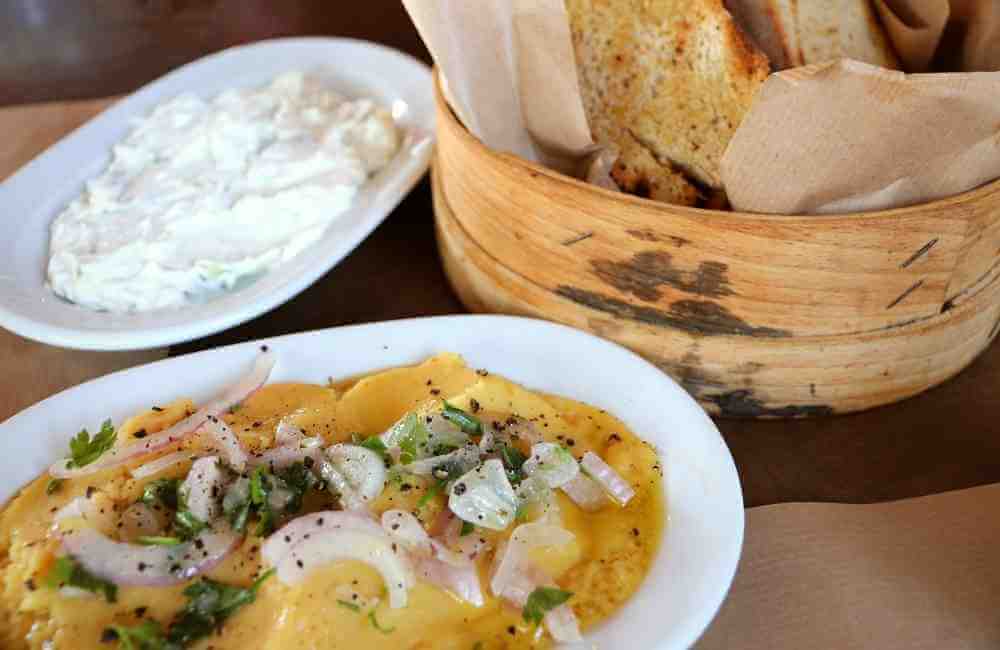 Apaki, which is also found in Crete, is an island specialty made from pork loin soaked in vinegar that is then air-dried, sliced, and used in a variety of dishes as the main ingredient.
There are several local kinds of cheese found in Santorini, one of them is Chlorotyri which is creamy goat cheese often part of the popular Santorini Salad, also made with plenty of sliced pickled capers.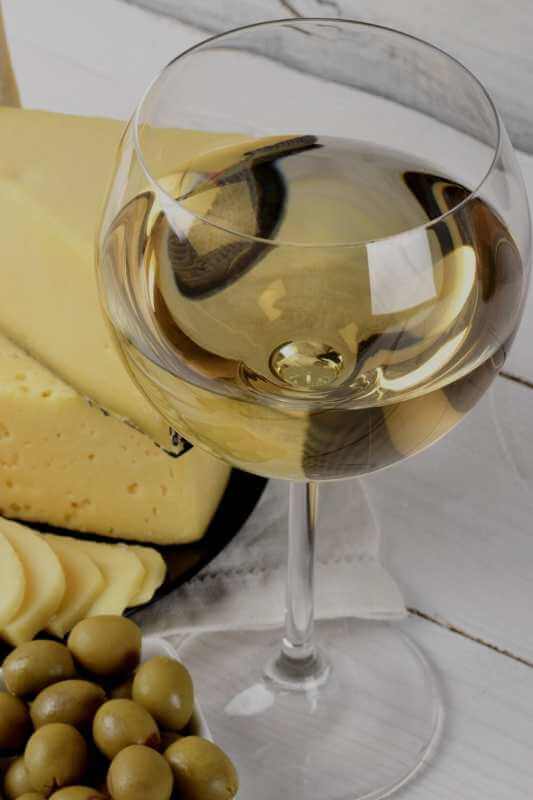 One of the greatest foodie treats in Greece is saganaki cheese, it is made with a piece of salty cheese, usually, Feta, wrapped in phyllo pastry or in bread crumbles, that is deep fried and in some places served drizzled with honey – try resisting that!
There are several wines made in Santorini. Assyrtiko is one of them. Although it is possible to find Assyrtiko in many other Greek regions nowadays, this grape originally comes from this island.
Santorini or Crete: Which is Best for Island Hopping?
Island hopping by boat is a popular way to explore several islands in one holiday and Crete is in the perfect location for those planning to island hop to Santorini.
The journey from Crete to Santorini (either departing from Heraklion or another port on the island) takes only a bit more than two hours.
>> Check this organized tour from Crete to Santorini <<
From Crete, it is also possible to visit Milos, Ios, Paros, and Naxos (3.5 hours by boat) during the high season.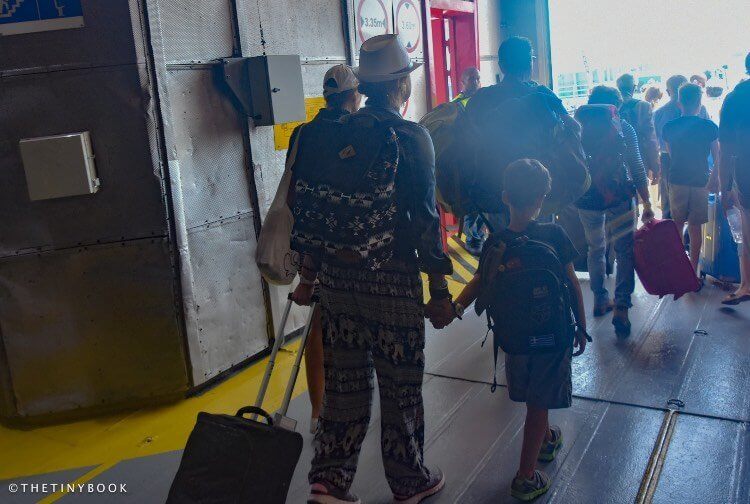 If you fancy island hopping from Santorini, Mykonos is a popular choice and there are four ferries per day during the high season. Another island that can be easily reached is Paros and the high-speed ferry takes just over two hours.
Both islands are lovely holiday destinations and very different, so the best solution, if you can't decide between them, is to island hop from one to the other for your vacation, don't you think?
---
Which island are you visiting next? Crete or Santorini?
Let me know in the comments below!
You might also want to read these articles:
Let's Start by Getting Ready for Crete!
RESOURCES TO BOOK YOUR TRIP:
Book your flight: I use Skyscanner to compare prices before booking a plane ticket.
Book your ferry: When ferries are more convenient than air travel, I use Ferryhopper.
Book your accommodation: I've tried many different platforms for accommodation, but none of them beats the advantages of Booking.com.
Book your car: The best way to find an affordable car to rent is to use a powerful search engine that compares all the rental companies in the market. I use Discover Cars.
Book your tours: Live unforgettable adventures and cultural experiences with Get Your Guide. For instance, you can Visit Elafonisi, discover Balos Beach, hike Samaria, or explore Knossos.
Don't forget travel insurance: Things can go wrong at times, but travel insurance will protect you against illness, injury, theft, and cancellations. I recommend Safety Wing for peace of mind.
Still Not Sure whether to Visit Crete or Santorini?
Pin this Guide and Read it Again Later!
About the author of this blog: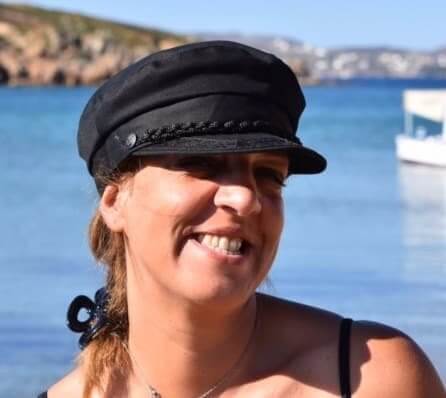 Gabi has been living in Crete for the last five years. On the island, she juggles being a solo mom, hosting culinary tours in summer, translating, and freelance writing.
She's written for Greek Reporter, published several travel guides about Greece, and had more glasses of frappe than any regular person would be able to handle.
COMING TO CRETE SOON?
Get in touch and let me know!