We should all experience a visit to Istanbul at least once in our lives. The architecture, its rich history and culture, and a collection of interesting traditions are all worth the visit. And Turkish food too!
Often included among the most delicious tastes in the world, food from the Balkans offers a variety of incredible tastes you should try. If your trip is around the corner and you're wondering what to eat in Istanbul, read on and discover everything you shouldn't miss at a Turkish table.
---
Disclaimer: Posts include affiliate links to products or services. I might earn a commission if you make a purchase.
---
Best Food in Istanbul
Basic Things You Need to Know about Istanbul
RESOURCES TO PLAN YOUR TRIP TO TURKEY!
Book your flight: I use Skyscanner to compare prices before booking a plane ticket.
Explore Turkey by Ferry: Ferryhopper has the best ferry ticket deals in the Mediterranean.
Book your accommodation: I've tried many different platforms for accommodation, but none of them beats the advantages of Booking.com.
Book your car: The best way to find an affordable car to rent is to use a powerful search engine that compares all the rental companies in the market. I use Discover Cars.
Book your tours: Live unforgettable adventures and cultural experiences with Get Your Guide. For instance, you can visit Hagia Sofia, discover the Basilica Cistern, take a day trip to Cappadocia, or enjoy a magic Bosphorus cruise at sunset.
Don't forget travel insurance: Things can go wrong at times, but travel insurance will protect you against illness, injury, theft, and cancellations. I recommend Safety Wing for peace of mind.
Where is Istanbul
Spreading between Asia and Europe, Istanbul is a magical place on the edge of two continents.
Facing the Bosphorus strait, Istanbul is not the capital of Turkey, but it is the most remarkable city in this Balkan country with strong Asiatic, Middle East, and Mediterranean influences.
How to Get to Istanbul
The most convenient way to get to Istanbul is by plane. The country's national carrier, Turkish Airlines has flights connecting Istanbul to dozens of destinations in Europe and the rest of the world, and their fees are often quite convenient.
The city is easy to reach from any European capital, with flying times varying from 2 to 4 hours from cities such as London, Paris, or Milan.
If you're traveling from the US, keep in mind that a direct flight from the east coast takes between 10 and 12 hours.
There are two international airports in Istanbul. The one located on the Asian side, Sabiha Gokcen Airport is quite far from the center of the city and it receives most low-coast flights to Istanbul.
On the European side of Istanbul, New Istanbul Airport is more convenient, about 30 minutes from the center of town.
Ferry trips to cities such as Bodrum or Fethiye are common as well, especially for a few close-by Greek islands.
Trains arrive at both the Asiatic and European parts of Istanbul from Bulgaria, Greece, Hungary, Romania, and the Middle East but travel times can be very long.
It is also possible to get to Turkey by car from other Europe and Asiatic countries but traffic can be really heavy and parking nearly impossible.
You can also travel to Istanbul by bus from Austria, Bulgaria, France, Georgia, Germany, Greece, Iran, Russia Switzerland, and more.
When is the Best Time to Visit Istanbul
I personally love the special atmosphere of Istanbul in winter, with street food vendors selling delicious roasted chestnuts on every corner of the city.
I prefer winter also to indulge in comfort food such as manti or hearty regional casserole dishes.
Spring and fall are great for travel in any Mediterranean area as the weather is mild, allowing plenty of sunny days to get out and explore.
Summer, instead, is great if you're also planning to enjoy the magnificent Turkish coast. The city tends to be packed and prices are also less convenient.
Where to Stay in Istanbul
There are endless hotel options in town and it can be hard to decide where to stay. I always suggest trying to stay close to Sultanahmet, especially if this is your first visit.
Prices for a good, basic hotel usually start at €50-70 per night. However, don't forget to always read the hotel reviews before booking!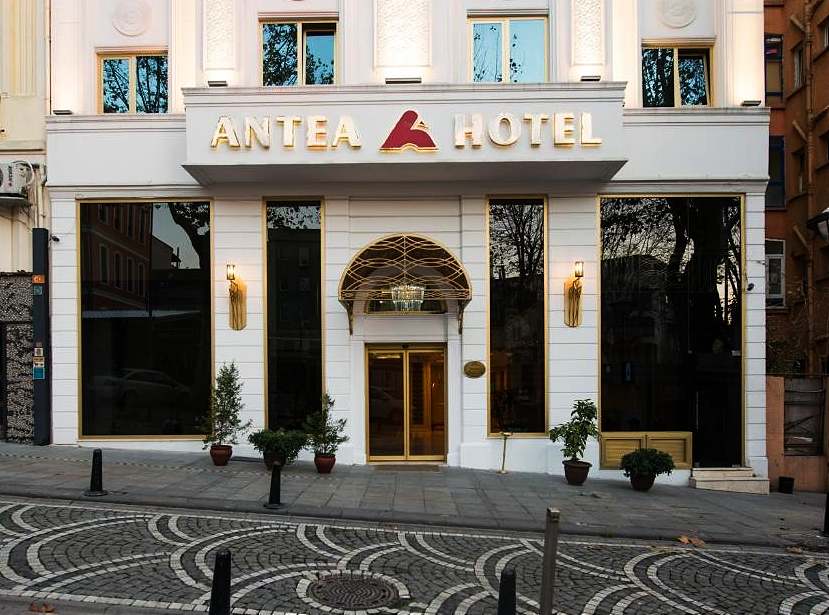 Other alternative places I suggest are these:
Didn't find the right place to stay? Check this link to look for the best hotel deals as well as rental homes if you still don't know where to stay in Istanbul.
Ok, now yes, without further ado, let's discover what to eat in Istanbul for a tasty adventure in Turkey!
What is the Local Food in Istanbul Like?
During the centuries, the Ottoman Empire expanded its boundaries across different continents spreading its culture and traditions.
At the same time, the empire received influences from faraway lands and civilizations, and its cuisine did not escape such a fate.
Turkish cuisine influenced the dishes from most Balkan countries, but it also incorporated gastronomic traits from Central Asia, the Middle East, the Caucasus, and the Mediterranean.
The Ottoman Empire was also a sort of bridge between the East and the West, where routes for trade also allowed the arrival of exotic ingredients to the empire.
As a consequence, the national cuisine is vast and varied, making a trip to Istanbul – of any given length – seems too short to taste the local gastronomy.
On the streets of Istanbul, food seems to be available on every corner. Inviting food smells invade the atmosphere whenever you get off a bus, cross the road, or walk around.
Anywhere you go, street vendors offer bread, mussels, nuts, and fried bites any tie of the day. And while small restaurants display endless trays with inviting dishes, bakeries, and pastry shops pile skyscrapers of sweets drizzled in honey.
Anything from hearty stews to savory pies and tempting sweets, in Istanbul food is a feast and these are some of the best things you will have to try!
Delicious Things to Eat in Istanbul
In no particular order, these are some of the best dishes to look for in Istanbul:
Lahmacun
Although it might be tempting to compare it to pizza…well no, don't. This terrific dish is a thin, oval piece of dough topped with minced beef (mutton or beef), abundant spices, and finely chopped vegetables, including onions, tomatoes, parsley, and herbs, and sometimes drizzled with a few drops of lemon juice.
Baked until crispy, this is one of the most popular dishes in Istanbul, offer eaten as street food but also as a proper starter at a restaurant. It's a beloved dish all over Turkey too and the toppings can vary in different regions.
Midye (Mussels)
Quintessential street food in Istanbul, mussels can be found on any corner and they are super tasty. Mussels are cooked in enormous rounded pans and served in a small paper container with just a drizzle of lemon juice.
Mussels can be stuffed, deep-fried mussels, or steamed and spicy. Yet they are always so delicate and light that you could eat a ton of them and not even notice.
Foodie or not, definitely, make a stop and have a few Turkish Liras worth of midye, they are both affordable and delicious.
Simit
Halfway between a bagel and a pretzel, this traditionally Byzantine dish finds its roots in ancient times all over the Balkans. If you're used to Greek bread (or Cretan food), think of it as a koulouri when it comes to its shape.
Simit is a soft, even chewy at times, round bread that is baked after it was sprinkled with abundant sesame seeds.
Simit is another super popular snack you will find on the streets, there are dozens of picturesque red simit carts all over the city!
Köfte
Meatballs are another staple dish that has made Istanbul food and Turkish cuisine famous.
Although it is a characteristic recipe found everywhere in the Balkans, köfte has different versions in Turkey and they are all delicious (see below for köfte several varieties).
Normally, köfte is made from lamb, beef, or a combination of both. The meat is seasoned with spices and herbs which give the meat its typical flavor.
Köfte is often served with rice, spicy sauce, and grilled tomatoes, peppers, or onions. In some restaurants, they also serve them with bread and a yogurt-based sauce.
Çiğ Köfte
Although I am not a fan of raw meat, I was taken to a typical Iskender Istanbul restaurant and this was part of the selection of dishes we were served. It wouldn't have been polite to refuse to try this dish and to be honest… I loved it!
Çiğ köfte is a raw köfte that is normally served before the main dish as a meze (a small dish or appetizer, think of a Spanish tapa or a Greek meze). The raw meatball is normally made of lamb and it is quite spicy.
The cook shapes it leaving the imprint of the fingers in the meatball and serves it cold with lettuce.
Why? Well, you would normally wrap it in a fresh leaf of lettuce (to lessen the spicy taste) adding a few drops of lemon juice before eating it. Some people also wrap it inside hot, flatbread.
The dish is really savory and it has a strong taste that's surprisingly delicious.
İçli Köfte
Another fantastic starter I tasted during the same meal, this kind of köfte comes a fried croquette made of ground beef or lamb, tons of spices, and finely chopped onions.
The dish, which is also known as bulgur koftesi, is a very affordable, popular, and rich dish that can be a bit spicy, but not much.
Lavaş Ekmeği and Tulum Peynir
This very thin kind of pita bread is served hot and directly from the oven. It arrives at your table as big as a balloon and it loses the air inside little by little, remaining soft, flat, and easy to open and fill with raw meatballs…
Or…better, spread a mixture of butter over it which melts with the heat, and a rather spicy, savory cheese, tulum pyniri, which gives a pleasant salty taste to the whole dish. The cheese can be served grated or in slices, or both!
Manti
This was my absolute favorite dish, manti is serious Turkish food that every local love and enjoy, usually at the family Sunday lunch!
This is, hands down, one of the most popular foods to eat in Istanbul, and for a reason: it's delicious! So much so that I attended a cooking lesson where we learned how to make manti.
These very small dough dumplings filled with minced lamb or beef meat and onion might remind you of the Italian Cappelletti...
Well, you will be deceived, they are not similar at all. They can be served with hot tomato sauce, a sprinkle of chili pepper, and a good amount of yogurt on top that adds that extra touch of acidity, giving this dish a unique twist!
Learn how to cook Turkish with a private cooking lesson:
Balık Ekmek
Another dish that surprised me since I am not a huge fan of fish… however, stunning!
This sandwich encloses the essence of Istanbul and it is really a mouthwatering treat that you won't forget.
Rather simple but absolutely tasty this is a grilled fish sandwich with lettuce. The lettuce adds a touch of crispness that also grants color and enhances the flavors.
Sounds plain? Well, it is! However, the bread is fresh, soft, and tasty while the fish is cooked by the sea in a really inspiring scenario!
Before arriving in Istanbul, and even not loving fish, I had imagined this was going to be the end of the world. It was.
Want to try it? Head to Tarihi Eminönü Balık Ekmek, right behind the Spice Bazaar, next to the Galata Bridge.
Kumpir
Love potatoes? Then, there's no way you do not love kumpir! These baked potatoes can be very simple… or just the bomb!
The cook will slice the baked potato in half and mix the soft potato with butter and cheese.
After that, he will cover the potato mixture with the toppings of your choice, anything from olives, meat, sauces, cheese, vegetables, and mushrooms. Tasty and decadent!
To learn more about Turkish food, join a street food tour in Istanbul:
Döner
You cannot really say to have been in Istanbul if you have eaten doner, can you? One of the most beloved legacies from Turkish to the world, doner is a delicious dish that can be enjoyed on the street or at a restaurant.
The meat cooks right next to the fire while turning on these giant vertical rotisseries which can now be seen almost anywhere in Europe.
In fact, doner is extremely popular in most European countries.
The meat, often lamb, is shaved off as it cooks to make a delicious meal that can be eaten inside pita bread or served as a dish with fresh tomato, lettuce, fried potatoes, and a portion of sour yogurt.
İskender
Also known as İskender kebap or kebab, this is a popular meat dish in northwestern Turkey (Bursa) that has spread and become popular all over the country and it's easy to find in Istanbul.
It is prepared from grilled lamb roasted and cut thin, served with hot tomato sauce placed over pita bread.
It is accompanied by copious quantities of melted butter and yogurt on the side.
This dish is easily found in plenty of restaurants with the names of İskender kebap or Bursa kebabı, from the region where it was created.
Gözleme
One of the most delicious things to try while walking the streets of Istanbul is Gözleme.
Gözleme is a crispy, golden Turkish flatbread cooked on a hot iron surface, that can be eaten plain but much tastier when served stuffed with all sorts of tasty fillings including potatoes, cheese, spinach, spiced beef, mutton, or lamb.
İncir (Figs)
Figs, as well as all dried fruit and nuts, are a true delicacy. Mostly sold in abundant quantities in bazaars and markets, in general, their quality is superb and the size truly outstanding.
If you visit the Grand Bazaar or the Spice Bazaar, ask for one to try and you will be wanting to take home more than a kilo.
Sweet, tender, and with a unique taste, Turkish figs are a real gem in the culinary crown of the country.
Türk Kahvesi (Turkish Coffee)
This is a rather strong beverage. It is an unfiltered coffee made with roasted and finely grounded beans that are simmered inside a cezve (or pot), some people prefer it with sugar.
The grounds settle in the cup once it has been served. Turkish coffee is an Intangible Cultural Heritage of Turkey confirmed by UNESCO.
There are four degrees of sweetness in Turkey:
sade (no sugar)
az şekerli (half a teaspoon of sugar)
orta şekerli (one teaspoon)
çok şekerli (one and a half or two teaspoons)
Learn more about Turkish coffee:
Çay (Turkish Tea)
Turkish tea or çay is a variety of black tea drank without milk and typically prepared using two stacked kettles (çaydanlık) designed to prepare it.
Water is boiled in the lower kettle and then some of the water is used to fill the smaller one on top and infuse some loose tea leaves, producing a very strong tea.
Once it is served, the remaining water is used to dilute the tea on an individual basis, giving each consumer the choice between strong (koyu), medium (tavşan kanı>, literally rabbit blood) or light (açık).
They serve it in small, tulip-shaped glasses with cubes of sugar. If in the mood for something even more delicate, sweet, and tasty, try elma çay or apple tea… It's addictive!
Baklava
Baklava is a super caloric, rich, and sweet pastry made with layers of filo or philo, a very thin unleavened dough that has chopped nuts and great amounts of honey or syrup drizzled on top.
This is a characteristic dish from the Ottoman Empire that can be easily found in most Middle Eastern and Balkan countries.
Ayran
The national drink of Turkey, ayran is a cold drink made with yogurt, water, and salt as the main ingredients.
Although it might not sound like your cup of… ayran, it goes extremely well with grilled meat and rice dishes, you won't regret trying it!
Sahlep
Sahlep is originally a kind of flour made from the tubers of an orchid, containing glucomannan, which adds thickness when used in gastronomy.
It is used to produce a vanilla-flavored drink, of a milky consistency, normally served with cinnamon powder and a side dish of lokum (see down), ideal to heat you up after long walks in the cold Istanbul Winter.
Lokum (Turkish delight)
These worldwide famous Turkish sweets, which no tourist ever fails to take back home, are a traditional jelly-like treat, made with gel, starch, and sugar.
There are many varieties as well as tastes and they are often served with tea, Turkish coffee, sahlep, or any other hot drink.
Some of them also may contain pieces or whole nuts. Traditionally, they are flavored with rosewater, lemon, orange, or mint.
As you can see, there is plenty of delicious food to try in Istanbul… where do you want to start from?
---
What of these dishes would you like to try?
Let me know in the comments below!
You might also want to read these posts:
---
Pin This Guide to What to Eat in Istanbul for your Next Vacation in Turkey!
About my blog: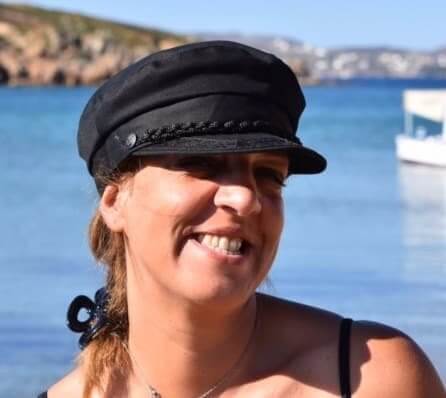 I moved to Crete in 2016. During these years, I learned much about the island.
In Crete, I juggle being a solo mom, hosting culinary tours, and writing for several travel media.
I've written for Greek Reporter, published travel guides about Greece, co-authored DK Eyewitness Top 10 Crete, and had more glasses of frappe than any regular person could ever handle.