Greece is one of the most beautiful countries I've ever visited. So much so that I couldn't resist moving here to live and fully experience everything it has to offer. In this travel guide, you will find tips and details to plan a visit and discover the best things to see and do in Greece.
This Greece Travel Guide will be super helpful if you're in the planning phase of your trip to Greece, or if you're having a hard time trying to decide where to go or which islands to include in your itinerary.
This article may have affiliate links to products and services that I use. If you make a purchase through these links, it might earn me a small commission at no extra cost to you.
Discover Greece
Travel tips to organize your trip
Still not sure if you should visit Greece or not? Worry no more! This list of reasons why Greece should be your next holiday destination will certainly convince you to book your next trip.
After the trip has been decided, it's necessary to plan where exactly you should go. Start by checking the best places to visit in Greece so as to start designing your own customized itinerary. To do so, it's important to know when are you visiting.
Visiting Greece all year round gives you tips to visit Greece not only during summer but also when it's a bit colder. Not everything is about beaches in Greece!
Summer is unquestionably a great time of the year to visit the country. Here are a few ideas for those coming to Greece in summer.
Finally, if you're traveling to Greece with all the family, you should look for activities fit for all ages. This guide to the best places for families in Greece gives you a few ideas about the best places to go with small kids.
Christmas and Easter Holidays
Greece is a great place to be during the holidays so as to learn about local traditions. There are several customs and rituals unique to each of the regions. If this year, you're planning to have a very different kind of celebration, check this Christmas guide to the Greek islands. You can also learn about some Greek Easter traditions or, have some fun learning about superstition and bizarre rituals related to New Year in Greece.
Things to do in Greece
There's no end to the variety of things you can do in Greece, it all depends on your interests. If you're a fan of history and myth, you should definitely explore the fantastic ancient sights of Athens, make it to Cape Sounio, or discover the Greek Medieval castles and fortresses on some of the islands.
Those interested in a classic tour of Greece will definitely put Santorini on their itinerary. The island is a fantastic destination not only for couples but for solo travelers and for families too, you can check some interesting and engaging activities for families in Santorini or for families in Mykonos.
Foodies will love to learn everything about the local cuisine. Start by tasting some of the best wines in Santorini or visit a winery in Crete. Or if you prefer tastes that are a bit stronger, discover koum quat in Corfu or tsikoudia in Crete.
Check the local staple foods, such as Greek bread and extra virgin olive oil, or discover the thousands of herbs of the islands.
Travel guide to Athens
Athens, the capital of Greece, is one of my favorite cities in the world. There are plenty of things for you to see and discover, no matter if you're staying for a few days or it's just a layover while you wait to reach any of the islands.
Down below there's a generic 3-day itinerary to Athens that you can use as-is or that can inspire you to decide how you'll spend time in town. I've also added a night guide to Athens which includes bars, pubs, and other great venues
You can also read the Tiny Book of Athens here, all my articles and travel guides to Greece's capital.
Travel guide to Crete
Crete, Greece's biggest island, is the place I decided to call home a few years ago. That's the reason why most of the articles in this blog are about things to do in Crete, and many of them are about my region, Chania.
The island is a perfect destination all year round. It's home to fantastic beaches, high mountains, breathtaking gorges, and interesting archaeological sites. Down below, there is a generic guide with tips to plan a trip on the island. The second guide will help you to decide what are the best things to do in Crete.
Travel guide to the Greek Islands
Santorini
Arguably the most romantic destination on the Aegean, Santorini is the most popular Greek island. In this section you will find a collection of useful guide to plan the perfect trip to Santorini.
If you're about to visit, check the most complete itinerary to Santorini, it will give you a thorough insight about the things you can so and see, no matter how long you'll stay. Do you want to know where to take the best snapshots of the island? Check this Santorini photography guide.
You can also read the Tiny Book of Santorini here, all my articles to this Cycladic island.
Mykonos
Second to none when it comes to parties and transgression, Mykonos is another must-visit island of the Aegean. However, there's more to Mykonos than loud music and clubbing. The island is home to beautiful shallow shores that make it possible to enjoy family travel in Mykonos.
The island is well-known for stunning landmarks, such as Panagia Paraportiani, the whitewashed group of churches in the quarter of Alefkandra or the picturesque Mykonos windmills right in front of the sea.
Paros
The Greek island of Paros is located in the heart of the Aegean, and it has little by little turned into one of Greece's main hubs for those visiting the rest of the Cyclades.
The landscape of the island is made of bright whitewashed cubic houses, blossoming pink bougainvillea, and traditional mountain villages worth more than just a one-day visit. You can check this guide to the best things to do in Paros to plan a perfect holiday on the island.
Naxos
Another of my favorite Greek islands, Naxos is the perfect destination for a holiday made of endless days under the warm sun of Greece. There are endless things to do on the island, no mater if you visit Naxos in one day or if you plan to stay longer.
This fairly big island has a little bit of everything for every one. On Naxos it's possible to choose between stunning beaches and mysterious archaeological sites, villages lost in the mountains and a mouthwatering cuisine.
Antiparos
A tiny gem very opposite the shores of Paros, the island of Antiparos is an island a bit off-the-beaten-track. Yet this fact shouldn't deceive you, Antiparos is a small paradise, laid-back and extremely safe for those traveling with kids.
There are plenty of things to do in Antiparos, you can visit the nearby island of Despotiko and its unique archaeological site, or you can devote a morning to explore the cave of Antiparos.
Patmos
If you move towards the Dodecanese cluster of islands, make sure to include Patmos in your island-hoping itinerary. This complete travel guide to Patmos will help you decide what to do, where to eat, and where to stay on the island. It includes a section devoted to the island's best beaches too.
The island is also a famous destination for Christians all over the world. Patmos religious sites include the Cave of the Apocalypse and the impressive monastery of Saint John.
Small Islands
Lipsi
A day-trip to Lipsi can be a great visit if you're staying on one of the bigger islands of the Dodecanese. In fact, Lipsi can be easily reached from Leros, Kalymnos, and Patmos as well.
Those who enjoy holidays in quiet and isolated places, can be certain to find a hidden paradise in this forgotten corner of Greece.
Paxos & Antipaxos
These two tiny islands a few miles off the coast of Corfu belong to the Ionian cluster of Greek islands (the Heptanese). In fact, one of the most popular trips from Corfu is a day-cruise of the Ionian which includes a swimming stop in the turquoise waters of Antipaxoi and a visit to Paxoi's capital, Gaios.
Hydra
Those visiting Athens just for a few days can still experience the vibe of the Greek island life by boarding a cruise and traveling to the nearby Hydra.
The only way to travel on the island is on foot or riding a horse or a donkey, you can walk to the beaches of Avlaki, Vlychos or Kamini, or even hike to explore some of the inner villages. The best thing of all is that you can be back to Athens on the same night!
Cruising in Greece
Cruising in Greece is one of the best ways to see different parts of the country during the same trip. It allows you to travel without much hassle and to enjoy life on board as well.
If you're not certain whether you should book a trip by sea or have no clue where your boat might be stopping, take a look at this article to learn about the best cruising ports in Greece.
Are you ready to explore Greece? It can be the trip of your lifetime. Get in touch if you need extra help to plan your itinerary. If Crete is part of your travel itinerary, check this guide to better explore the West Crete. You'll find detailed info about where to go, what to see, where to eat, and more!
Coming to Greece any time soon? These resources will help you organize the trip!
Start by heading right to my Greece travel guide for in-depth details you need to know about Greece. You can also check my post to plan a trip to Greece with children!
Probably, you're planning to experience the thrilling island-hopping experience. Head to this article and read about the best cruise ports in Greece.
To have updated information about the island of Crete, as well as about the rest of Greece, join my private group on Facebook about Crete and download a copy of my West Crete Travel Guide to have it always with you if you visit Crete!
Finally, make sure you've got everything you for a hassle-free trip!
I never move around the islands without my Osprey backpack, a sturdy, light, roomy, and super comfortable travel partner I just love. To visit villages, sites, and museums instead, I carry this little crossbody bag.
When driving around, I pack my Nikon D7200. In Summer I also carry good sunscreen lotion, the sun on the island can be pretty aggressive. Always bring with you a good travel guide! Lonely Planet's Best of Greece & the Greek Islands.
Airfares to Greece can change from one airline to the other, make sure to compare prices with a powerful search engine. Planes are fast, but nothing like the romantic experience of traveling by sea in Greece, book your ferry tickets in advance at the lowest price, with no hidden fees or extra costs.
If I need to book accommodation, I personally use different search engines. Booking.com and Hotels.com are my go-to options.
Sometimes, the best way to get to know a place and make the most of your time is to join an organized tour. GetYourGuide has top-rated tours to save time and money. From cooking lessons to archaeological site tours, skip-the-line attractions, and even airport transfer!
Do you have everything you need? Then you just have to get ready to discover Greece!
These articles about Greece have been thought just for you!
If you're curious about traveling the Greek islands, check the most amazing places to visit in Greece. Crete is my favorite island of all, and these 50 unmissable things to do in Crete is a great article from where to start planning a visit. Greece is also an ideal place for scuba diving, here you can discover where to do it on the islands.
Head to this article to check the best ports for cruises in Greece. This guide, instead, shows you the best things you can do in Athens if you visit for three days. If you have less time in the capital of Greece, find inspiration in this article describing all you can do if you have one day to spend in Athens.
Are you planning a trip to Greece?
Let me know in the comments below!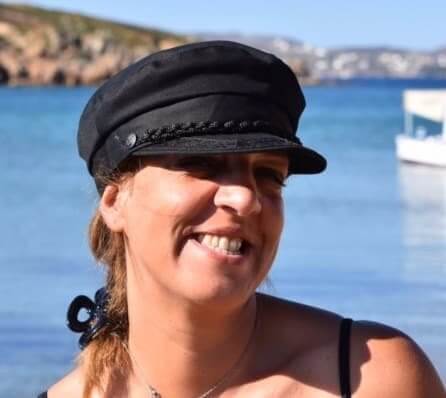 About the Author
Hola! I'm Gabi. Welcome to The Tiny Book – Crete Travel Blog! I moved to Crete to explore the island all year round. I love taking pictures and driving on the mountain roads of Crete. I'm a beach freak and on this island I've found heaven on earth!
---
You might also want to read:
---