Visiting the capital of Crete this summer and already thinking about having a great pizza, right? I can help! 22 years living in Italy plus two Italian sons have taught me everything about authentic pizza, and – especially – what pizza to avoid when living abroad. If you're looking for the right pizza in Heraklion, read on to find the best Italian restaurants in town.
---
Disclaimer: Posts include affiliate links to products or services. I might earn a commission if you make a purchase, at no extra cost to you.
---
The Best Pizza in Heraklion, Crete
Let's Start by Getting Ready for Crete!
RESOURCES TO BOOK YOUR TRIP:
Book your flight: I use Skyscanner to compare prices before booking a plane ticket.
Book your ferry: When ferries are more convenient than air travel, I use Ferryhopper.
Book your accommodation: I've tried many different platforms for accommodation, but none of them beats the advantages of Booking.com.
Book your car: The best way to find an affordable car to rent is to use a powerful search engine that compares all the rental companies in the market. I use Discover Cars.
Book your tours: Live unforgettable adventures and cultural experiences with Get Your Guide. For instance, you can Visit Elafonisi, discover Balos Beach, hike Samaria, or explore Knossos.
Don't forget travel insurance: Things can go wrong at times, but travel insurance will protect you against illness, injury, theft, and cancellations. I recommend Safety Wing for peace of mind.
When it comes to the best pizza in Crete, I know my way on the island. Pizza is not only my kids' favorite dish, but I am also a fan of this incredible Italian dish. No matter whether you're looking for a pizza restaurant, pizza delivery, or takeaway, here, you can find the right place for pizza in Heraklion.
You can check out this best pizza in Chania post if you're looking for the best pizza in West Crete.
In this list, you will find places that serve excellent, very good, good, and decent pizza in Heraklion, keep reading to find the perfect slice!
Pizza Pesto
2, Vourvachidon Street, Heraklion – website
Locally known as Ξανά PESTO, this pizza house not only serves great pizzas but also delicious appetizers (both from the Greek and the Italian tradition), as well as homemade pasta.
If you're looking for a treat, discover their Diavola pizza or order a fresh Maiala, with Italian bacon, ham, and salami. Outdoor seating is also available in this traditional corner of Heraklion.
Kasaoulio
260, 62 Martyron Avenue, Heraklion – website
Another great pizza joint in town for your perfect pizza fix. Here you will find excellent thin dough and generous toppings.
However, their menu does not just feature pizza, but also delicious garlic bread, crepes and waffles with ice cream, and inviting homemade dishes.
When it comes to the venue, kids will enjoy the big playground while drivers will appreciate the big parking space.
The pizza house is near Ammoudara Beach, which makes it a great place to go after a morning by the sea.
Silfio Pizza
73, Dimokratias Avenue, Heraklion – website
This is probably one of the most popular places in Heraklion for pizza, and that also offers takeaway and delivery at your place.
Silfio features a varied menu including also salads, pasta, and other traditional dishes typical of the Greek and Cretan cuisines.
Their Inferno pizza is the best choice you will find on the menu if you enjoy spicy dishes.
The Xoriatiki pizza, instead, is delicious and it comes with sausages, fresh tomatoes, Feta cheese, olives, and smoked bacon!
Pizza La Notte
208, Ionias Avenue, Heraklion – website
Offering on-site seating, takeaway, and delivery at your place, this is another popular pizza place in Heraklion (booking in advance is highly recommended – +30 281 036 0060)
Wooden oven, extra thin crust, and delicious toppings for a unique pizza in the capital. The place also serves grilled meat and hamburgers, pasta, and excellent desserts.
Don't forget to ask about the special daily prosfora (offer), chances are that you'll take home two pizzas for the price of one!
Il Pazzo Heraklion
26, Theotokopoulo Street, Heraklion – website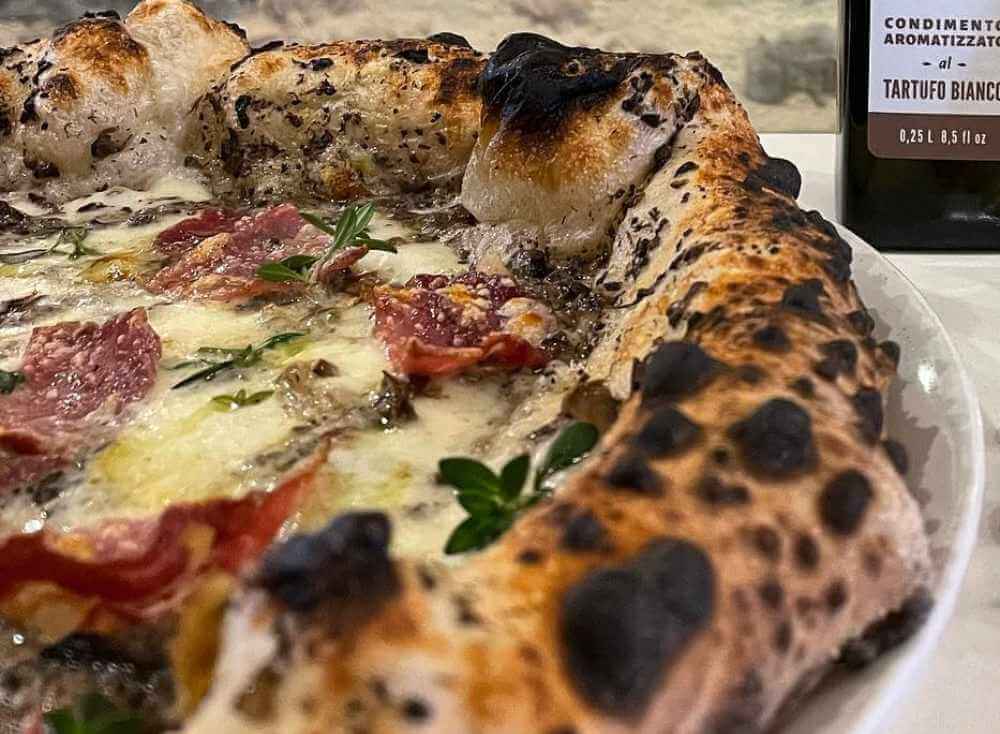 If you're looking for an authentic Italian pizza, then look no further than Il Pazzo. You will be surprised at the quality ingredients and the incredibly delicious Naples-style crust…
I mean, look at that picture, isn't it perfect?
The place is a fantastic family-friendly restaurant with a gorgeous garden, offering also delivery and takeout.
If you're an Italian lost in town, you will certainly enjoy the pizza over here.
Seriously, don't miss this place!
La Bussola
1, Kantanoleontos Street, Heraklion – website
There are all kinds of pizzas around and everyone enjoys different toppings, crusts, and tastes.
If you're a fan of the Roman pizza style (pizza al taglio style, to be more precise), then La Bussola won't disappoint.
The crust is thick but crunchy and the toppings are very generous.
The place enjoys great reviews also for its pasta dishes and sweets as well as for the kind staff and excellent service.
Mc Delly's Casual Restaurant
10, Agiou Titou, Heraklion – website
Located on one of the most popular pedestrian streets in the center of Heraklion, this pizza house is a gem that you will not want to miss… and not just for pizza!
They also serve great snacks and quick meals, including hamburgers, sandwiches, and salads, as well as plenty of vegan options to choose from.
You will also find a kids' menu, Nutella pizza, and calzone.
The place is open all year round (locals love it!) and they even celebrate National Pizza Day every February!
These are some of the best places for pizza in Heraklion, for really international flavors, to Greek pizza and authentic Italian crust, I'm sure that in Heraklion, you'll be able to find the best slice of pizza!
---
Which is your favorite pizza restaurant in Heraklion?
Let me know in the comments below!
You might also want to read these articles about food in Crete:
---
Pin it! Where to Eat the Best Pizza in Heraklion During Your Time in Crete!
About the author of this blog: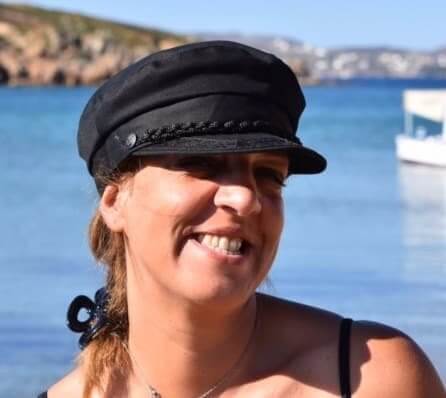 Gabi has been living in Crete for the last five years. On the island, she juggles being a solo mom, hosting culinary tours in summer, translating, and freelance writing.
She's written for Greek Reporter, published several travel guides about Greece, and had more glasses of frappe than any regular person would be able to handle.
COMING TO CRETE SOON?
Get in touch and let me know!