Morocco has become a perfect short-trip destination for those based in Europe since many low-cost carriers have opened their routes to the African country. The once exotic and hard-to-reach desert has quickly turned into an accessible place to experience.
---
Disclaimer: Posts include affiliate links to products or services. I might earn a commission if you make a purchase at no extra cost.
---
One Week in Morocco: Top Things to Do
Resources to Book Your Trip
Book your flight: I use Skyscanner to compare prices before booking a plane ticket.
Book your ferry: When ferries are more convenient than air travel, I use Ferryhopper.
Book your accommodation: I've tried many different platforms for accommodation, but none of them beats the advantages of Booking.com.
Book your car: The best way to find an affordable car to rent is to use a powerful search engine that compares all the rental companies in the market. I use Discover Cars.
Book your tours: Live unforgettable adventures and cultural experiences with Get Your Guide.
Don't forget travel insurance: Things can go wrong at times, but travel insurance will protect you against illness, injury, theft, and cancellations. I recommend Safety Wing for peace of mind.
] Just a few hours away from most European airports and with no special visa requirements, no wonder everyone is putting Morocco on their travel list.
If you're one of those people, I'm sure you'll find plenty of useful tips and ideas in this Morocco itinerary for 7 days.
Arriving in Morocco
If you're departing from any European capital, chances are that the International Airport of Marrakech (Menara) is your gate to enter the country.
However, there're international airports in Morocco. You could arrive at Agadir, Tangier, or land at the International Airport of Casablanca (Mohammed V).
This particular article considers flying into and out of the country via Marrakech, but it can be easily adapted to any other airport in the country, as well as to traveling the country by bus or train, hiring a taxi, or renting a car.
Upon arrival at Marrakech, head directly to the taxi stand, and don't be afraid to bargain for a taxi to reach Essaouira. This is going to be the first destination in our 7-day itinerary.
A taxi ride to Essaouira can be rather affordable, however, if you're on a budget or prefer the comfort of a private transfer, head to the end of the article to read about other transportation options that better adapt to your trip.
Basic Morocco Itinerary for 7 Days
Marrakech – Essaouira – Atlas – Sahara Desert – Marrakech
These 7 days in Morocco are a summary of our 10-day trip.
This itinerary is based on the southern area of the country, including 3 days in the Sahara desert, and a final stop in the city of Marrakech.
I have discarded our stop in Agadir so that you can have a better insight into Essaouira and Marrakech while enjoying the country at a slower pace.
However, if you plan to extend your stay or have more days available for your trip, you can jump right to our 10-day Morocco itinerary and either follow our recommendations for the south or choose an alternative itinerary for those extra days in the country.
2 Days in Essaouira
You will need a bit more than 2 hours to reach the seaside city of Essaouira, located on the Atlantic coast.
Essaouira is a great place to visit if you're looking to discover a more authentic side of Morocco.
Here you can check the artisan markets with price tags that are more convenient than in other major cities. Other places to see include the port, the main square, and the synagogue.
Essaouira Day 1: The Medina
If you've chosen to stay inside the walls of the medina – and you definitely should – your taxi will drop you off at the gates of the old town.
From here, you can make your way on your own or trust your bags to a luggage cart. Bargain (again) if you need this kind of help to reach your accommodation.
One of the things that I loved the most during my first afternoon in Essaouira was getting lost in the narrow alleys, but if you prefer to have a better idea of where you're going, get a good map of the medina at your hotel's check-in counter.
In my case, getting lost made me discover that my first lunch could be in one of the many improvised open kitchens of the medina.
Many housewives open their homes and propose a good vegetable tajine at very affordable prices, ideal if you're on a budget.
You can also choose to visit the Place Moulay el-Hassan, Essaouira's main square. Here, go for a teapot of Moroccan mint tea in one of the many cafeterias.
The Markets
Spend the next hours exploring the markets. The fish and spices souk can be visited in the morning, while in the afternoon you can visit the many artisan shops and the carpet market.
Artisans in town are skilled in wood carving and leather. In Essaouira, it's possible to find excellent leather bags and shoes.
Historic Sites
If shopping is not your thing, opt for a visit to the Sidi Mohammed Ben Abdellah Museum to check out their exhibitions of jewelry and musical instruments (Rue Laaluj Derb, fee: 70 Dirham, most signs are only in French or Arabic)
If you're interested in the history of the local Jewish community, head to the Synagogue Slat Lkahal and also visit the museum (119 Rue du Mellah, free entrance).
Dinner and Fun
For a great dinner and entertaining evening in Essaouira, we chose Caravane Cafe and we loved it. They serve good dishes both from local and international gastronomies, the venue is animated, and the decoration is super original (2, Rue Quadi Ayad).
Essaouira Day 2: The Port and the Views
These are the places I suggest checking out today…
Skala du Port and Skala de la Kasbah
Wake up early to discover the walls. The medina is surrounded by walls dating back to the 18th century.
Also known by the name of ramparts, their main function was to protect the medina both from the waves and pirate attacks (Skala du Port, entrance fee 70 Dirham).
Another alternative is to visit the Skala de la Kasbah (free entrance). The bastions offer stunning views both of the city and the sea.
The Port of Essaouira
The important fishing port of Essaouira is home to hundreds of blue fishing boats and dozens of seagulls. If you're into photography, the place offers unique views.
Not far from the port, you can enjoy a lunch made of fresh fish weighed and cooked right in front of you.
The Beaches
Essaouira is the place to be for windsurfing thanks to the winds coming from the Atlantic Ocean. For a more relaxed afternoon, go for a horse or dromedary ride on the beach.
Don't expect to swim or enjoy the beaches of Essaouira in more traditional ways, strong winds make it hard to spend long hours sunbathing.
Where to Stay in Essaouira
When planning a visit to Morocco, it's always better to book your accommodation in advance, both if you are a solo female traveler or you're traveling with kids.
And of course, any Morocco visit should include at least a short stay in a riad.
In just a few words, a riad is a traditional Moroccan house with a garden or sometimes a terrace. They tend to have very curated details but can also be basic and spartan.
Don't hesitate to get to the end of the article to choose the perfect Moroccan accommodation.
In Essaouira, we opted for a riad inside the walls of the old city and we loved it. You can check reviews or book Riad Baladin here. To look for more accommodation in Essaouira, check this page.
3 Days in the Sahara
The second part of this week in Morocco will see you on the move for quite a few days.
Not everybody is aware of the big distances you need to travel to reach the Sahara if you're staying in any of the most popular cities.
Besides, to get to the desert you will need to cross the High Atlas, the most important mountain range in the north of Africa. Therefore, it's really important to plan this leg of your trip with extreme care.
Without any doubt, the best way to face such a trip is by hiring the services of a local company which includes accommodation and comfortable transport.
There are several tour companies in Morocco offering 3-day trips to the desert, we chose a local company and the trip was perfect.
Also, take into account that these trips usually include several stops, so you will see parts of Morocco that you might have not considered at first, but which won't delude you.
Our three-day trip to the Moroccan desert was full of surprises and stunning views. After a night trip to Marrakech from the south (we traveled from Agadir, but you can skip Agadir and travel from Essaouira).
We started early in the morning and left Marrakech in the direction of the Atlas Mountains.
After crossing the mountains through the Tizi n'Tichka pass, our first important stops were Ouarzazate and Ait Ben Haddu right after.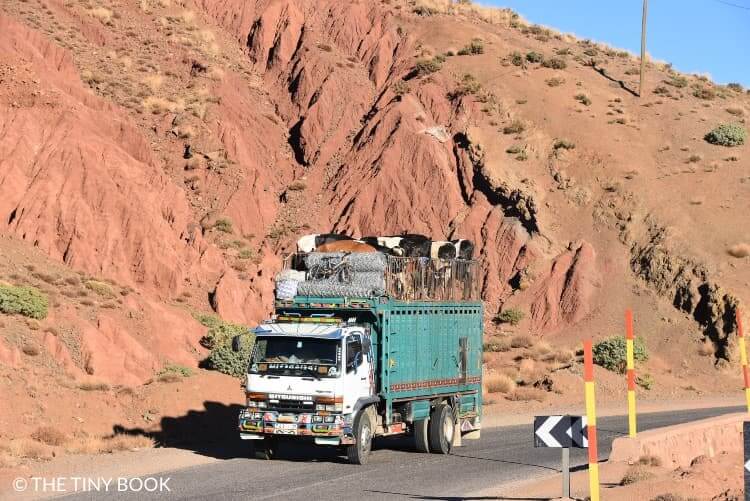 We spent that night in a mountain valley riad and on the second day, we headed to Merzouga, first visiting the Dades Gorge.
Our camel ride to the desert camp started about two hours before the sunset, and when we reached the nomadic camp everything was ready for our dinner.
Our evening was rather special because we also celebrated my son's birthday, an evening perfectly organized by the company I booked the trip with, cake and all!
The last day of the trip will see you riding back the camel out of the desert. You'll stop at a nearby riad for breakfast and a shower.
Next up, you're again back in the car on your way to Marrakech, a few refreshment stops are also included but bear in mind that you won't be arriving in the city until quite late at night.
Plan your departure accordingly and add at least one extra full day in Marrakech before your flight back home, just in case.
To read a full and detailed account of our Morocco desert adventure, with details of every stop, the places where we slept, and food stops, check this article.
How to Choose a Sahara Desert Safari
Even though we've always been rather independent when planning our trips, facing the desert on our own is not as simple.
I've found that even when the whole rest of our Morocco trip was planned by me with no help whatsoever, I'd rather have the support of a local for the desert.
The way that worked best for us was to book a private trip, just for our family, but it also meant having a guide all for ourselves during the three days.
The difference in price between a private tour or joining a group is not substantial, and as a plus, meals, stops, and accommodation were also cared for. We just had to get on the off-road car and enjoy the experience.
Although it's also possible to book your tour once you're in Morocco, some people even say that it's more convenient because it allows you to bargain for a better price.
We didn't spend much more money by hiring the services online a few weeks before the departure.
Having everything arranged for us, including pick-up and drop-off, three-day transport, meals, accommodation, a desert tent, and even a birthday surprise proved great value for money.
What to See on a 3-Day Tour of the Sahara
Let's start by saying that if you don't have at least three full days to devote to this tour, you won't be able to live the experience to the maximum.
You will be rushed around and probably won't spend the night in the desert. A three-day tour wins over a two-day tour, while a four-day trip seemed like a lot for us.
While looking for the "perfect" experience for you, you'll notice that most companies offer the "perfect" experience, that is, all of them will feature more or less the same tour.
We were able to choose from different accommodations, but also added and deleted some stops to fit our budget and needs.
We were not interested in luxury riads or tents but preferred to pay for a car upgrade since basically, you'll be for three days constantly on the road. It was the best thing we could do.
The typical three-day adventure in the Sahara – when departing from Marrakech, includes crossing the High Atlas Mountains and reaching Ait Ben Haddou, Ouarzazate, and the Valley of the Dades.
The first night is spent in a riad either in the Dades or close by.
Our riad was comfortable with an impressive view of the valley and the stay included a welcoming Moroccan tea with pastries in the afternoon, a delicious dinner, and a morning breakfast. The room was pretty basic but warm and comfortable (February was not as cold as we had thought, but neither was warm).
Early on the next day, you get on your way to the desert, with a stop in the Todra Gorge. Next up it's time for Merzouga.
Here is where you start the dromedary ride and get to the camp about two hours later, in time for sunset. In our case, the camp had three different tents – the only part of our trip that was not private, other tour operators had their groups that spent the night in the same camp. It was perfectly fine though.
Every group/family had their own dining time and tent for the meals and of course, their tent to spend the night.
We did get together around the fire late that night to sing, dance, and share a narghilè. Since we were also celebrating my son's birthday, it turned out into a great party.
We shared the cake and then everyone went to their tent to spend the night.
The next day everyone got on their dromedary caravan and left for a nearby riad for breakfast. The rest of the trip was again on our own, until our final destination, Marrakech.
2 Days in Marrakech
We arrived at Marrakech pretty late at night from the desert, so we just had the time for the check-in at our riad inside the medina, a quick shower, and a late dinner.
The most comfortable option was to sit at one of the many street food tables in Place Jemaa el Fna.
For just a few Dirhams it was possible to choose different dishes from the grill. Our dinner included meat, fritters, and salads with some different spicy sauces. It's also possible to choose a tajine, couscous or a pastille.
We ended up with a nice cup of Moroccan tea and head back to our riad for the night. We went for a simple stay in a traditional riad. No frills: a house in the medina that allowed us to breathe the local atmosphere.
Marrakech Day 1: The Medina, Souks, and Landmarks
Lots of things can be done in Marrakech in a day, you can check the highlights of the medina and the souk (market) where you'll certainly end up buying one souvenir or two.
These can range from argan oil to leather products, to house decorations.
If you want a suggestion (and Customs in your country allow them), do not miss the local species. If you enjoy cooking and recreating the dishes from your trips once back home, pick some saffron, local mint, and a variety of teas.
You might also check the tanneries, however, if Fez is going to be included in your trip, you might as well trade them for a visit to Ben Yousef Madrasa.
An afternoon spent in one of the many tea salons around Place Jemaa el Fna is great for those into photography or simply to learn more about the local culture.
Marrakech Day 2: Things to Do in Modern Marrakech
To escape the crazy atmosphere of the medina (it does get hectic at times), visit the Bahia Palace, a wonderful example of Marocco's architecture of the 19th century.
It includes over 100 rooms with rich wood decorations and stunning mosaics (Avenue Imam El Ghazali, open until 17.00).
If you've read a lot about Jardin Majorelle (Rue Yves St Laurent, open until 18.30), but are not sure whether to visit, the gardens in Bahia Palace are also stunning, with fountains and patios, and worth a walk around.
If you want to visit both, remember that the Majorelle Garden is a super popular touristic destination, you'll be much better visiting early in the morning and leaving the Palace for a later hour in the day.
Although you won't be able to access it unless you're a local, the Koutoubia is visible from all over the city. The Koutoubia is the largest mosque in Marrakech and it's very easy to reach from Jemaa El Fna.
Water vendors (also water carriers, locally known as guerrab) are a common sight and add a pop of color to the general atmosphere of the place.
Finally, no visit to Marrakech can be complete if you don't enjoy a traditional and local dinner in the Jemaa el Fna square, add some fresh orange juice and – maybe – a traditional dish of snails.
It will be a great way to end your Marrakech adventure. Check more things to do and not to do in Marrakech in this article.
More Time? 10 Days in Morocco
If you are lucky enough to enjoy 10 days in Morocco, there are a few things you might be interested in visiting.
However, not everybody knows that the country is rather big, and you might need many hours on the road to explore every corner of it.
Chances are that you will have to face the sad task of leaving many things out of your itinerary.
To make your task a little easier, I propose you an alternative 3-day itinerary to combine with your first week in Morocco.
You can explore the south, with a visit to Agadir and of the most famous beaches in the country.
Or you can head to the north for a dreamy visit to Tangier and Chefchaouen. Instead, if you are into history and architecture, the perfect Morocco trip should include 3 days in the Imperial Cities.
Now it's up to you to make the most of your extra time in Morocco!
Option 1 – Three More Days in South Morocco
Agadir and Legzira
Our 10-day trip to Marrakech included a two-night stay in Agadir after we visited Essaouira.
We traveled to Agadir by taxi, it was also possible to take a bus, but timetables were not convenient and it would have meant either leaving too early from Essaouira or arriving too late to Agadir.
No buses depart at midday in the low season, so once again, the grand taxi seemed like the best option. Check well in advance if you plan to cover this route by bus.
Despite being a bit more expensive than public transport, taking a taxi allowed for stops at some unique scenic points. If you want to explore some off-the-beaten-track villages, arrange with your driver.
Agadir
Agadir has a pleasant climate almost all year, in fact, back in February we were able to spend some time at the beach since the weather was pleasant and not windy.
One of the places to visit in Agadir is Souk Al Ahad, one of Marocco's most important markets. Since some of Africa's best quality saffron is produced in this area, it's not a bad idea to stock some if you're keen on cooking.
Be extremely aware though, not all Agadir's saffron is going to be top quality (Rue 2 Mars, open until 7 pm).
Make some time to explore Agadir's casbah, which despite having been destroyed by an earthquake in the 60s, still retains a fascinating atmosphere.
From the ruins, it's also possible to get one of the best views of the seaside. Visiting at sunset adds a touch of magic since the colors of the sun setting on the Atlantic are unique.
If you're up for an excursion, make a point to visit Paradise Valley, formed by the Tamrhakht River. The valley is located about 20 km from the city.
Here, explore the many gorges, waterfalls, and rock pools with crystal-clear water. You can read about our Agadir experience in this post.
Day Trip to Legzira
While in Agadir, visit the breathtaking beach of Legzira, included by the Huffington Post among the 40 best beaches all over the world.
Maybe a little bit too windy, Legzira is still a paradise for surfers and one of Morocco's most exciting views.
Perfect for a walk or a photography session, Legzira is home to two very impressive rock arches that have been shaped by the action of the sea and the wind.
These arches extend towards the ocean and are accessible when the tides are low.
Option 2 – Casablanca and the Imperial Cities
For geographic reasons and to have a better perspective of Morocco's most important cities, I've added Casablanca to this itinerary, even if Casablanca is not one of Morocco's imperial cities.
Meknes, Rabat, and Fez do belong to this group, and if you end your trip in Marrakech, then you would have visited the four of them.
Casablanca
But why don't we start with a visit to Casablanca? You can reach Casablanca from Essaouira with a direct flight (Royal Air Maroc, direct flight: 1 hour, 10 min.) or you can travel by bus, train, or private transfer.
Bear in mind that when booking in advance, flights can be convenient as they will allow you to save quite a lot of time (this road trip is about 7 hours).
At the time of writing this update (2023), a grand taxi Essaouira-Casablanca, for up to 6 passengers costs about 200 euros, while a one-way flight is about 100 euros. Do consider the time you can save!
What to See in Casablanca
Casablanca is one of Morocco's most cosmopolitan cities, with a remarkable French colonial style that combines with the local Moresque architecture, giving a unique result as a consequence.
Of course, the first and most important place to visit is the unique Mosque Hassan II, probably the most impressive religious building in the country (Boulevard de la Corniche).
Tourists can't visit other mosques in the country, but this particular mosque is open to the public.
The best way to visit is with a guided tour, that way you won't miss a detail about one of the largest mosques in the world. This is probably the best value-for-money experience you can find on the market.
In Casablanca, also pay a visit to the famous Rick's Cafe (248, Boulevard Sour Jdid), the old medina (which you should not overlook), and the only museum dedicated to Judaism in an Arabic country, the Museum of Moroccan Judaism (81 Rue du chasseur Jules Cros, closes at 17.00).
If you are interested in experiencing the Imperial cities and you're traveling from Casablanca, the best itinerary should next take you to Rabat, then to Meknes, and finally to Fez.
Rabat
Rabat is the current capital of Morocco, and there're plenty of places to visit even if Marrakech and Fez are often preferred.
Do include at least a few hours in Rabat before heading to Fez. If you're traveling from Casablanca, it's not a bad idea to book a half-day tour like this one and make the most of your time in the capital.
For a quick but insightful tour of Rabat, I would recommend you check at least a few landmarks and the old Medina for a taste of the markets.
Also, head to the Casbah des Oudaias which offers great photography opportunities with both views of the river and the Atlantic Ocean.
You should also pay a visit to Chellah, which is a suggestive fortified city abandoned back in the 1150s.
Here it's possible to check forgotten ruins, both of Roman and Islamic origin, including a madrasa and a public pool (Open until 18.30).
End your trip to Rabat with a stop at the well-known Hassan Tower and Tomb, which even if was never finished, portrays a unique ceiling made of gold leaves (Boulevard Mohamed Lyazidi, open until 18.00).
Meknes
Often overlooked, Meknes is a gem you don't want to miss. You can easily reach the city from Casablanca (about 2 hours and a half by taxi or private transfer).
Rabat is less than 2 hours from Meknes, and Fez is less than an hour away.
What to See in Meknes
The best way to access the beautiful old medina is through Bab Mansour, the main gate of the city considered to be among the most stunning gates in Morocco.
Place Hedim is Meknes' main square and the heart of everyday life.
Planning a stop here for an orange juice or some tasty local tajine can prove the right idea.
If in the mood for more, take a short trip to the nearby UNESCO-listed Volubilis. In this remarkable archaeological site, it's possible to admire ancient aqueducts and ruins as well as mosaics and baths.
The smartest way to venture into this archaeological site is with the aid of a local guide to get a deeper insight into its history.
Fez
Touristic and popular, Fez (or Fes) is one of those places that almost everyone adds to their list of places to see in Morocco. The fascinating view of the tanneries is probably the main reason why everyone wants to visit Fez.
However, there's much more to Fez than its striving leather industry.
I feel that the city should also be taken into account for its unique cultural value, hosting one of Morocco's most lively medinas, and some of the most stunning madrasas, or religious schools, in the country.
A day or even two in Morocco's oldest imperial city will mark your itinerary with one-of-a-kind memories.
Best Things to Do in Fez
Three different areas shape the present city of Fez, all of them worth a stop. The best idea is to start by exploring the old town of Fez el-Bali.
If time allows, then move to the 13th century Fez el-Jedid, to end in the modern Ville Nouvelle.
A UNESCO world heritage site, Fez el-Bali is home to the most impressive old medina in the country. Here you can get a deep insight into the area's active artisan panorama.
If you're up for some shopping, go for the high-quality leather products, the beautiful rugs, and the handmade lamps. The souk is probably the most authentic market in Morocco.
The Tanneries and the Schools
An early visit to the Chaouara Tannery should not miss from any what-to-do-in-Fez list, however, be aware that not everyone can bear the pungent smell deriving from the old methods used to cure the skin.
Sometimes, not even the mint leaves they will hand you to cover your nose seem to be enough.
If you manage to put that aside for a while, the area will reward you with colorful sights and incredible photo opportunities.
The earlier you visit, the better lightning you will find as well as more colors of dye. Also, they say that the smell is more bearable early in the day.
One of the best ways to enjoy the different Moroccan souks is simply by getting lost in them.
However, if this idea does not make you feel comfortable or safe, this tour of the medina and the tanneries can be the best solution to experience the markets with the company.
Madrasas or Coranic schools can be counted among the most remarkable buildings in Fez.
The Mosque of Quaraouiyine hosts the university of the same name, the oldest functioning university in the world.
Although both buildings cannot be accessed by those who are not Muslims, it's always possible to steal a view of the mosque through its gate.
Otherwise, you can admire the magnificent decorations of this mosque from the rooftop of another Koranic school, the Madrasa Al Attarine, (Rue Talaa Kebira, open to the public until 18.00).
When in Fez, visit the local Mellah, the Jewish quarter in Fez el-Jedid.
The ghetto dates back to the 14th century, and it was once home to over 250.000 inhabitants.
End your tour of the imperial cities adding our ideas for a two-day stay in Marrakech, the last imperial city of Morocco.
Option 3 – The North of Morocco
Tangier and Chefchaouen
You can head to the north of the country instead of visiting the imperial cities. Both Tangier (also Tanger), close to the coast facing Spain, and the blue city of Chefchaouen (or Chefchaouene) attract hundreds of tourists every year.
Reaching Tangier from Essaouira is exhausting since you will be on the road for at least 7 hours. If you have more flexibility regarding time, it can be a great road trip along the Atlantic coast of the country.
Being able to do this independently, without relying on any transfer service, train, or bus, is maybe the smartest way to see Morocco.
However, not everybody has as much time available or feels like renting a car. In that case, the best way to get to Tangier is via Marrakech by plane.
If you're following this itinerary, you can either skip Essaouira altogether or leave it as your last city in the itinerary (Marrakech – Chefchaouen – Tangier – (Essaouira) – last day in Marrakech).
Best Things to Do in Tangier
Not everybody puts Tangier on their Morocco itinerary and that's for a reason, it's relatively far from all the main cities.
It's not a completely off-the-beaten-road area, but unless you're coming to Morocco from Spain by sea, making it to the north can prove exhausting.
Yet, if you insist on visiting Tangier and want to devote a few hours – or even a day or two – to the area, places to see and things to do are plenty.
First and foremost, it's a great idea to visit the old casbah, which thanks to its position, allows you to get amazing views of the sea.
The main entrance gate, known as Bab Haha leads to a tranquil pebbled-stone path that little by little penetrates the heart of the ancient town.
The Grand Mosque of Tangier, with its red, pink, and blue shades is a highlight in the landscape. You will certainly be impressed by its Portuguese origins and its past as a cathedral (76 Rue de la Marine).
Chefchaouen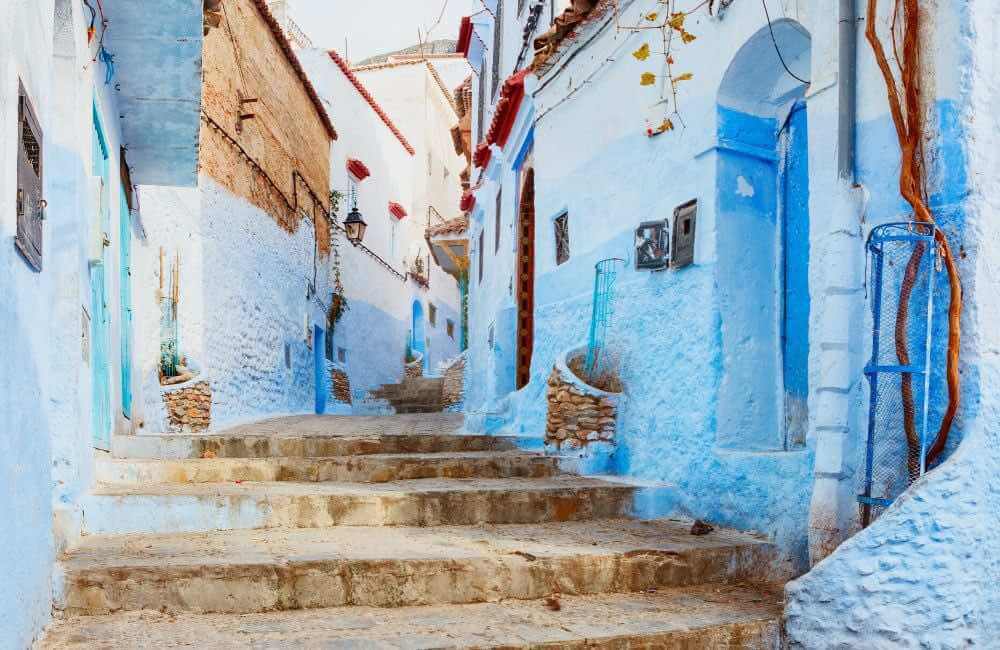 Popular mostly thanks to social media and romantic posts on Instagram, Chefchaouen is also a favorite among the residents of other urban areas.
It didn't come as a surprise to hear many Moroccans repeatedly recommending a visit to Chefchaouen to "put my mind offline", disconnect, and relax.
The Not-So-Simple Task of Getting to Chefchaouen
This little village is framed by the heights of the Rif Mountains, and you have to want to experience it since it's not easy to access Chefchaouen – not even from Marrakech.
Several tour companies do offer an itinerary including Chefchaouen, Marrakech, and the desert, and it might be worth a consideration if you want to avoid trains, buses, and all the hassle.
In that case, the best idea is to contract (and bargain) your tour directly in Marrakech. You will be able to get better prices and there's little risk of not finding available seats. You can also visit Chefchaouen from Tangier on a day trip, or on a fantastic day trip from Fez.
Getting to Chefchaouen for just a few hours is not the best idea (many would claim it's insane given that the village does not have much to offer other than blue doors, walls, stairs…etc.).
Combining trains and buses both between Tangier and Chefchaouen as well as between Tangier and Marrakech leaves little to virtually no time to explore the blue city.
So, unless you have a few days to spare and sleep in Chefchaouen, I would not even consider going day just for a day, no matter how much I love exploring.
Less Than a Week: 5-Day Trip to Morocco
If you are short of time and must limit your trip to a 5-day visit to Morocco, here you can find two different itineraries that feature some of the highlights that any holiday in Morocco should include… or you can choose and pick from the upper itineraries the places that best suit you and your style of travel.
Five Days in Morocco: Marrakech and the Sahara
For five days in Morocco, I would personally recommend spending 2 days in Marrakech and taking a 2 or 3-day tour of the desert.
This way you can get a clear glimpse of the city's markets and old medina as well as discover some of the most stunning views of the local geography, passing through the green landscape of the mountains until you reach the doors of the desert
Five Days in Morocco: Rabat, Fez, and Marrakech
Another idea for a tour of Morocco in less than a week would be to ditch the desert and focus on some of the Imperial Cities. Since visiting all of them might represent a rush, just pick a couple.
Choose to combine the best things to see in Rabat and Fez, devoting from one to two days to them.
Add to that a one-night stay in Casablanca and end up the trip with two nights in Marrakech, enough to visit the medina and the souk on your first day, and catch a glimpse of the modern city or maybe walk around the Majorelle Garden.
Morocco with Children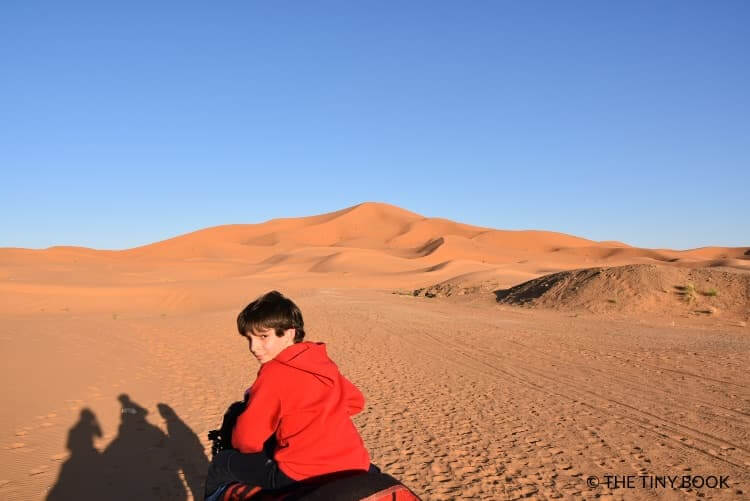 Our 10-day trip to Morocco remains one of those family trips that the kids still remember even if a few years have passed.
The dromedary ride of the desert together with the experience of sleeping in a Berber tent are two things we all treasure.
Everything was of course enhanced by celebrating one of my kid's birthdays in the middle of the Sahara, however, they also remember watching an endless sky of stars while lying on the sand on that same evening, as well as the visit to Ait Ben Haddu and the goats on top of argan trees.
Other vivid memories of our Morocco adventure include the main square of Marrakech, Place Jemaa el Fna. This includes having their own henna tattoos, water vendors, and street dancers.
Something we would have liked to do, but time-wise it was not possible, was flying in a hot-air balloon.
However, we do intend to come back and maybe fly over Marrakesh. We would have also liked to visit the Ouzoud Falls but we traded them for a visit related to fossils – which the kids loved! We'll certainly include Ouzoud in our next trip.
Resources to Plan a Perfect Morocco Itinerary
Among the things you need for a trip to Morocco, other than the right resources, books, and maps, consider travel insurance and a flexible packing list. For those who would feel a bit intimidated upon arrival, a private transfer option can help break the ice and gain more confidence with the locals and the city in itself. Check this inter-city private transfer option, you won't regret it.
Hop on and off buses can also be a good idea to explore the city of Marrakech and then decide which places have caught your attention and visit them.
Personally speaking, I've used hop-on-hop-off buses many times, not just as a means to get to know a city, but as a way to spot all the places I plan to visit on my second day. They are a great way to help you navigate the big city and its chaotic traffic.
Finally, if you'd love to explore the city nightlife, but you're a bit skeptical about doing this on your own, there's no need to worry if you book a private night tour. You'll be able to check the lively nocturnal atmosphere safely guided by a local.
Travel books for better planning your Morocco experience
Traveling to a new destination does not have to be a stressful experience, on the contrary, it can be exciting, interesting, and super motivating. The key to success is taking a little time to plan the trip.
Choosing the right resources helps. I love to read a good travel guide at least a month before the scheduled departure to have the basics of my itinerary in mind. Then, I can start booking accommodation and tickets.
My travel guide of choice has always been Lonely Planet, and the Morocco edition is particularly good. You can download the digital guide and complement it with a pocket guide to Marrakech.
But do not limit yourself to just a travel guide, there are plenty of books that can inspire your trip and give you extra ideas to make your travel richer and more personal.
With Open Arms: Short Stories of Misadventures in Morocco is a funny and entertaining collection of misfortunes by travel writer Matthew Félix.
For small readers, the kid's book Zaki & Zoltan Adventures: A Trip to Morocco features an adventure in Marrakech and even includes some words that children will find entertaining to learn.
Travel insurance: How safe is Morocco
Morocco is a rather safe country, where most of your precautions will have to do with pickpocketing, as well as the usual – rather harmless – scams. However, if you are a woman traveling solo, a few extra precautions might come in handy.
Avoid wandering alone late at night and be ready to receive more than one obvious compliment on the street. You can also check out the travel insurance company I recommend.
Book a direct flight to Morocco
If you are departing from a European capital, take advantage of low-cost air companies. We traveled to Marrakech via Milan with EasyJet, but you can also fly with Ryanair, Transavia, Eurowings, and Vueling.
Royal Air Maroc has direct flights from the US. Another alternative is to visit Europe first and fly with any major European carrier.
Whatever way we decide to fly, we always make sure to check every possible fee. I use Skyscanner, it has always allowed me to save a few euros by comparing and booking the right fee.
✈️ Find cheap flights with Skyscanner.
On the Road in Morocco
Bus travel in Morocco
Long-distance coaches are a fantastic way to travel, especially since trains do not reach every city. Supratours is a national bus company with stops in major train stations which makes it easier to travel with a combined bus-train ticket. CTM is another bus company, you can book your tickets online.
We traveled by bus from Agadir to Marrakech and it was a pleasant trip, with a stop on the road long enough for a meal. The bus was comfortable, with air conditioning and WiFi (though not always accessible during the trip).
Taxis and car rental
It's possible to travel between cities with a grand taxi. If you travel in a group or with kids it's probably the best way to go, but if you're traveling solo remember that these rides can be shared.
Head directly to the grand taxi stand and agree on a convenient price for both you and your driver. Remember that no matter your destination, your driver might have to travel back without passengers, so don't go too low with your offer.
Petit taxis, which usually allow for three-four passengers, are great in towns to reach the station or nearby landmarks. Always ask for the meter or negotiate a fixed fee before jumping into the vehicle.
Remember that discussing a convenient price, even when hiring a taxi, is not rude, but rather the way transactions usually go in the country.
On the other hand, driving a car in Morocco can be a good idea for those with a more independent style. However, go for an international rental company as language can be a huge obstacle when signing a rental contract.
Overall rather expensive, and includes unexpected hidden costs, I would recommend checking the fees of private transfer and chauffeurs if you want to discover Morocco without fixed schedules.
Train travel in Morocco
Traveling by train in Morocco is a great way to visit the country since the national train network (ONFC) offers convenient fares and comfortable rides.
Tickets can be booked at the station depending on the season. It's more difficult to find available seats during public holidays and summer months since also locals prefer to use the train.
First-class allows you to have a seat booked but that's not an option in second-class carriages.
When traveling the route Marrakech-Tangier, the night train trip is the best choice. This train stops in several cities, including Rabat and Casablanca, among others.
Trains depart from both Marrakech and Tangier at about 9.00 pm and arrive the following morning. Be aware that for night trains, fees don't depend on your destination, but on the type of cabin, you choose (single, double, berth, or seats, both for first and second class). Cheaper fees also apply to children under 12.
Private cabins include a private bathroom, while berths have shared facilities. If you plan to eat on the train, you can either pack your lunch and save some money or you can also buy a meal on board.
Where to Stay in Morocco
Experience a Riad
One of the things anyone traveling to Morocco should do is spend a few days in a riad.
During our trip, we experienced all kinds of riads, from a top luxury one in Essaouira to more modest but still pretty riads in Marrakech.
Read more about Morocco
Pin this Incredible One-Week-in-Morocco Itinerary!
---
About my blog: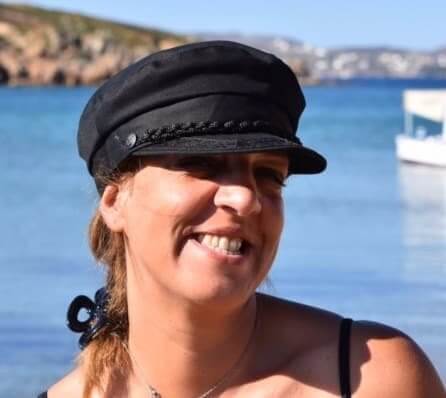 I moved to Crete in 2016. During these years, I learned much about the island.
In Crete, I juggle being a solo mom, hosting culinary tours, and writing for several travel blogs.
I've written for Greek Reporter, published travel guides about Greece, and had more glasses of frappe than any regular person could ever handle.