The term Marrakech comes from the Berber mur (n) kish, Land of God. Or so it seemed. After almost a year of blogging and a lifetime of traveling you feel you know it all. You're forty, independent, and have seen some World. You walk the streets of any country with a collection of passport stamps and lots of memories within you. Yet, you're so full of yourself you think nothing can go wrong. And then it does. Maybe not really so, so wrong. But deep inside it feels like shit.
---
Disclaimer: Posts include affiliate links to products or services. I might earn a commission if you make a purchase at no extra cost.
---
Very personal thoughts about a visit to Morocco
Mind you, this is a post written with anger and from anger. Anger is literally flowing out from my guts to the tips of my fingers right now.
And not only because of this trip, but because I don't seem to learn the lesson. I keep on ignoring my guts when I should listen to my inner self more.
Writing this post meant an immense effort. I felt blocked. I always love the places I visit, for one reason or another, there is always something that makes them worth the visit.
I know. Humans make mistakes. I must be very human because I make huge mistakes all the time. And I'm not saying this trip was a mistake But ignoring my instincts was.
Traveling families reach a compromise
I remember being reluctant when booking four tickets to Marrakech. I wanted to see Bruxelles instead… yeah, I know, how can we compare Morocco and Belgium?
Simply can't. But I don't always travel alone, I rarely do. This is a traveling family.
We are a family and in families, you compromise. Hubby hates cold weather, the kids wanted some sea and we all wanted to leave.
Marrakech had been a destination with which we had juggled for a while, always changing ideas at the very last moment because I was never fully convinced. How right I was.
Yet, it was time to say yes. Yes to Morocco, yes to the souks, yes to the scams.
Let's go to Marrakech
I booked the flight way long before the departure and had other trips scheduled, therefore I completely forgot about getting ready for it.
I read no travel guides, no posts, no articles, not a thing. I got back from Turkey, packed four bags, and got on a plane three days later.
Arriving was an ordeal, with people trying to get first on the passport control line, pushing, shouting, and even arguing to be first…
My stomach started sending signals. But I just swallowed and blamed it on the early flight. ATM points were not working, getting some local cash was hard, and arguing about the taxi fare was another mess.
One of the few things I knew about Marrakech was that taxi fares are official and set. Well, forget it. Scam number one is on: You pay what they ask for.
Or you try hard to get a fair deal. Or you simply take the bus.
But first, the other Morocco
I am happy to say we got out of the city the very same morning, now that I look back at it, spending the whole of the trip in Marrakech would have been asphyxiating.
Some days in Essaouira made me love the country, other two days in Agadir made me love the people. Going to the South, visiting the Sahara and Ouarzazate too.
I am thankful for those. I met such an incredible bunch of human beings… I am happy I visited other cities because if I hadn't done so, I would have thought all Moroccans are created equal.
And I would have been so wrong. So let me put this clear to you: I hated Marrakech, yet I loved Morocco.
The first night, the scam of food stalls
I admit it, after getting back very late at night from the desert, we went out for dinner at my request. It is entirely my fault.
The rest of the family was too tired to go out and eat, but I wanted to feel the city at night. We were not going to have as many nights. Jemaa el Fna was calling, my passion for street markets was stronger and I was ripped off.
Everyone is sweet and nice, tempting, smoke comes up from barbecues with delicious food on display, inviting fragrances, and bargain price lists all over the place. You are treated like a queen.
Yes, until you sit, order, and wait. Food arrives at your table in the smallest dishes, the ones you use back at home to place your coffee cup:
Portions are minimal. And when it's time to pay the bills are so different from what you have previously thought.
Lesson 1:
Just forget the stalls, do yourself a favor. Walk a few meters away from the square, and even without getting into the famous corners with terraces (that will make you pay a fortune for a coffee with a view) look for little restaurants with fixed menus on display. This is what we did on the following days. And instead of paying 400 Dirhams for a dinner (ok for a restaurant, not for a market stall), we got great, fresh food for 130 to 200 Dirhams every single time. Better food, bigger portions, and no regrets.
Day 2: argan oil, tanneries, and Ben Youssef… I wanna go home
On the second day, let's go see the famous Souk, right? Well no, not so right.
Everyone is there to sell you something, to get something from you, and to make you pay endless visits to the nearest ATM because the recurrent feeling was money is never enough. It takes you a tiring lifetime to get there.
You must tip every single person to avoid discussing, grinning, and yet more stress.
Everyone claims to sell the purest argan oil in the whole World. And let's face it, you probably don't give a shit about argan oil.
You know it exists, you know it might have some helpful properties, but hey… it's oil.
Well just know it, you are not leaving Marrakech without a bottle of argan oil. You simply finish buying the damned oil because you just don't want to hear another word of it.
So you leave the market with your ears full of people calling, regretting not being able to see, observe, watch, or even just ask for a price because you are curious.
You cannot be curious
Asking for a price means bargaining in their eyes, so the endless price ping-pong begins… But I didn't want to buy it, I was simply curious.
And it may be a limit of mine, as much as I love the markets I have not a drop of patience for souk bargaining, I just leave.
So there I go, running around the market with a legion of sellers shouting at me descending prices for a purse I didn't even want to buy in the first place.
Discovering the tanneries
Then, there are tanneries. Now, don't be silly. Do you want to see how these people work leather? Go to Fes (and get scammed there!).
Tanneries in Marrakech are small, they shout at you if you dare point your camera lens at them, even when they have begged you to enter.
No matter how many mints leaves you stuck in your nostrils it will still be dead stinky and they will be mad at you twice: the first time when you don't want to tip the so-called guide, the second time when you dare say their prices are too high and you're buying no bag at all.
Ben Youssef Madras and Mosque?
Well, I still don't know if they were open, or closed, if I mistakenly took pictures of them, or if I walked past them twice and never noticed.
The fact is when we asked, directions were opposite and confusing and of course, all of them lead us to the tanneries. Which made me even more furious.
Let's just get the hell out of here. Let's reach the main square, get a glass of tea somewhere else, have a seat, and relax.
In full honesty, I only wanted to get back to my room and start packing.
Lesson two:
There are a few shops selling goods that are not for tourists, for instance, household appliances. If you need directions, ask those guys. They most probably won't try to sell you a fridge, they will not have time to leave their shop and pretend to be guides. They'll just tell you where to go and that's it. Oh… and avoid tanneries.
The pantomime of the square: Snakes, watches, cell phones, terrace bars
Want a tattoo? Ask for it with your hands well stuck inside your pockets. Don't have pockets? Then don't even think about going to Jemaa el Fna.
If you are a woman, chances are you will get tattooed, even if you don't want to.
I wanted my first one, and probably the woman saw my astonished eyes when she said how much it was going to cost me (while the tattoo was already half done), so she also tattooed my leg and my kids, all for the same price.
They are thunder-like quick, just a minute of distraction, a fraction of a minute, and your hand is in her hand, and you are covered in henna.
And of course, the "it will last a month" thing… forget it, it'll barely last a week, the only thing that lasts a month is your regret and the blond hair now dyed in black for God only knows how long. Damn it.
Watches, fake bags, cell phones… all these are on sale. Everywhere, when you are walking, eating, taking pictures, or sitting on a bench.
You will be assaulted and bargaining will start over and over from day to night. The feeling I got was overwhelming.
I just got angry, I wanted to shout, leave me alone. Be like the people in Essaouira, in Agadir, in Ait Ben Haddou, just don't offer me anything else, I feel I am running out of money. And patience.
I felt I needed a refuge. A place to hide, I still wanted to see the Land of God, the pantomime. But from high above. I paid to relax.
These old-time famous bars on the corners of the square know it well: people want a break, yet they don't want to miss a thing.
So they don't even bother about taking care of their cafés. They are old, quite dirty, and with sad lights inside. They know you just want the terrace, an open shelter from chaos.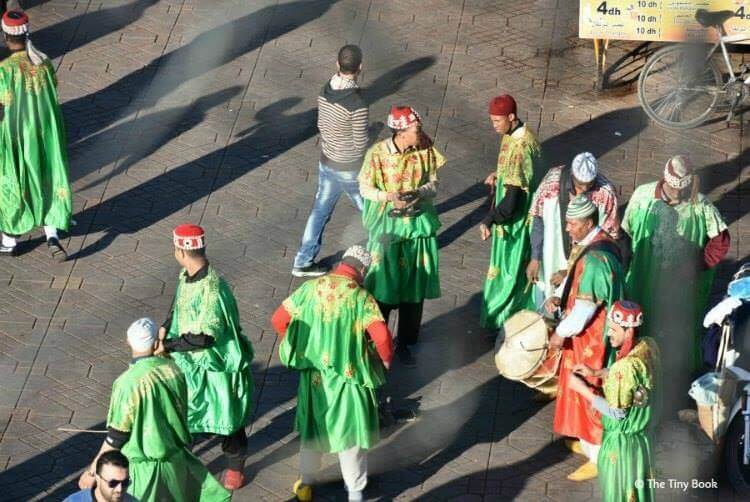 So there you are, in your prison, paying almost a hundred Dirhams for two teas and a glass of water. But safe.
Being there you discover the snake charmer, that nice guy who will play music to make the Cobra dance in front of you.
If you take a picture, he will pose his best for you, but don't you dare give him a cheap tip. He might even chase you all over the square with a snake to get a better deal.
The same thing with dancers, water sellers, monkey men (let's not talk about these, right?)… you name it. Money is king in the Land of God.
Tattoos and… yes, more tattoos
Two things happened on our way back to the riad that evening. For a minute let go of the hand of my son. A tattooed woman came out of nowhere and started tattooing my hand.
When I showed her my purse was empty, and I gave her the last two coins I had, she got mad. But I was more than mad. I was tired, frustrated, and angry.
I stayed calm, I looked her in the eye and said: I told you I had no more money left. You took my hand all the same. I don't care what you think. Learn your lesson, woman.
And left. The list of imprecations coming out of my mouth was endless. Probably from her mouth were the same but in her language.
A minute later, a team of students from a local university came to me with a big microphone, asking me for an opinion about Marrakech.
Well, the river flowed. Anger went out… again all my sadness, frustration, and disappointment. Why is it that it didn't surprise me when they say "With us, Moroccans, it's just the same"?
Lesson three:
Save a few bucks and buy a powerful camera lens. Take all the pictures you want from your comfortable terrace seat. Wear clothes with pockets, and be patient. Very patient.
I do want to return to Morocco, I want to visit the North. It is a very colorful country, interesting and with a rich, vivid culture.
I cannot draw conclusions based only on the last days in Marrakech. I will be back, but at that time I'll be ready and pay more attention to my instincts. They are almost always right.
All the opinions belong to me.
Whether I like them or not, these are my feelings. And not mine only. I discovered other people had the same impressions as well; here and here, to name just a few.
Have you ever been to Marrakech? What was your experience like?
Let me know in the comments below!
---
You might also want to read:
---