The beautiful seaside city of Essaouira is one of the most visited destinations in Morocco. It was our first stop when touring the country and one of the places we enjoyed the most. Check the thing you can do in the city, visit the Port, the Medina… and sleep in a wonderful riad. Discover what to do if you have 2 days in Essaouira!
---
Disclaimer: Posts include affiliate links to products or services. I might earn a commission if you make a purchase.
---
2 Days in Essaouira, Morocco
Resources to Book Your Trip
Book your flight: I use Skyscanner to compare prices before booking a plane ticket.
Book your ferry: When ferries are more convenient than air travel, I use Ferryhopper.
Book your accommodation: I've tried many different platforms for accommodation, but none of them beats the advantages of Booking.com.
Book your car: The best way to find an affordable car to rent is to use a powerful search engine that compares all the rental companies in the market. I use Discover Cars.
Book your tours: Live unforgettable adventures and cultural experiences with Get Your Guide.
Don't forget travel insurance: Things can go wrong at times, but travel insurance will protect you against illness, injury, theft, and cancellations. I recommend Safety Wing for peace of mind.
How to Spend 2 Days in Essaouira
Check these ideas to spend two wonderful days in Essaouira, Morocco.
From Marrakech to Essaouira
We land in Marrakech when it's a little past dawn. It doesn't look like Winter. It's hot and humid and everything is brownish orange. The roads, the taxis, the buildings.
Everything is wrapped inside a brick-colored atmosphere, boasting touches of green here and there. A quick negotiation, half in French, half in English gets us on a taxi to reach Essaouira.
Three hours inside an uncomfortable taxi. A tiring, long trip, across a rather monotonous landscape.
I doze off, opening my eyes from time to time during the ride. All I discover is a yellowish desert view. Old donkey carts, forgotten shops, lose cattle. And mosques. Mosques in the middle of nowhere.
Roundabouts with signs indicate Essaouira, the former Mogador, is not that far after all. Left at the door of the Medina, a luggage cart shows us the way to Paradise.
An intricate game of alleys we walk down slowly to reach our destination, the superb Riad Baladin (Check the review at the end of the post).
Our riad, near the inner walls of the old Medina, is a little oasis of charm in the middle of chaos.
Streets are dotted with shops selling wood sculptures, colorful carpets, and dozens of memories. Children ride bikes in a wild manner, announcing with their bells it's better if you move away.
Essaouira is a young yet old city, an exotic town where time does not count and where color takes over. Everything is joyfully colorful in its own way: shops, people, and food.
Streets are crowded and smell like freshly cooked fish. Getting lost in those paths of wonder can only bring alluring surprises.
Women cooking tasty tajines open their own kitchens to the public. With a few plastic seats and wooden little tables and you have a restaurant. It's easy and simple to get a delicious homemade dish with a teapot of mint tea for two.
Breathing the real local breeze for an insignificant price. You just settle… You settle for no napkins, doubtful cleaning conditions, but the best tajine.
Cooked in a Moroccan kitchen and with that homely taste no restaurant has among its condiments.
Visit the Medina of Essaouira
UNESCO has listed the Medina of Essaouira as a World Heritage Site in Morocco in 2001. It is a well-preserved example of eighteenth-century architecture.
Cobbled streets and concealed alleys look perfect for a mystery novel. White buildings and their traditional blue doors offer an insight into a glorious past.
Walk down the little streets under the sunlight, enjoy a cup of mint tea, and relax on a terrace. Breathe in the past, walk through its doors, in and out. You will be entering and leaving a different world each time.
Check the Port of Essaouira
A legend tells that Sultan Sidi Mohammed Ben Abdellah founded the port of Essaouira to punish the rebellions in Agadir. It was 1770.
Until the first part of the XIX century, Essaouira was the most important trading port between Europe, Africa, and America. It is the oldest port of Morocco but lost its importance after the growth of Casablanca and Agadir.
Also known as the port of Timbuktu, an early visit in the morning gives you a full sense of how busy it is. It links Morocco and the Saharan hinterland with the rest of the world.
Fishing boats arrive in the morning and the area gets alive with shouting and a strong smell of the sea. The port is an essential part of the city.
Later in the day, the catch of the day is found in many restaurants and seaside fish stands. Just choose your fresh fish, get it weighed, and enjoy it grilled right on the spot.
The People of Essaouira
Essaouira has a character of its own; a crossroads for the northern tribe of the Arab Chiadma and the southern Berbers, the city shows an obscure character. Besides, a mass of Europeans adds to the sense of cultural mix.
Yet, even inside a mystic atmosphere, it is a city of light. The light reaches the Medina from the port and lightens the faces of its inhabitants. Beauty has a definition of its own.
Artists, painters, dancers, and musicians populate the streets at all hours. They mix with the tourists, with a reggae spirit. A hippie allure covers it all, life earns a new sense. And you get the impression of living in a parallel Universe.
Nobody will harass you, and you will not be asked to buy, nor begged to bargain. It's your choice. Essaouira has a lazy touch that would make you feel well. At home.
Riad Baladin Essaouira
In the heart of the Old Medina, in Essaouira, lies a hidden gem of relaxation, pleasure, and enchantment. We were lucky enough to spend a few days in this oasis… and we left longing for more. Read everything about our stay in Riad Baladin.
Everything is made easy, a couple of bottles of water, detailed explanations about the city, knowledgeable advice, and extra quick registering ways. Five minutes later, you just have to enjoy.
This riad, (which originally means garden), is outlined from three houses opened together. The perfect place to rest from the long hours spent visiting the city.
Open-air corridors bring the remains of the sea breeze to freshen up the spaces. Lights and shadows chase each other during the day playing games on the white walls of the house. The rooms, all of them unique, have personal touches that make you feel special. Sleepers, fresh roses, teabags.
Children are welcomed, treated with extra care, and stimulated for talk and discovery. A sculpture might open a debate on Buddhism, on Argan oil processing, on the water in the desert.
Books in every language populate the shelves of the walls. Not only in the common areas but also in your room.
Everyone can find his own cup of tea. And looking for it is made easy. At night the air fills with the dimmed lights of gracious Berber lamps and shimmering scented candles.
They will get a jacuzzi ready for you on the open patio. Wait until ten and let yourself go in a comfortable round tub, with soft colored lights and more candles. A romantic way to end the day or a fun experience for the family.
In the morning, when the first sun rays kiss the white walls of the house, step on the white stairs and head to the rooftop. Enjoy a delicious breakfast comfortably sitting on the terrace.
The fresh air, the inviting smell of hot coffee waiting for you. A well-assorted choice of pastries, local jam, and teas to begin the day in full sweetness. But it's not over, you can have eggs, cheese, and fresh-baked bread.
Riad Baladin is in Rue Sidi Magdoul 9 – 44000 Essaouira, Morocco. Phone: +212 (0)6 424 481 36. We were hosted on the premises for three nights. The review is not biased in any way.
BOOK YOUR STAY IN RIAD BALADIN HERE
Other Places to Stay in Essaouira
Budget hotel in Essaouira: If you want to stay close to the sea, check out the comfy Riad Saltana, offering pretty rooms and a convenient shuttle service to Marrakech airport.
Mid-range accommodation: Riad Lyon-Mogador is another beautiful traditional place to stay in Essaouira, check prices and pictures at this link.
Splurge in Essaouira: Upgrade your stay by booking a room at Riad Chbanate, one of the finest riads in the city. Read reviews here.
Visit Essaouira with an Organized Tour
I recommend this city tour of Essaouira to explore the best of the town and this horse-riding activity by the sea at sunset, it's super romantic!
Want to organize your own tours? This travel guide will be of utmost help!
Join These Experiences in Essaouira
Pin it! Best Things to Do in Essaouira in Two Days!
---
You might also want to read these travel stories:
---
About my blog: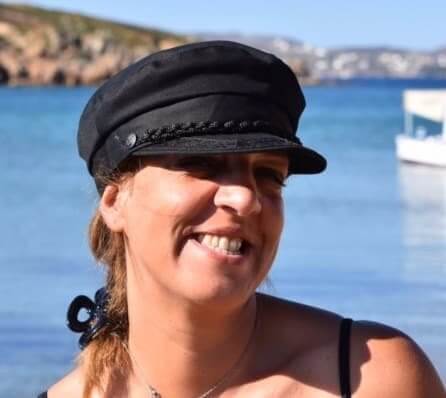 I moved to Crete in 2016. During these years, I learned much about the island.
In Crete, I juggle being a solo mom, hosting culinary tours, and writing for several travel blogs.
I've written for Greek Reporter, published travel guides about Greece, and had more glasses of frappe than any regular person could ever handle.