Portugal is a fantastic summer destination with its breathtaking coastline, vibrant cities, and rich cultural heritage. Specifically, it is a country offering a wide range of experiences for every type of traveler.
So, whether you're seeking a relaxing beach retreat, discovering ancient castles and palaces, or an adventure in picturesque natural landscapes, Portugal has it all.
---
Disclaimer: Posts include affiliate links to products or services. I might earn a commission if you make a purchase at no extra cost.
---
The Most Popular Summer Destinations in Portugal
Generally, Portugal's sunny climate and diverse landscapes are a dream for the summer holidays.
From the golden beaches of the Algarve and the historic streets of Lisbon and Porto to the breathtaking landscapes of the Azore and Sintra and the renowned wine region of Douro Valley, Portugal has something to offer to every traveler.
Therefore, with a plethora of outdoor activities, sumptuous cuisine, and warm hospitality, Portugal truly is one of the best summer destinations in Europe.
Below, you can find more details about the best destinations and everything you need to know for an unforgettable summer holiday in Portugal.
Top Summer Destinations to Discover the Best of Portugal
In no particular order, these are the place we suggest considering when planning a summer itinerary in Portugal or simply when picking a unique destination. Take a look!
Algarve Region
Lagos
Lagos is a summer destination offering an abundance of natural beauty and a vibrant atmosphere. Known for its stunning sandy beaches, such as Praia Dona Ana and Praia do Camilo, Lagos provides the perfect setting for relaxation and azure waters for swimming and water sports.
The town also boasts a charming historic center with narrow cobblestone streets, colorful buildings, and a bustling market.
Visitors can explore the historic walls of Ponta da Bandeira Fort, delve into the fascinating history at the Slave Market Museum, or simply wander through the lively streets lined with shops, cafes, and local artisans.
Furthermore, Lagos serves as a gateway to the beautiful rock formations and hidden caves of Ponta da Piedade, which can be explored by boat or kayak.
Click here to find accommodation in Lagos or check the options below
Albufeira
Albufeira is a vibrant and bustling summer destination known for its lively nightlife and beautiful beaches, attracting visitors from all over the world.
The town boasts a stunning coastline with golden sandy beaches, including Praia dos Pescadores and Praia da Oura, where sun worshippers can relax and soak up the sun.
Furthermore, Albufeira's old town is a charming maze of narrow, winding streets lined with cafes, restaurants, and shops, offering a blend of traditional Portuguese architecture and modern amenities.
Visitors can also enjoy a boat tour along the stunning Algarve coastline, exploring hidden caves, cliffs, and breathtaking sea caves. In the area, don't miss discovering the impressive caves of Benagil.
Benagil is a tiny fishing settlement that has turned into a very popular attraction for its incredible sea cave.
However, there are other incredible beaches to check out in the area, so we totally recommend a full-day sightseeing trip like this one to also enjoy the sunset time in this magical location.
Click here to find accommodation in Albufeira or check out the suggested options below.
Lisbon
Lisbon, the vibrant capital city of Portugal, is a must-visit summer destination that bursts with charm, history, and electrifying energy.
The city seamlessly fuses its rich cultural heritage with modern attractions, making it an ideal spot for summer holidays.
For instance, Lisbon's iconic neighborhoods, such as Alfama and Baixa, showcase a captivating blend of narrow alleyways, historic buildings, and stunning viewpoints that offer panoramic vistas of the city.
Must-see landmarks include the majestic Belem Tower, the iconic St. George's Castle, and the grandeur of the Jeronimos Monastery.
Additionally, During the summer months, Lisbon comes alive with various festivals and street parties, filling the air with music, dance, and delectable local cuisine, including the uberfamous pasteis de nata!
For those seeking relaxation, the city also provides several urban beaches like Cascais and Estoril, just a short train ride away.
If you're visiting Lisbon, I suggest getting a city card like this Lisbon Card (24, 48, or 72-Hour Pass) which is perfect to move around the city and get extra discounts.
Porto
Porto, a captivating city in northern Portugal, is a wonderful choice for a summer getaway.
Known for its rich history, lively atmosphere, and world-famous port wine, Porto offers an enticing mix of cultural experiences and vibrant city life.
Explore the historic Ribeira district with its narrow streets, picturesque buildings, and charming cafes along the Douro River.
Marvel at the iconic Dom Luis I Bridge and visit the imposing Porto Cathedral, both offering breathtaking panoramic views of the city.
Wine enthusiasts will delight in the opportunity to tour the historic port wine cellars located across the river in Vila Nova de Gaia, where they can indulge in tastings of the region's renowned fortified wines.
Lastly, in the summer, the city boasts numerous festivals and events, including the Festa de São João, where the streets are filled with music, dancing, and fireworks.
Click here to find accommodation in Porto or check out the hotels suggested in the box below.
Azores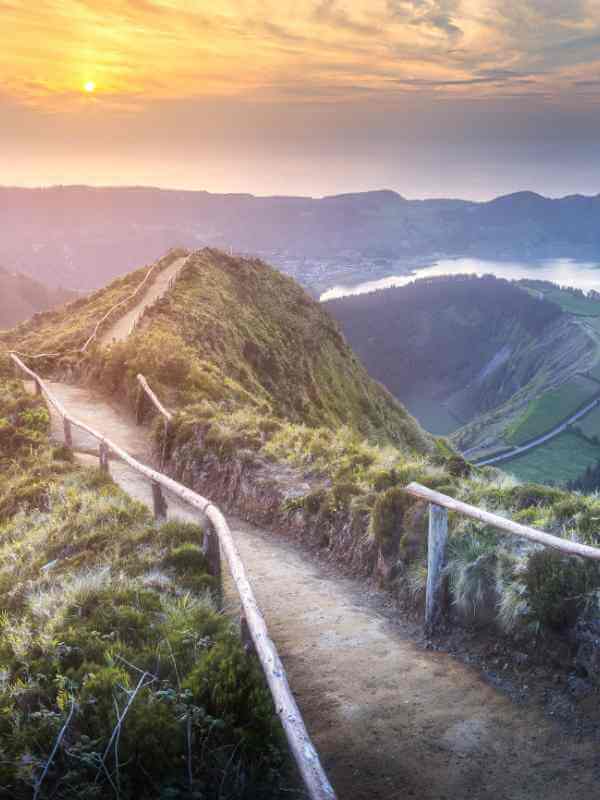 The Azores is an archipelago of nine stunning islands located in the middle of the Atlantic Ocean.
With its dramatic volcanic landscapes, lush greenery, and crystal-clear lakes, the Azores is a true paradise for those seeking untouched natural beauty and a unique and mesmerizing summer holiday.
Outdoor enthusiasts will be thrilled by the countless opportunities for adventure, from hiking along breathtaking trails in Sete Cidades and Furnas to exploring volcanic coves and lava tubes.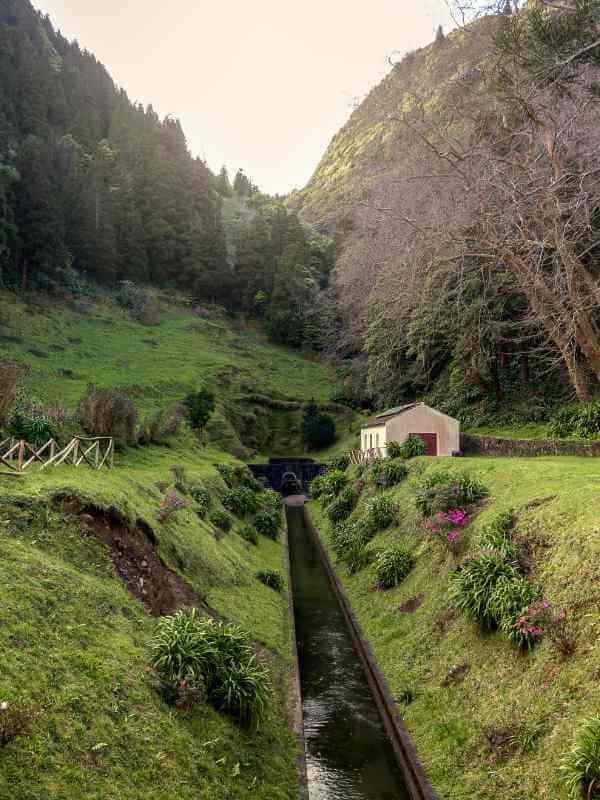 The islands also provide incredible opportunities for marine activities like whale-watching, swimming with dolphins, and diving into the colorful underwater world.
Relaxation can be found in the natural hot springs and geothermal pools that dot the islands, providing a soothing escape.
Sintra
Sintra is a fairytale-like town just outside of Lisbon with lush forests, majestic castles, and enchanting palaces, offering a magical and romantic vibe.
It's an easy day trip from the capital, and there are several day tours to pick from to visit Sintra and its attractions from Lisbon.
Visitors can get lost in the awe-inspiring beauty of the Pena Palace, with its vibrant colors and stunning views, or explore the historic and mysterious Quinta da Regaleira, with its hidden tunnels and beautiful gardens.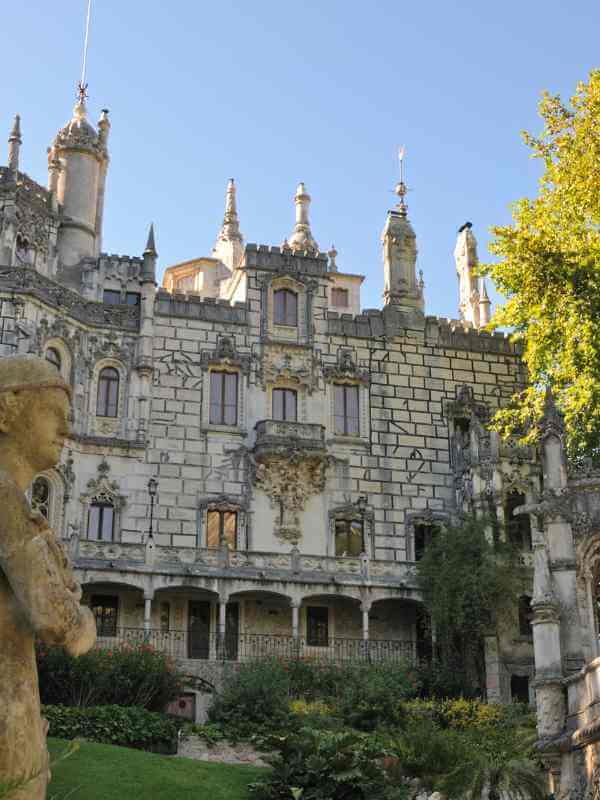 For nature lovers, the Sintra-Cascais Natural Park provides ample opportunities for hiking, with trails leading to breathtaking vistas, pristine beaches, and secluded coves.
Additionally, the charming town center is filled with traditional shops selling local handicrafts and delectable pastries.
Madeira
Known as the "Island of Eternal Spring," Madeira is a true paradise.
Boasting breathtaking natural landscapes, lush greenery, and a moderate climate all year round, it is an Atlantic gem offering a multitude of outdoor activities.
From hiking along its stunning levadas to exploring the awe-inspiring Laurisilva Forest, a UNESCO World Heritage Site brimming with exotic flora and fauna, Madeira has it all.
Furthermore, Madeira's charming capital city, Funchal, offers a lively summer atmosphere with its bustling marina, vibrant local markets, and delightful cafes to taste the island's traditional cuisine.
Click here to find accommodation in Funchal or check out the hotel suggestions in the box below.
Evora
Located in the heart of the serene Alentejo region, Evora is a timeless oasis perfect for a blissful summer vacation.
Steeped in history and adorned with medieval charm, this enchanting city offers a unique blend of cultural heritage and natural beauty.
For instance, the city's most famous landmark, the captivating Roman Temple, showcases its rich past, while the maze-like streets and white-washed houses exude a tranquil atmosphere.
Visitors can explore the hidden treasures of Evora's old town, sample delectable local cuisine in charming cafes, or relax in the shade of ancient olive groves.
Click here to find accommodation in Evora or check the box below for other accommodation options.
Douro Valley
Located in northern Portugal, Douro Valley promises breathtaking beauty and a taste of the country's finest wines.
Specifically, the Douro Valley is a UNESCO World Heritage Site and wine region known for its terraced vineyards that cascade down the hillsides along the winding Douro River.
Visitors can indulge in wine tastings at the renowned wineries, embark on a scenic river cruise at sunset, or simply take in the stunning views as they stroll through the charming villages that dot the landscape.
However, the Douro Valley is not only a paradise for wine enthusiasts. It also offers outdoor activities such as hiking, cycling, horseback riding, and many other activities, allowing visitors to immerse themselves in the region's natural splendor.
Aveiro
Nestled along the picturesque coast of Central Portugal, Aveiro is another hidden gem for a dreamy summer getaway or a unique romantic escape.
In fact, renowned as the "Venice of Portugal," Aveiro is famous for its enchanting canals, colorful Moliceiro boats, and stunning architecture, while its cheerful locals and delicious cuisine add up to the city's vibrant and lively atmosphere.
This unique Boat Cruise & City Highlights Walking Tour will show you the best of the city and its amazing canals.
Also, at Aveiro, visitors can soak up the sun on beautiful sandy beaches, embark on a peaceful boat tour, or explore the captivating historic center.
Click here to find accommodation in Aveiro or check out the suggested hotels in the box below.
Tomar
Located in the heart of Portugal, Tomar is a historic gem blending fascinating heritage with a vibrant summer atmosphere.
The standout attraction of this picturesque town is the awe-inspiring Convento de Cristo, a UNESCO World Heritage Site dating back to the 12th century. The castle-like structure boasts intricate Manueline architecture and breathtaking views of the surrounding countryside.
Tomar also offers the perfect summer escape for outdoor enthusiasts, with its proximity to the beautiful Castelo de Bode reservoir, where visitors can indulge in water sports or simply relax on the sandy beaches.
Additionally, the town's charming streets are dotted with cozy cafes, local shops, and delicious restaurants, providing ample opportunities to immerse in the rich culture and flavors of central Portugal.
Nazaré
Nazaré, a picturesque coastal town in central Portugal, is a hidden gem and a must-visit summer destination.
Known for its beautiful sandy beaches, dramatic cliffs, and vibrant fishing heritage, Nazare offers a unique blend of natural beauty and cultural charm.
Particularly though, Nazaré is famous for Praia do Norte, a beach with massive waves attracting surfers from around the world.
But if you prefer a sandy beach ideal for sunbathing and swimming, visit Praia da Nazare.
Apart from water activities, be sure to stroll along the lively promenade lined with colorful fishing boats and enjoy fresh seafood at the local restaurants.
Portugal offers an incredible array of summer destinations that cater to every traveler's desires. So, whether you seek cultural immersion, outdoor adventures, or simply relaxation on beautiful beaches, Portugal has it all.
So, be prepared for an adventurous summer holiday in Portugal's heavenly cities, islands, and beaches!
Read more Travel Articles
🛌 Suggested accommodation in Portugal:
🗺️ More resources to book your trip to Portugal:
Pin this Guide to the Best Summer Destinations in Portugal!
---
You might also want to read these articles:
---
About my blog: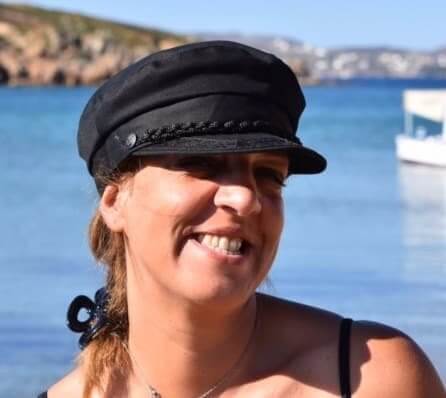 I moved to Crete in 2016. During these years, I learned much about the island.
In Crete, I juggle being a solo mom, hosting culinary tours, and writing for several travel blogs.
I've written for Greek Reporter, published travel guides about Greece, and had more glasses of frappe than any regular person could ever handle.