The village known as Pyrgos (also Pyrgos Kallistis, meaning the most beautiful tower) in Santorini, is one of the island's five castle cities. It was the capital of the island for a long time and remains a well-preserved area. The main reason to visit Pyrgos is to discover the way locals celebrate the most important festivity in the Orthodox calendar. Celebrating Easter in Santorini is a one-of-a-kind opportunity to get a closer look at Greece's deep beliefs and heartfelt religious celebration.
---
Disclaimer: Posts include affiliate links to products or services and I might earn a commission if you make a purchase, at no extra cost to you. This allows me to continue writing helpful articles for your travels. I only recommend things I use myself or that I believe will deliver value to you. 
---
Last-minute plans for Greece?
Get there: Use Ferryhopper to book your tickets.
Stay: Find great accommodation deals on Booking.com.
Move around: Compare car rental prices with Discover Cars.
Tours: Check the most popular places with GetYourGuide.
Read more: Pack the Lonely Planet Guide to Greece.
Quick guide to the best Santorini hotels
Budget: Asterolithos is in the center of Fira Town, within walking distance of the Caldera. Check it on Booking.com.
Mid-range: Enjoy the comfort of a Romantic Spa Resort. Check it on Booking.com.
Luxury: Have an unforgettable stay at Andronikos Canaves. Read the reviews on Booking.com.
Rental Home Type? Check villas in Santorini here.
Good Friday in Pyrgos, Santorini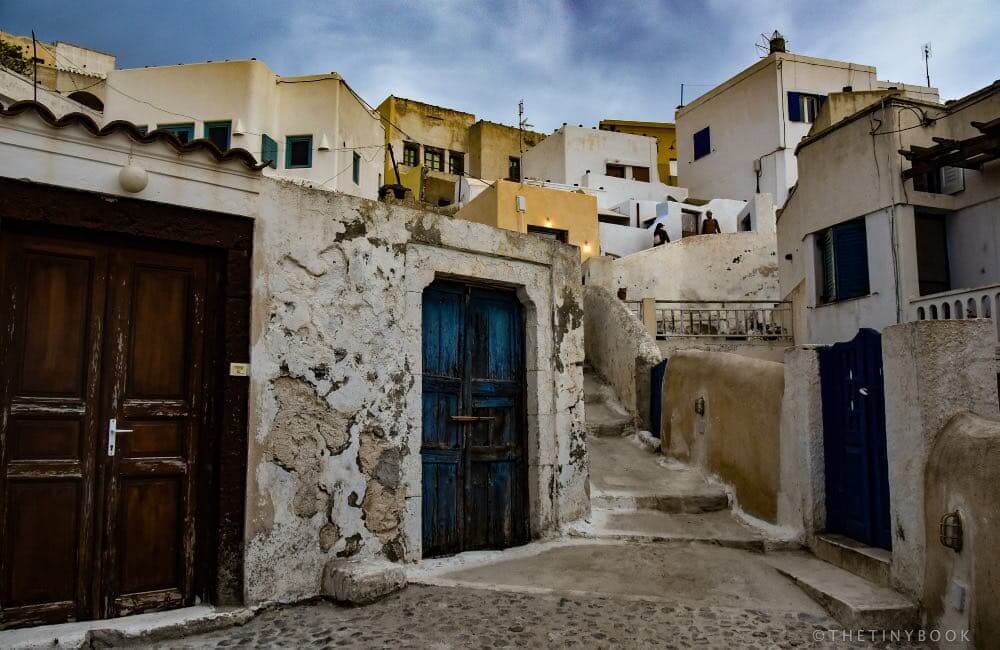 Easter in Greece is a serious business. It's considered the most important liturgical moment of the year, even more than what Christmas represents in many other countries. Every region of Greece has unique traditions and rituals when it comes to Easter week. In this article, I want to concentrate only on the magnificent celebrations that take place during Easter in Santorini.
The beautiful village of Pyrgos is not on the coast of Santorini, so it's not as popular as Oia, Fira, or even Akrotiri. Yet, during this moment of the year, Pyrgos becomes the center of attention on the island. It's the place where everyone wants to attend Easter Celebrations on Good Friday.
>>Check the best Holiday Homes and Villas in Santorini<<
On this day, the village displays one of the most impressive traditions in Greece. People come from every corner of the island, many of them with impressive photo equipment. On the other hand, villagers climb up the steep alleys of the village to reach one of the churches on top of the hill.
Others, instead, sit in open cafés and tavernas sharing coffees and conversation. Many more of them simply gather in the main square waiting for the ceremony to begin.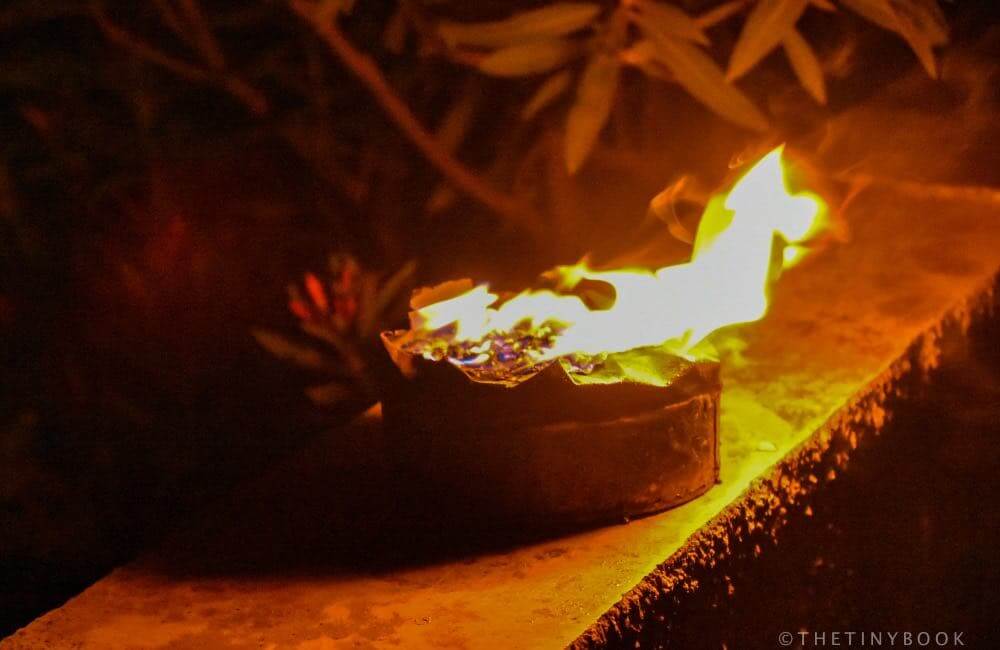 Easter Traditions
After the deposition of the Cross, starts the funeral procession of Jesus Christ at the footpaths of the village, just a few moments before, dozens of boys have gone around the village, carrying torch lighters to lighten up hundreds of aluminum cans placed in every house, rooftop, church, and path, as well as on the Venetian castle.
The atmosphere is magical. It is a thrilling experience to see the village glowing from the distance, with flickering flames giving light to the night.
The village glows as the procession of the body of Jesus (the Epitaph) begins, with thousands of people follow behind, holding candles and paper lanterns. Locals admit that this ceremony is not so much connected to religious beliefs, but it's a tradition loved and long-awaited because of its beauty.
If you happen to be in Santorini during the Greek Easter, you can miss fireworks on Saturday night, you could even miss the tradition of a delicious roasted lamb on the spit on Easter Sunday. Yet, a visit to Pyrgos on Good Friday night is an experience you should not miss.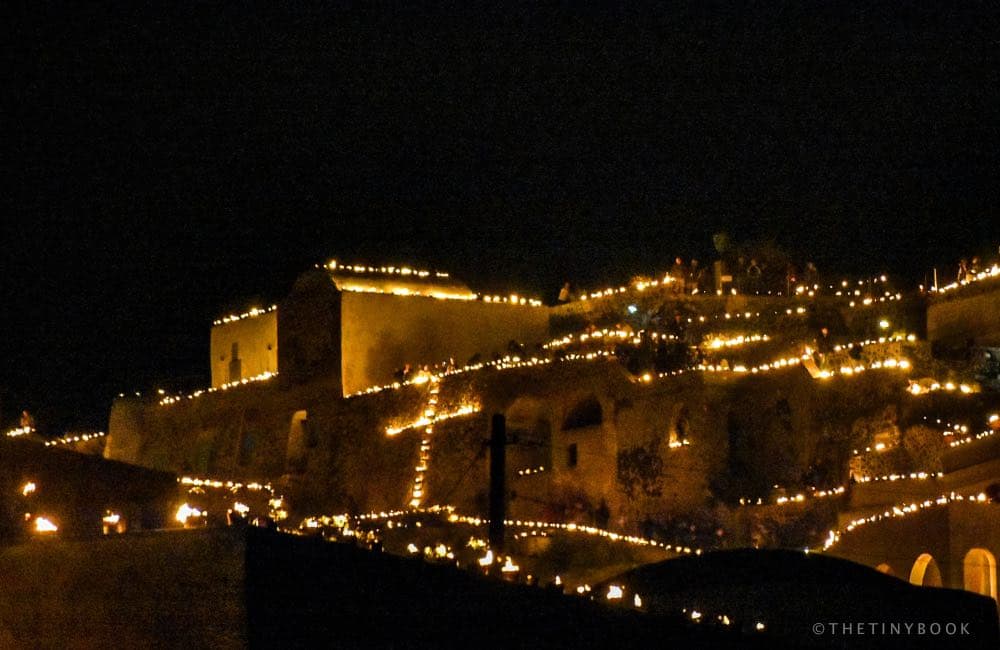 keep the island in your pocket!
The Tiny Book of Santorini
Villages & Iconic Landmarks - Things to Do - Places to See
Where to Stay - Where to Eat - Beaches
Gastronomy & Wines
Get The Tiny Book of Santorini
Buy it now!
Santorini in Spring
On the Greek Orthodox calendar, Easter usually occurs sometime in the middle of Spring, which is a gorgeous moment to visit Santorini. In Spring you will certainly avoid the massive touristic madness of July and August and you will enjoy pleasant mild weather. Certain years, it is possible to enjoy a few hours on the beach without extreme temperatures.
All in all, an Easter or a Spring holiday in Santorini is never a bad idea. The island blossoms with wildflowers; vineyards are green and prices are still on the reasonable side.
But most of all, keep Greek Easter in mind, learn about the dates and book your accommodation in advance; treat yourself with this remarkable moment no matter what are your religious beliefs are.
Easter Gastronomy from Santorini
Melitina, Easter sweet from Santorini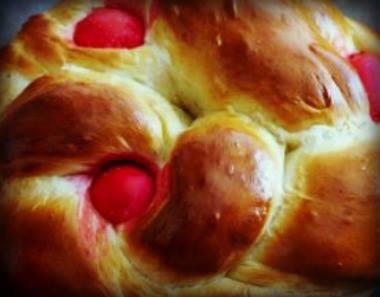 Greek flavors are unique and things do not change much at Easter. One of the traditional bread eaten in this period is tsourekia, but this is eaten pretty much all over Greece.
However, after spending Easter in Santorini, I came across a magnificent sweet called melitinia (μελιτίνια). A small but tasty baked sweet typical in this period
The tradition wants that the women and girls of the family gather on Holy Tuesday to prepare the sweet which is then eaten on the evening of the Resurrection (but easily found during the week in any bakery.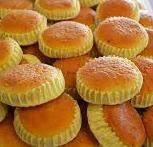 Melitinia has the shape of a tart and comes in different sizes. The name comes from the ancient term meliteros, meaning "as sweet as honey".
Melitinia has a moist center of fresh sweet cheese. The outer part is made of very thin dough, which makes you think it's a paper container. Some people think melitinia is of the Cretan lychnarakia also filled with fresh cheese. But melitinia have a completely different taste.
Melitinia has a moist center of fresh sweet cheese. The outer part is made of very thin dough, which makes you think it's a paper container. Some people think melitinia is of the Cretan lychnarakia also filled with fresh cheese, but both have a completely different taste.
What to Pack for a Trip to Santorini
If you want more details about how to prepare your beach back, check this article!
Clothing and accessories: Pack clothes that you can easily mix and match. Choose breathable material or garments that dry fast for you to wash and wear the day after. Three t-shirts, two pairs of shorts, and a couple of summer dresses will be more than fine.
For men, a nice shirt for dinner, three to five t-shirts, plus two pairs of shorts or bermudas are more than enough for a week on the islands.
When it comes to shoes, if you're a woman, avoid heels and prefer flat sandals or wedges. For men, the best shoes are summer loafers or soft leather sandals. Don't leave your flip-flops at home.
Don't forget your toiletries, your electronics, your photo camera, extra memory cards, and a good guide to the Greek islands.
Only a Short Visit to Santorini? Don't Miss These
If you're visiting Santorini for a couple of days only, these are the three things you should not miss:
Witness the sunset over the Caldera in Oia
Check Santorini's Black Beach of Perissa
Taste some of the delicious local wines
More About Santorini
---
What other things would you add to this list of best things to do in Santorini?
Let me know in the comments below!
---
Travel Plans for Greece?
More Resources to Organize Your Trip!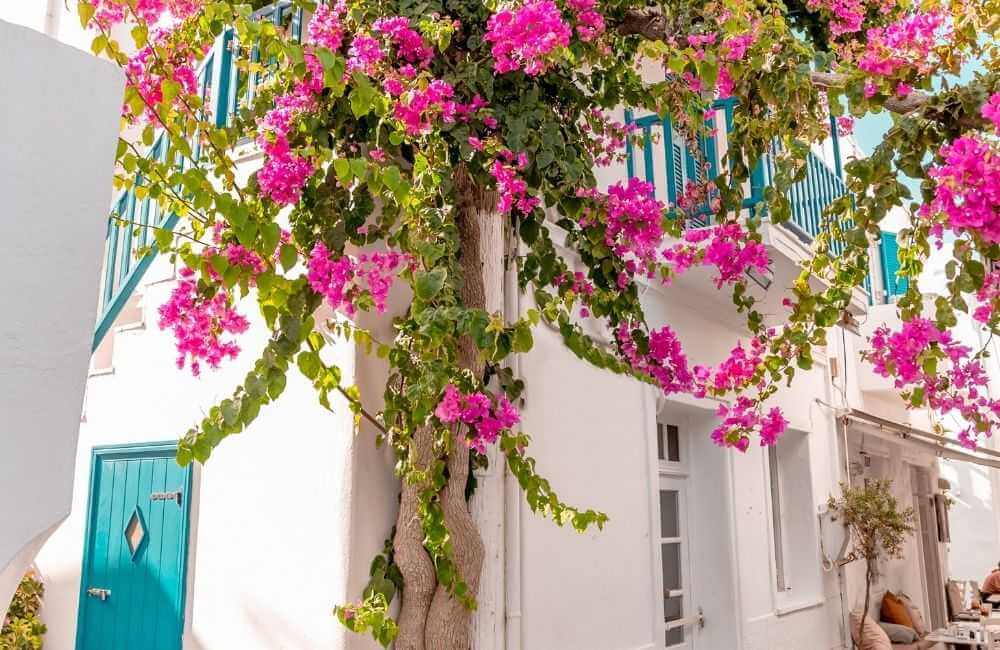 Start by heading right to my Greece travel guide for in-depth details you need to know about Greece. You can also check my post to plan a trip to Greece with children!
Get in touch if you need extra help to plan your trip. If you want to tour West Crete, check my guide. Want more? Join my Private Facebook Group to connect with like-minded travelers who love Crete as much as you do!
Make Sure You've Got Everything For a Hassle-Free Vacation!
Without my Osprey backpack, I never move around the islands…it's a sturdy but light travel partner I just love. For short trips, I carry this crossbody bag. If I drive, I pack my Nikon D7200 and a good travel guide! Lonely Planet's Best of Greece & the Greek Islands.
When it comes to plane tickets, compare prices with a powerful search engine. However, nothing beats traveling by sea in Greece. With Ferry Hopper, you can book in advance at the lowest price.
For accommodation, I use Booking.com.
Traveling to remote places is easier with Discover Cars. Other times, I join organized tours with GetYourGuide, which features anything from cooking lessons to airport transfer!
COMING TO CRETE SOON?
Get in touch and let me know!
Read more:
The Most Amazing Beaches in Sifnos Island
Where to Stay in Naxos, Greece: Best Areas & Hotels on the Island
How to Get to Mykonos: Best Ways to Travel to the Greek Island
What to Pack in your Beach Bag
Gorgeous Villages in Crete You Should Visit
Pin this Ultimate Guide to the Best Things to Do in Santorini for Your Next Easter Escape!
About the author of this blog: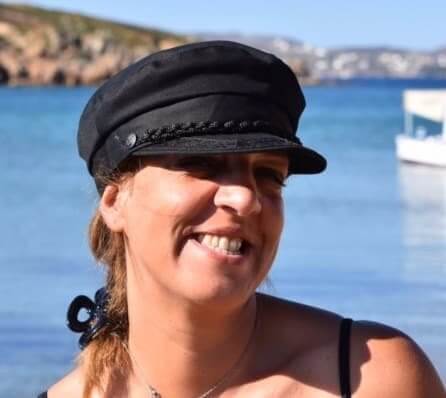 Gabi has been living in Crete for the last five years. Here, she juggles being a solo mom, hosting culinary tours in the summer, translating, and writing for The Tiny Book and her other blogs.
She's written for Greek Reporter, published three travel guides about Greece, and had more glasses of frappe than any regular person would be able to handle.