Are you thinking of visiting Naples in winter? Well, you've come to the right spot. First of all, your idea is excellent, and I'll show you why. Second, think no more and visit Naples; you won't regret it.
But because I know you need proof, here are the most incredible things to do in Naples in winter. So, are you ready to discover the best in the city?
---
Disclaimer: Posts include affiliate links to products or services. I might earn a commission if you make a purchase.
---
Naples in Winter
Basic Things to Know about Naples
RESOURCES TO PLAN YOUR TRIP TO ITALY!
Book your flight: I use Skyscanner to compare prices before booking a plane ticket.
Book your accommodation: I've tried many different platforms for accommodation, but none of them beats the advantages of Booking.com.
Book your car: The best way to find an affordable car to rent is to use a powerful search engine that compares all the rental companies in the market. I use Discover Cars.
Book your tours: Live unforgettable adventures and cultural experiences with Get Your Guide. For instance, you can visit the Colosseum, discover Milan's Duomo, explore Pompeii, or wander the streets of Florence.
Don't forget travel insurance: Things can go wrong at times, but travel insurance will protect you against illness, injury, theft, and cancellations. I recommend Safety Wing for peace of mind.
Where is Naples?
Capital of the Campania region, and one of the most visited cities in Italy, Naples is in the southern part of the country. It faces the Gulf of Naples, on the Mediterranean Sea.
The weather is quite hot in summer (usually from the end of April to the end of September), while winters can be short and mild, but often humid and rainy. It may occasionally snow in Naples.
How to Get to Naples?
Situated in the south of the country, the city is about 2 hours from the capital, Rome (there are fast trains that can take you there in about 90 minutes).
Naples International airport is fairly close to the city center and it receives flights from many European cities as well as from the main airports in Italy.
However, if you're traveling to Naples from other areas in Italy, the cheapest and fastest way to reach Naples is by train. Most trains arrive at Naples Central Station, Piazza Garibaldi).
For instance, it takes you about 4 hours to get there from Milan and a bit more than 3 from Florence.
Best Ways to Move around in Naples
The city has a fairly cheap and efficient public transport system that makes it simple, even for visitors, to navigate Naples.
To reach further areas in the Campania region, for instance, the Amalfi Coast or the ruins of Pompeii, the train is your best bet. In town, instead, choose the bus or the metro to move from one neighborhood to the other.
Where to Stay in Naples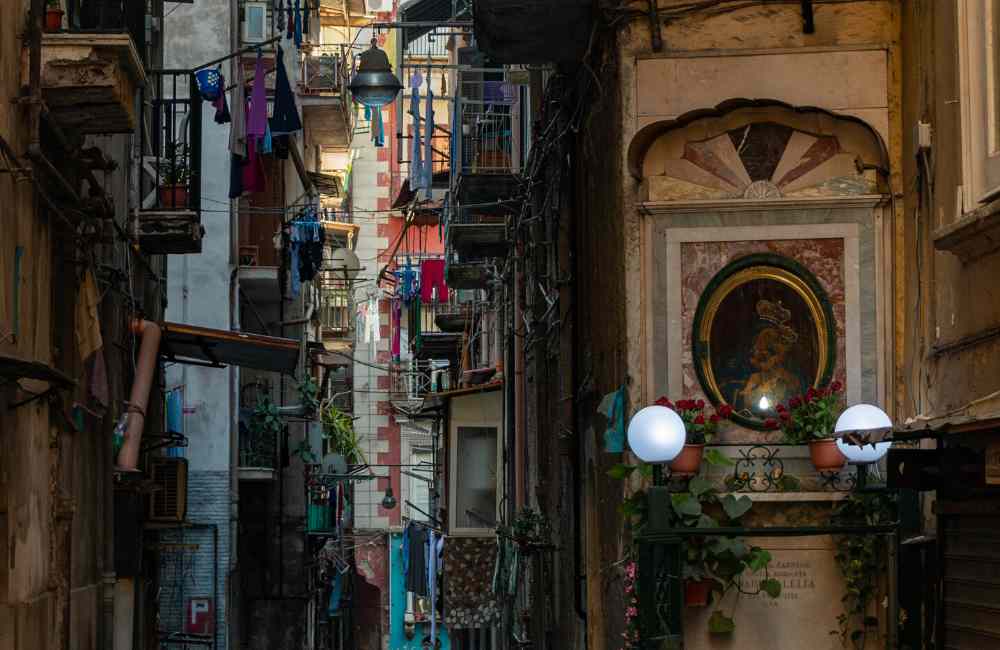 If this is your first time in Naples, you will want to stay in a central area that is safe and well-served by public transport.
These are some of the best accommodations in town that you will want to check out at least 3 months before your trip.
Top Things to Do in Naples in Winter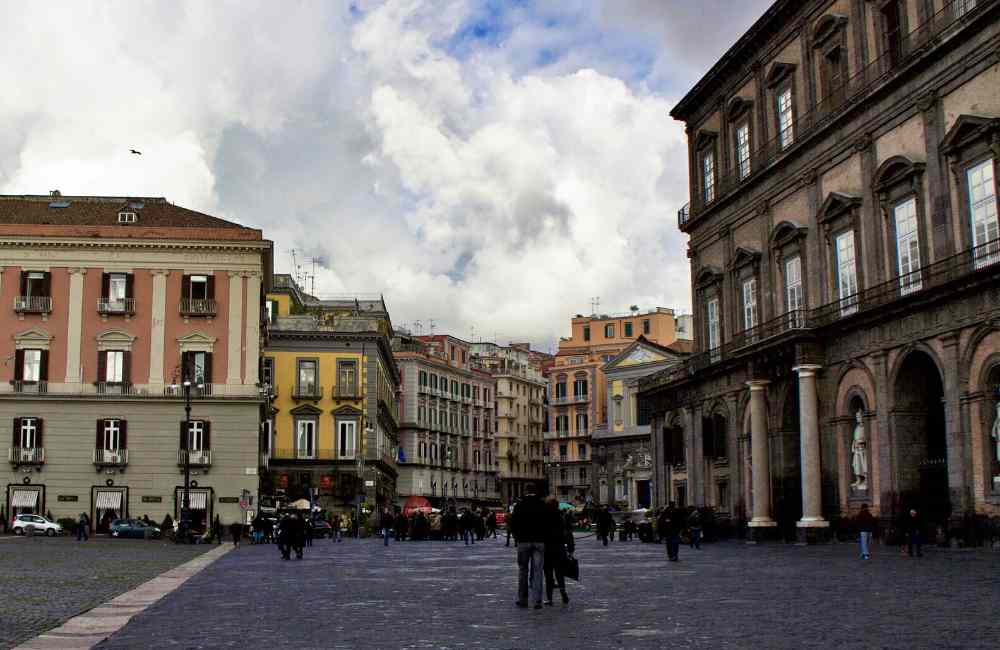 Avoid the heat and crowds of the hot summer months and discover a whole new city when the winter arrives in Naples.
In no particular order, these are my favorite things to do in winter in Naples:
Roam through Naples' Christmas Markets
The Christmas spirit dominates the city of Naples for more than a month, from December to January. You'll see lights and decorations in many tourist attractions and central spots.
However, what steals the show is no other than the city's Christmas markets. And there are more than a few.
Every main Naple square is home to small markets with local handicrafts and plenty of souvenirs.
Via Diaz, Bovio, Dante, and Municipio are only some of the Piazzas with such markers, not to mention the Father Christmas Village in Fuorigrotta.
And if all that is not enough, you'll find several festive markets and cultural activities in the famous Pietrarsa Railway Museum.
>> Do you want to see more of the Naples Historic District? This is a super affordable Naples walking tour that shows you the vibrant historic city center to learn about Naples' fascinating history.
Observe Scene Makers at their Workshops
While you explore the local markets, you'll notice hundreds of handmade Christmas crib miniatures that depict the Nativity scene.
Naples handcrafters are famous for these scenes. And they have worked non-stop since November to create all these exquisite art pieces that decorate our houses.
You can even witness the scene makers create their masterpieces from scratch in their workshops.
For example, the Via San Gregorio Armeno alley will feel something between a beautiful authentic Italian street and a Santa's workshop.
You'll see little houses, miniature dolls, and other crib decorations- all in the making. It's the perfect opportunity to get a souvenir right from the source.
Taste the Local Delicacies… That'll Keep you Warm in Naples during Winter!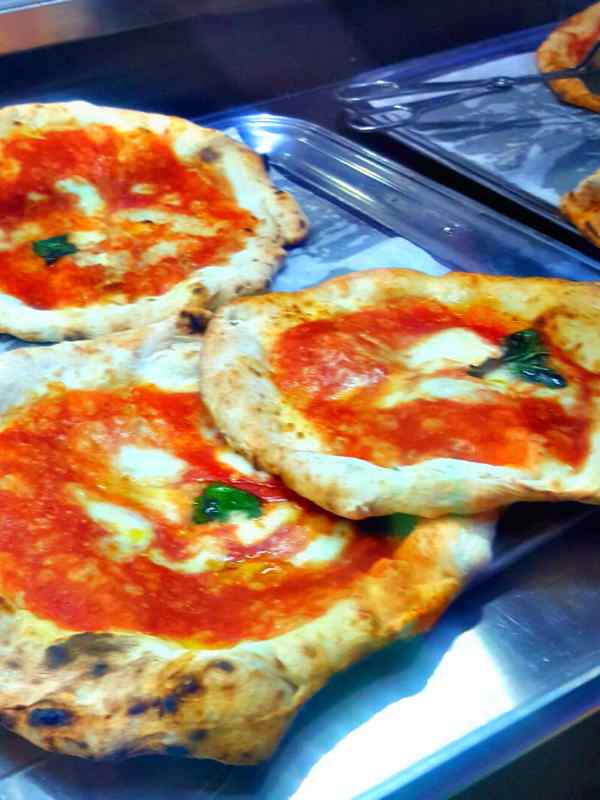 I know what you have in mind. Veggies! Just kidding. When you come to Naples, you want to – or better say must- try the local Pizza Marinara or Margherita in its birthplace.
You may have heard of its taste, but wait until you learn its story too.
In short, back in the 18th century, the rich thought tomatoes were poisonous, so common folk and poor peasants had plenty of them.
Soon, they realized how great plain tomatoes blend with bread, so the idea of pizza was born. And before they realized it, it became the go-to meal for mariners at the harbor- no wonder they called it Pizza Marinara.
A lot later, in 1889, Raffaele Esposito added cheese and basil to the mix, and the modern pizza labeled Pizza Margherita blessed the world.
These may all be past stories, but remember that locals take pizza matters way too seriously. They even expect and require all Neapolitan pizza makers to use the finest mozzarella and specific tomatoes!
Did you know that you can learn to make authentic Naples pizza too?
Check out this Neapolitan Pizza workshop and book the experience!
Other local delicacies you can try in Naples include seafood pasta, risotto, potato dumplings Gnocchi, and pasta pie Timballo, to name a few.
And if you fancy a dessert, taste the super sweet and soft pastries soaked in alcohol, Babà al Rhum, or the traditional Struffoli, made of fried dough balls topped with honey, a favorite at Christmas.
Yummy, right?
Taste the best of Naples with this Street Food Tour with a Local Guide.
Affordable tour to sample foods that originated in the city as you take in the monuments of the historic center.
Click here for more details and to join this experience.
Admire the Artwork at Capodimonte Museum
If you're a fan of art, you'll love Naples for its cultural and artistic background and history.
Most of all, your visit to the exclusive galleries at Capodimonte Museum can easily be the highlight of your trip, especially since you'll also escape the winter cold for a while.
Here, you'll find several exhibition rooms and demonstrations from international artists and studios.
The very building itself is a masterpiece on its own. This 15th-century structure has been the royal residence for three dynasties.
As a result, tens of luxurious rooms, portraits, and furniture occupy its three floors. In short? It's the perfect setting to indulge in a cultural trip into art history from the 13th to the 20th century.
Join an Eerie Tour to Discover Occult Naples
If art-watching is not your thing, you may prefer something a bit spookier.
Naples underground is full of hidden gems, and as frightening as it may look, it can be lots of fun, especially if you join a tour with friends.
Not all places are open to the public since excavations are new, but the guides will shed enough light on this dark side of Naples.
Most of the underground attractions will be in the new metro, which can often feel like a museum with all the ruins nearby.
Lose your Thoughts and Relax at a Spa
Although winter in Naples is relatively mild, nobody says no to a thermal bath or spa when given a chance.
You may need to get a bit on the city's outskirts, but the destination will reward you in no time. Stufe di Nerone and Terme di Agnano are two popular spa resorts you can visit in the Phlegraean fields.
Take a Day Trip to the Nearby Attractions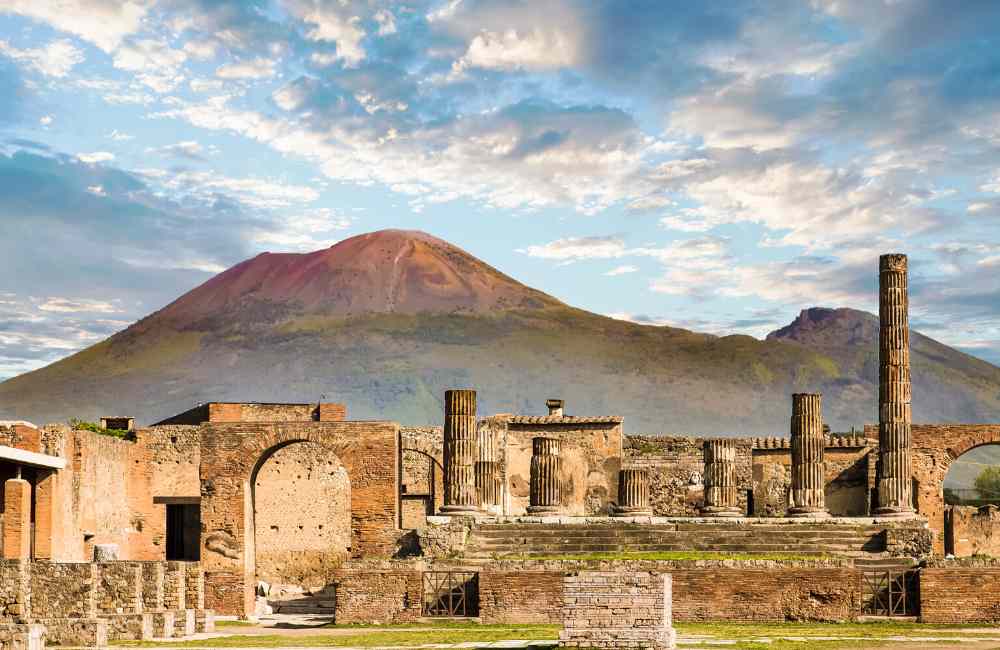 Naples is beautiful, but so are its surroundings. In other words, you don't want to miss a chance for a day trip or two. And the choices here are many!
First, the ruins of Pompeii are right next to Naples, only a 40-minute train ride from the city center. You'll get to see firsthand how destructive a volcanic eruption can be.
Remember, Mount Vesuvius nearby is the only remaining active volcano in Europe! You can see the best of the volcano and the ruins of Pompeii with a convenient day trip that leaves from the center of Naples.
Another ancient city worth visiting in the Naples proximity is Herculaneum, only 8 kilometers southeast of Naples. Visiting with an archaeologist provides priceless insight!
Although the town suffered the same fate as Pompeii, it is much better preserved, so you'll get a better look into the Roman way of life back in 79 AD.
Finally, even though winter can get cold, you may want to spend a day on a nearby island. Procida and Capri are two unique destinations you can explore in a day! For instance, this Procida Island tour lasts the whole day and also includes a traditional lunch!
Take to the port, catch a ferry, or join a winter boat tour, and you are in for a treat!
Whether you visit Naples for a winter weekend or an entire week, you will always have things to do.
The weather is mild, snow is a rarity, and Naples' winter liveliness will leave you in awe. You just have to put yourself out there and see all it has to offer.
You'll love every second of it!
Visiting Naples in winter this year?
Read more about Winter Travel
Written by Dimitrios Tsevremes
Passionate about travel, spirituality, and sports, I have lived in 5 countries and traveled to more places than I have counted. Writing, for me, is a way to express myself and my creativity. Whether I write for my blog or a freelancing gig, I always fall in love with the process and often lose my sense of time. If you want, you can check out more about me and my work here.
Pin this Useful Guide to Visiting Naples in Winter!
About my blog: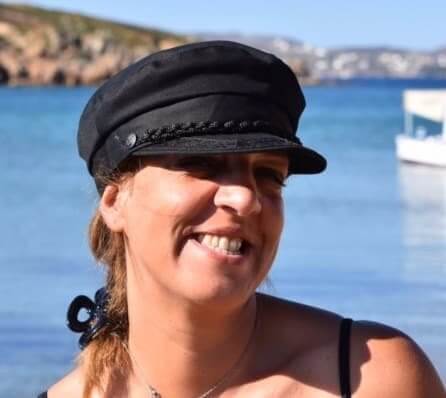 I moved to Crete in 2016. During these years, I learned much about the island.
In Crete, I juggle being a solo mom, hosting culinary tours, and writing for several travel media.
I've written for Greek Reporter, published travel guides about Greece, co-authored DK Eyewitness Top 10 Crete, and had more glasses of frappe than any regular person could ever handle.