Latvia is a country that has many seaside resorts, quite popular among tourists. Let's take a look at the best beaches in Latvia as well as some other basic details you need to know before heading there… Ready? Let's go!
---
Disclaimer: Posts include affiliate links to products or services. I might earn a commission if you make a purchase.
---
Amazing Beaches in Latvia
Basic Things to Know About Latvia
Get Ready for Latvia!
RESOURCES TO PLAN YOUR TRIP TO LATVIA!
Book your flight: I use Skyscanner to compare prices before booking a plane ticket.
Book your accommodation: I've tried many different platforms for accommodation, but none of them beats the advantages of Booking.com.
Book your car: The best way to find an affordable car to rent is to use a powerful search engine that compares all the rental companies in the market. I use Discover Cars.
Book your tours: Live unforgettable adventures and cultural experiences with Get Your Guide. For instance, you can enjoy a day trip to Jurmala or enjoy a guided hiking adventure in Riga.
Don't forget travel insurance: Things can go wrong at times, but travel insurance will protect you against illness, injury, theft, and cancellations. I recommend Safety Wing for peace of mind.
Where is Latvia
Officially known as the Republic of Latvia, the country is located in Northern Europe, in the Baltic region. Neighboring countries of Latvia include Estonia, Lithuania, Russia, and Belarus, however, Latvia also shares a maritime border with Sweden.
The capital of the country, Riga, is one of the most beautiful off-the-beaten-path capitals in Europe.
How to Get to Latvia and Moving Around
The most popular way to visit Latvia is to travel to Riga by plane, landing at Riga International Airport, the hub of the most important national carrier airBaltic.
You can also get there with one of the many low-cost companies that fly there from several European cities.
If you're traveling around Europe, it is also possible to reach Riga from the capital of Sweden, Stockholm by ferry.
It takes about twenty minutes to reach the city from the airport by taxi or private transfer the ride is about €15-18. If you're on a budget, then consider using bus 22 (about €2 for the ride).
Moving around in town is easy and affordable by public transport. The city has an efficient network of buses and trams, however, the city is quite pedestrian-friendly, and walking allows you to see more of this enchanting capital.
When visiting other cities and towns in the country, as well as several of the following beach resorts, it is a good idea to rely on the national train service or the bus.
For instance, getting to Jurmala by train is quite cheap and straightforward. Here you can check out the different train schedules, while information about the bus service is published here.
Where to Stay in Latvia?
These are among the most convenient accommodation options you can check out in the capital and other seaside towns in Latvia:
Accommodation in Riga
Wellton Riga Hotel & SPA features exquisite and affordable suites in a central location, right in the heart of Old Town. The place features a restaurant serving both Latvian and European cuisine.
Click here for more information and to get the latest prices.
Riga Islande Hotel is a gorgeous property situated on Ķīpsala Island on the Daugava River. The hotel is comfortable and it includes free parking facilities.
Click here for more information and to get the latest prices.
Accommodation in Jurmala
Baltic Beach Hotel & SPA is a stunning venue located in the heart of Jurmala, just 200 meters from Jomas Street and with direct access to a private, sandy beach. The hotel features an indoor seawater swimming pool, a private park, and a children's playground.
Click here for more information and to get the latest prices.
Acommodation in Ventspils
Ventspils Garden House is one of the top places to stay in Ventspils, the house is cozy and surrounded by natural scenes. It features a patio, a garden and a sun terrace, barbecue facilities, and free private parking.
The apartment includes two bedrooms, a seating area, and a kitchen with a fridge. A bicycle rental service is available at the accommodation.
Click here for more information and to get the latest prices.
Best Beaches in Latvia that You Cannot Miss
Not everything is about abundant snow, magic winters, and stunning Christmas decorations while in Latvia.
In fact, there are some fantastic (and quite unexpected) beaches you can check out too if you visit from June to late August. Let's start with the most popular and famous resort, Jurmala.
Jurmala
The well-known Jurmala is the most popular resort in Latvia and one of the most famous beach holiday destinations in Europe. But why is it so attractive to tourists?
First of all, because of its location, Jurmala is situated on the coast of the Baltic Sea in the north of Latvia.
The climate is not very hot, however, it is just perfect for those who are not comfortable in extreme heat but still enjoy spending time by the sea.
It's easy to notice that a vacation in Jurmala is not only relaxing but also strengthening and healing for your body. The air is filled with the healing properties of pine trees and the sea making it a real oasis.
There are many spa centers in the area and you can choose the one you like the most. It is also a good idea to join a day trip with a private guide to see the best of the region, including the stunning Kemeri National Park.
The coast of Jurmala is packed with hotels but also resorts, health centers, and several tiny villages
Interesting fact: Did you know that it is possible to apply for Latvian citizenship by descent during your trip to Latvia and, while there, visit all the beaches you like without wasting too much time on bureaucratic paperwork?
Saulkastra
Located several kilometers from Riga, Saulkastra is another beach surrounded by a pine tree forest where the air is also said to have healing properties.
According to locals, this is an ideal place for introverts because it's not often very crowded. And in the odd event of getting bored, there are incredible hikes available in the surrounding forests. In this area, the beaches are quiet and calm.
Among the places that you can explore in the region is the gorgeous Piejura Park which spans over seventeen kilometers.
You can enjoy stunning views from the observation deck overlooking the Gulf of Riga or visit the original Bicycle Museum with its unique collection of bicycles.
Vecaki Beach
Once upon a time, there stood a fishing village on this beach. Today, many residents rest on the beaches of Vecaki but also lots of visitors come to enjoy the impressive landscapes and spend a tranquil vacation by the sea.
Over here, the shores feature golden sand and a clear calm sea, while dozens of pine trees add a pop of color and a gorgeous fragrance to the atmosphere.
There are also areas devoted to beach games, including volleyball and football, as well as playgrounds, exercise equipment, and trampolines on the beach.
The beach is well organized, making it easy for you to just rent a sun lounger and spend a glorious day.
Keep in mind that despite the Baltic not being really shallow, the authorities take safety very seriously, therefore, there are always two lifeboats on duty at sea.
Among other facilities, you will find a special area for moms and children, making it a great place for a family vacation. For further peace of mind, lifeguards regularly ride ATVs along the beach.
Vakarbulli
This beach is located on the island of Daugavriva, a 30-minute drive from Riga.
This place is characterized by golden shores and a wavy sea, but what might interest you the most is that Varkabulli has been awarded the Grand Flag (similar to Blue Flag Beach status) for 14 years in a row. So, rest assured that the beach is clean and safe.
Over here, outdoor enthusiasts can go windsurfing thanks to the incredible wavy conditions of the water.
The beach is organized and offers all the necessary amenities you might need, including a free car park next to the beach, changing cabins, toilets, and showers.
And for the kids? Lots of stands selling snacks, ice cream, hot dogs, and refreshing drinks. Still hungry? There are also many family-friendly restaurants!
Liepaja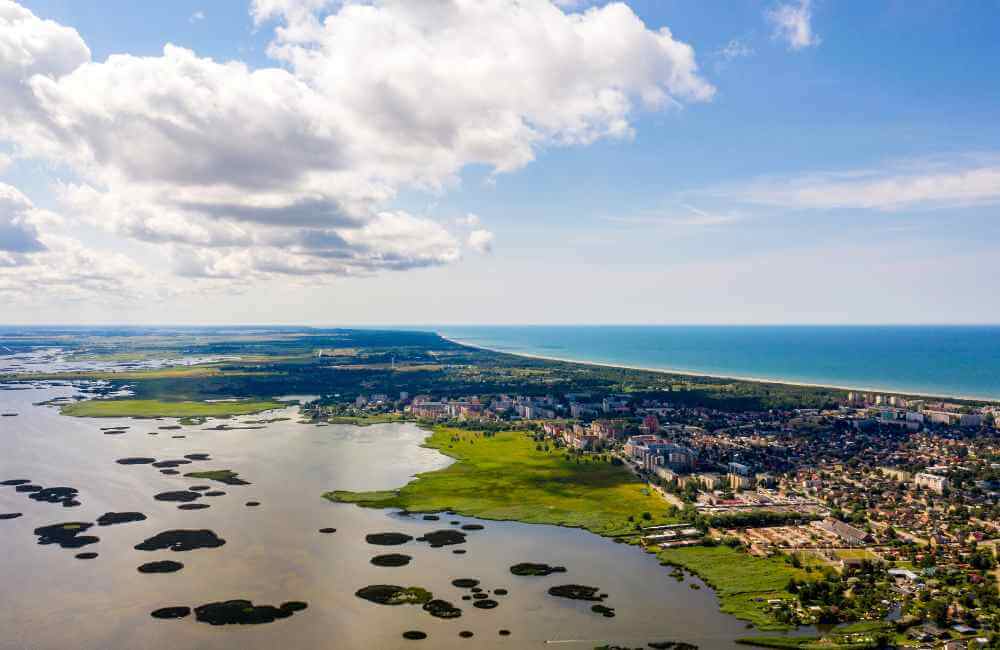 Another well-organized beach, featuring several cafes and restaurants but also shops along the shore.
Although many visitors associate Liepaja with heavy winds, the place offers priceless landscapes you can enjoy, especially if you love photography.
For that reason, if relaxing for a long time on the beach sounds like something uncomfortable, you can always take advantage of the lovely verandas offered by many seaside restaurants to take in the healthy breeze and soak in the views.
And if the wind is not something of your concern, you will be happy to learn that the beach has been awarded a Blue Flag for its cleanliness and safety.
Jurkalne Beach, one of the most beautiful beaches in Latvia
Not far from Liepaja, the stunning views of Jurkaine Beach are worth a trip or two. In fact, they say you won't find landscapes of this kind anywhere else!
The coast of Jurkalne is made of sand mixed with pebbles, and there is a cliff populated with impressive lush pine trees just a little further down the coast.
Trust me, here the landscape is extraordinary. Besides, the beach is clean and never really crowded, making it an enchanting getaway if you're longing for a peaceful time out!
Keep in mind that the peak season is at the end of July and during the whole month of August.
Ventspils
Also known as Ventspills, this beach spans over a kilometer and it features quite a deep sea. In fact, it is advisable to be extremely careful and pay special attention as depths start abruptly 10 meters from the shore.
But you shouldn't worry much since the sea is calm and lifeguards are constantly alert.
The beach is divided into zones for the utmost comfort of visitors, including a zone for kiters and surfers, as well as a special area for smokers.
The city also features a large water park featuring pools and games with comfortably warm waters… much better than the cold Baltic!
As you might have guessed already, a seaside vacation is always a winning option for a summer escape or a weekend getaway.
If the sometimes too-hot shores and summers in Crete are not your cup of tea, who knows, maybe you might find a cooler alternative in one of the best beaches in Latvia!
---
Visiting the beaches in Latvia any time soon?
Let me know in the comments below!
You might also want to read these articles for next summer:
Pin this Guide to the Best Latvia Beaches for Next Summer!
About my blog: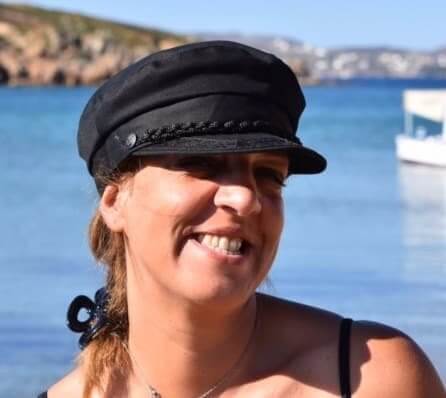 I moved to Crete in 2016. During these years, I learned much about the island.
In Crete, I juggle being a solo mom, hosting culinary tours, and writing for several travel media.
I've written for Greek Reporter, published travel guides about Greece, co-authored DK Eyewitness Top 10 Crete, and had more glasses of frappe than any regular person could ever handle.