Marseille is the second largest city in France and also the oldest. It is a vibrant port city situated in the south of France and it has a mysterious allure to it.
Whatever Marseille may lack in elegance, however it makes up with its dynamic and diverse culture. In this article, I want to explore with you the best things to do in Marseille to make the most of your time in town when you visit!
---
Disclaimer: Posts include affiliate links to products or services. I might earn a commission if you make a purchase, at no extra cost.
---
Top Things to Do in Marseille, France
It is the second most populous city in France, traces its roots to its Greek foundations back in 600 BC by Greek settlers and it was known as Massalia.
This makes it the oldest city in France but also one of Europe's oldest continuously inhabited settlements.
When visiting Marseille, it is a good idea to get hold of a Marseille CityPass (for 24 Hours, 48 Hours, or 72 Hours) as it gives you access to public transport, tourist buses and small touristic trains, museums, culture, and leisure activities for a very affordable fee.
Basic Things to Know about Marseille
Get Ready for France!
RESOURCES TO PLAN YOUR TRIP TO FRANCE!
Book your flight: I use Skyscanner to compare prices before booking a plane ticket.
Book your accommodation: I've tried many different platforms for accommodation, but none of them beats the advantages of Booking.com.
Book your car: The best way to find an affordable car to rent is to use a powerful search engine that compares all the rental companies in the market. I use Discover Cars.
Book your tours: Live unforgettable adventures and cultural experiences with Get Your Guide. For instance, you can visit the Louvre Museum skipping the line, discover the City of Wine in Bordeaux, take a day trip to the Champagne region, or enjoy a day in Disneyland Paris.
Don't forget travel insurance: Things can go wrong at times, but travel insurance will protect you against illness, injury, theft, and cancellations. I recommend Safety Wing for peace of mind.
Where is Marseille
Marseille is located in southern France, on the coast of the Gulf of Lion, the Mediterranean Sea, near the mouth of the Rhône River.
Marseille is close to other important southern cities, including Aix en Provence, Avignon, Rognac, and Vitrolles, where the international airport of Marseilles is located.
Why Visit Marseille
The city has a long tradition as an important trading port having experienced a considerable commercial boom in the nineteenth century. It is currently a prosperous industrial and commercial hub, yet some old landmarks remain unchanged.
For example, Marseille's Old Port (Vieux Port) is still the soul of the city. This was the birthplace of its most famous product Savon de Marseille, something that locals have been manufacturing and trading for centuries.
Today, the Grand Port Maritime de Marseille is a remarkable center of regional and national commerce, remaining the country's first port, and the second most important in the Mediterranean.
Its coastal city status has made Marseille a cosmopolitan settlement since ancient times, marked by immigration as well as cultural and economic influences. 
In the present, with its several beaches and many things to see and do, it remains a kind of down-to-earth city that is not very touristy and with prices in shops and accommodation often reflecting this.
How to Get to Marseille
Marseille is home to an important international airport receiving domestic and international flights. It is located about 27 kilometers from the center of town and it can be reached by bus or private transfer and taxi.
The Marseille Provence Airport receives countless daily flights from Paris, from other European cities, from countries in Northern Africa, and even from Canada. If you cannot catch a direct flight to Marseille, you can also fly to Paris and connect from the capital.
It is also possible to travel to Marseille from different points in the country by bus or high-speed trains both arriving at the Gare Marseille Saint Charles and Marseille Saint Charles Bust Station.
We personally traveled by TGV train (high-speed) from Marseille Saint Charles to Paris Gare de Lyon. The trip was about 3.30 hours and the ticket prices tend to go up the closer you are to the departing day, so do buy them as soon as you can. 
We used the OUIGO platform to purchase the tickets and the OUIGO app to download our tickets to our phones. The process was really smooth.
Ferry boats (and cruise ships) arrive in Marseille from Corsica, Sardinia, and some countries in Nordafrica. The passenger ferry terminal is near Place de la Joliette
How to Move Around in Marseille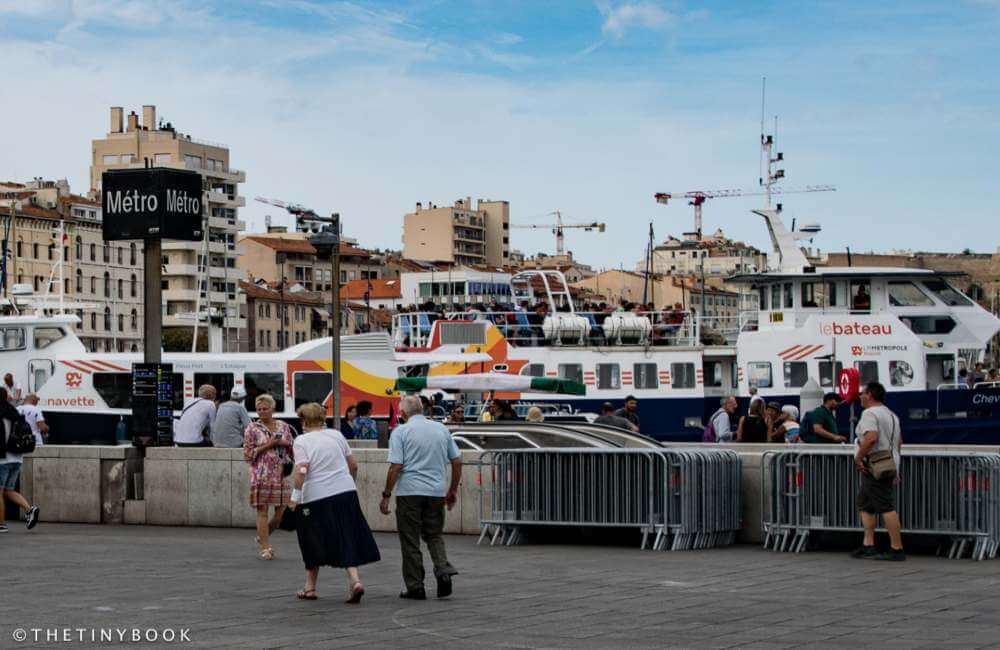 The city is quite compact and it is easy to walk around to explore the different neighborhoods, however, there is also a good public transport network and almost every point in town can be reached by bus, tram or metro.
There are two metro lines, nearly 80 bus lines, and three tram lines. The city also offers a wide range of tickets and transport subscriptions suitable also for travelers.
To reach the center from the airport, you can check out Navette Marseille, running every 20 minutes until midnight. The buses stop at Saint Charles Train Station.
Taxis are another possibility, they are controlled by the local authority and to get hold of a cab you can call 0811 46 90 90. Alternatively, you can head to one of the more than 80 taxi ranks spread all over Marseille.
Renting a car is also a good idea if you are also planning to explore the surrounding area, however, keep in mind that the city traffic is really chaotic, especially around the Old Port and the center, and parking can be difficult.
Tourists enjoy also sightseeing on a hop-on-hop-off bus (there are many options available) or taking special touristic trains to reach the highest points in town, such as the church of Notre Dame de la Garde.
When is the Best Time to Go to Marseille
Marseille enjoys pleasant Mediterranean weather all year round, receiving the largest number of tourists from late May until August.
The months of September and October are better to avoid overcrowded attractions and overpriced accommodations.
Winters can be cold and rainy, while the city's attractions sometimes have shorter working schedules and opening hours. However, finding accommodation in winter can be easier.
Is Marseille as Dangerous as They Say?
Some years ago, Marseille was dubbed one of the most dangerous cities in the world. However, I've had the opportunity to prove that this is not really the case.
After reading a lot about it, I must say I was a bit apprehensive before the arrival, but to be honest, it was just fine.
Just like many other cities in France, Marseille is divided into arrondissements or districts, and the ones close to the center or near the main attractions are quite safe.
The so-called dangerous areas in Marseilles are not near the places any traveler should be. In fact, there is no reason for you to visit the more dangerous neighborhoods (such as the 13th, 14th, 15th, and 16th arrondissements). 
Trust me, you won't need at any point during your trip, to get close to those areas, so simply relax and be as cautious as you would be in any very crowded city in the world.
Be extra vigilant in places where lots of people tend to gather, including stations and tourist attractions.
Where to Stay in Marseille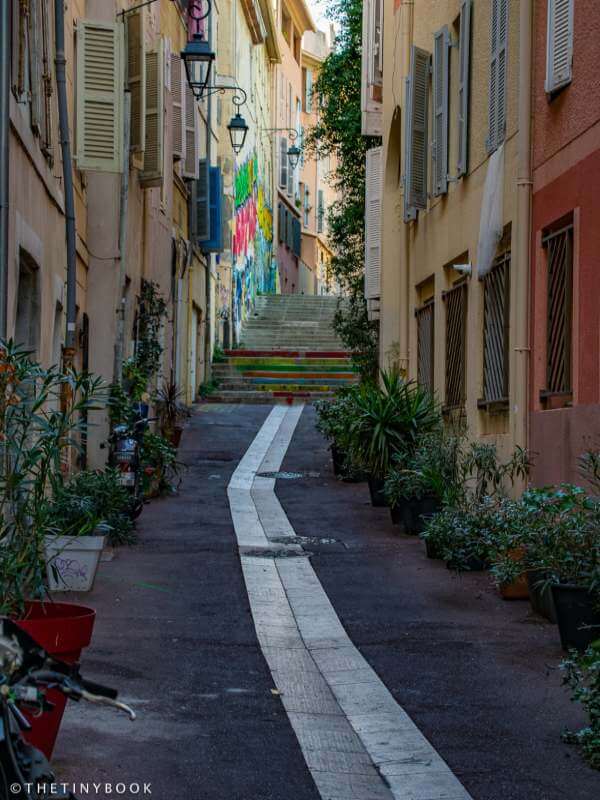 There are dozens of great places to stay in the city. My advice should be to pick a central place where there's enough access to public transport or where reaching several points of interest in town won't mean walking a lot.
Where We Stayed in Marseille
We booked a place in the La Joliette area, in the second arrondissement of Marseille. The hotel was in a quiet central part of town, yet it was also very quiet. 
La Joliette is just a few steps from the center, it allowed us to walk to areas such as La Paniere, the Old Port, and Notre Dame de la Garde with ease.
It was also about 1000 meters from the main train station which was very convenient as we moved from Marseille to Paris by high-speed train. 
We were really tired to walk through, and a taxi took us there in under 10 minutes (even when it was the peak hour), and we paid less than €13 for the ride.
The hotel we stayed at was the Meininger Marseille Centre la Joliette, and we loved it. The Meininger chain of hotels is a company we have been using a lot lately and we were pleasantly surprised by the ultra-modern premises and the accommodation style which seems to blend the perks of a hotel and the best of a hostel to make any stay comfy and convenient.
I would definitely book again any Meininger Hotel in the world.
Click here for more information and to get the latest prices.
Other Places to Stay in Marseilles
Of course, there are many other interesting places to book in town, and these are the ones I suggest checking out if mine is not available:
Convenient: Alex Hotel & Spa
Modern and affordable, this boutique hotel is ideal if you have an early train to catch. Alex Hotel is a 15-minute walk from Marseille's old port and 200 meters from Saint Charles Station.
Click here for more information and to get the latest prices.
Mid-range: Hotel Belle-Vue Vieux-Port
A gorgeous 3-star hotel facing the Vieux Port, just steps from every important landmark, including Le Pannier and Notre Dame de la Garde, close to restaurants, cafés, and shops.
Click here for more information and to get the latest prices.
Luxury: New Hotel of Marseille – Vieux Port
New Hotel of Marseille – Vieux Port is a design hotel located opposite Pharo Congress Centre, just a 10-minute walk from the Vieux Port. It has a gourmet restaurant and an outdoor pool.
Click here for more information and to get the latest prices.
There are more properties you can check out too, either in the center of Marseille or in the nearby area.
Let's now dive into the top things to do in Marseille and discover more about this fascinating city town in France.
Main Attractions and Top Things to Do in Marseille, France
Without any particular order, these were our highlights of Marseille!
Wander Around the Old Port of Marseille
The Vieux Port – the Old Port – of Marseille is large and rectangular with quays on the sides, lined with huge warehouses dating back to the eighteenth century. 
Most of these huge spaces have been transformed into bars, cafés, and restaurants with plenty of outdoor seating for those who enjoy sitting, having a drink, and maybe spending a few hours people-watching! 
All the industry that was once in the area has moved to the New Port and today, the Old Port is very atmospheric.
It has endless rows of sleek yachts and pleasure boats as well as different excursion boats that take visitors to the Calanques or the Isle d'If. 
In the mornings, the fishermen still line the Quai des Belges to sell the morning's catch.
Take a Stroll Along La Corniche
Known as La Corniche or Corniche J. F. Kennedy, Marseille's popular seaside stretches for several kilometers passing through the Old Port, from L'Anse des Catalans to the Parc Balnéaire du Prado.
Along the road, passersby can enjoy views of Château d'If and small nearby islands (Frioul Islands).
This raised promenade runs like an endless road above the coast. It is true that you can drive along it, but to soak up Marseille's mysterious atmosphere, it is much better to walk La Corniche at a leisurely pace.  
Head to Le Panier
Arguably one of the most picturesque corners in town, Le Quartier du Panier is the oldest part of the city and is situated just north of the Old Port… and, of course, checking out this area is one of the best things to do in Marseille.
Le Panier was also the place where the Greeks founded the first local settlement, Massalia.
Over time, as the community grew, people of many different nationalities settled in this part of the city and even today it has a sizeable Corsican and Maghreb community from countries in northwest Africa. 
It is a fun place to walk around as it has long narrow streets and numerous squares, and its houses are painted in different shades of ochre.
Graffiti and alternative forms of colorful street art give Le Panier its charming flair. 
It was once the poorest part of Marseille but is now fast becoming the trendiest part with many new craft workshops and chic little restaurants opening up — many of them serving contemporary French cuisine.
La Vieille Charité
Nestled in the heart of Le Panier, La Vieille Charité is often described as a core institution in the city. Its construction began back in 1670 and finished in 1749.
La Vieille Charité was a place thought of as a General Hospital to welcome beggars and the poor. 
The beautiful complex is made of four wings of buildings that open to a rectangular courtyard surrounded by galleries.
All the buildings have three floors of galleries and arcades facing the chapel in the center of the open space.
It has a fantastic Italian Baroque dome and a porch with Corinthian columns with an allegory of Charity welcoming needy children.
After the French Revolution, the building worked as a hospice for the elderly and children. After WWII the building was abandoned and classified as aHistorical Monument in 1951 thanks to the enthusiastic work of Le Corbusier.
During the last 40 years, the place hosts the African Museum and the Archaeological Museum and it has also become a multidisciplinary center for sciences and culture.
Climb Up to the Basilique Notre Dame de la Garde
Standing on a hillside, 149 meters above the southern part of Old Port, this distinctively designed church is the highest building in the city and one of the first sights of Marseille you'll get no matter where you're coming from.  
The basilica was built back in the nineteenth century following the Romanesque and Neo-Byzantine styles. 
It stands exactly on the spot where there had long been a watch tower to protect the people of the city.
Notre Dame de la Garde has a tall tower topped by a large golden statue of the Virgin Mary and child which is said to protect all the seafarers in the port below.
Locals often call it La Bonne Mère and it is the most important symbol of the city.
It is quite a steep (though short) climb up to the church, especially in hot weather, but there is a tourist train that regularly leaves the Old Port and takes you up.
No matter how you choose to reach the Basilica, the visit is worth the views of Marseille from its grounds.
The square bell tower of particular beauty is  41 meters high surmounted by a belfry bearing the arms of the city on each side and an angel with a trumpet at each corner.
On top of it, sixteen red granite columns, support the 11.2 meters tall statue of the Virgin.
Admire Palais Longchamp
This impressive-looking building with its decorative fountains was built in the late nineteenth century to celebrate the completion of an extensive system of aqueducts about 85 kilometers long.
These aqueducts were built to bring clean water to the city from the River Durance, an important enterprise after the city had undergone a bad cholera epidemic.
There is plenty for all the family to see at Palais Longchamp as there is the Natural History Museum, the gorgeous botanical gardens, an observatory, and a play park. 
Don't Miss the MuCEM
MuCEM is an amazing museum with impressive architecture that opened in 2013 on the city's waterfront. It is located right next to the seventeenth-century Fort de Saint-Jean and the two buildings are linked by bridges. 
The architecture is stunning and the museum gives an unusual artistic portrayal of the Mediterranean culture from its origins until today.
The modern concept of the museum stands in sharp contrast with the fort next door that was built by Louis XIV.
Opposite the museum and the old port, you will find is an imposing stone construction, Bas Fort Saint Nicolas. This ancient fort dates from the mid-1600s and it has been classified as a historic monument of France.
Dive into French Literature at Château d'If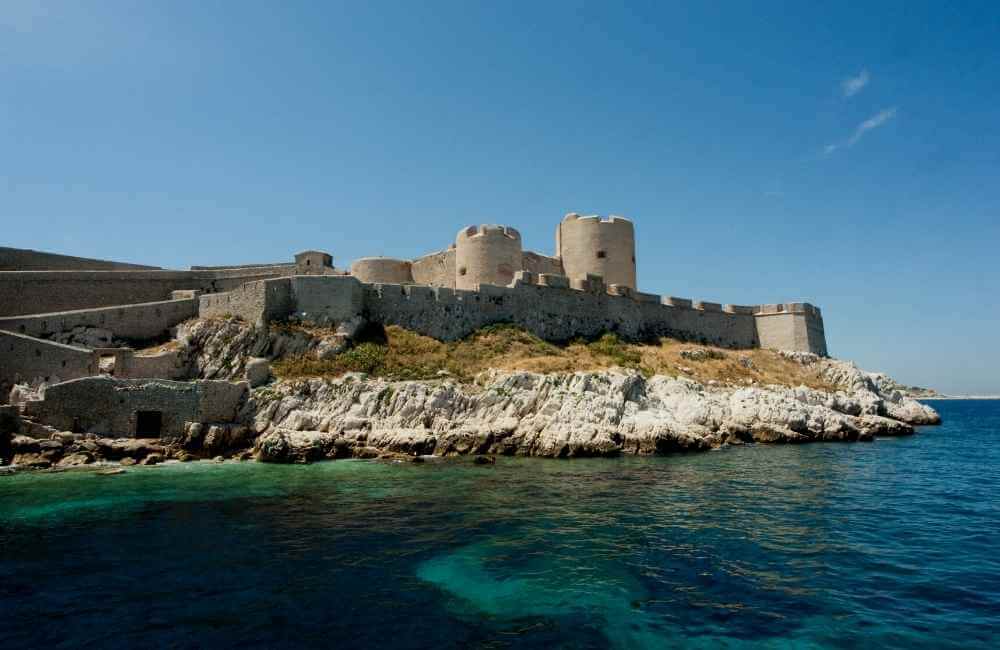 It's a good idea to board the Frioul If Express from Quai de la Fraternité in order to pay a visit to the iconic island fortress about 1.5 kilometers off the old port of Marseille in southeastern France.
The fortress stands on the smallest island of the Frioul archipelago, the Isle of If, and it was built back in the sixteenth century.
The fortress also functioned as a prison until the end of the nineteenth century.
The most curious detail you will learn about the fortress is that prisoners used to be divided according to their social class.
While the poorest would remain secluded in the bottom and the dark dungeons, wealthy prisoners could pay for private cells that could even have windows and a fireplace.
This is one of the most visited places in Marseilles by fans of French literature. Alexandre Dumas described the fortress in his The Count of Montecristo, a classic written in 1844. The views of Marseille's Vieux Port are excellent from the little island.
You can have more information by visiting the official site. The marseille city pass includes the price to enter the château (€6, free for children).
Check Out Abbaye Saint-Victor
Abbaye Saint-Victor is another key building to visit in Marseille if you're interested in the old history of the city. The former abbey dates back to the late Roman period.
During your visit, don't miss a visit to the crypts, you will be able to learn about the ancient origins of the complex, which might date as far back as the Greek foundation of the city.
Those who enjoy photography can take great snapshots of the city and the port from the abbey.
Marvel at Sainte-Marie Majeure de Marseille
Known in town as Cathédrale de la Major, this religious building is located between the new and the old port. This impressive cathedral was built during the nineteenth century.
The magnificent Byzantine facade features a striped facade made with local stone and marble from Florence.
After the visit, do not miss the vaulted warehouses underneath the church. Also dating from the nineteenth century, the so-called Voûtes de la Major.
The Vaults (and warehouses) were built on the side of the promontory, along the quays, serving as the base of the cathedral as well as the docks for commercial ships.
Today, the place has become Marseilles's new cultural district, home to different museums (including Musée Regards de Provence, Mucem, and CeReM). The area is perfect for an aperitif as the views are simply great.
Marché de la Joliette
Every Tuesday, Wednesday, and Saturday, from early in the morning until 1.30 pm, head to the old maritime neighborhood of Marseille (which has been completely renewed).
Over there, you will find Place de la Joliette, a square where one of Marseille's best public markets takes place. What will you find? Anything from fresh produce to lavander products and, of course, soap of Marseille.
Do you Need a Break? Try Les Calanques
Not a far boat ride from the busy streets of marseille, the National Parque of Calanques is a completely different environment.
From the noisy old port to the imposing promontories and turquoise waters of the small beaches surrounded by lush pine tree forests.
A perfect day trip during summer and spring.
There are dozens of excursions available by boat, although it is also possible to hike in the national park. Most boat excursions depart from the old port.
The best way to visit is with a group, these are the trips I suggest:
Calanques National Park – Kayak Guided Tour: One of the most popular ways to visit the Calanques is on a kayak. This adventure takes you to the coastal landscapes in Calanques of Cassis. You can have your own kayak or share it with a friend. Click here for more information and to book the experience.
E-Mountain Bike with Virtual Guide to Calanques National Park: Explore Calanques National Park onboard a powerful e-mountain bike. Choose between a series of routes with your host and then follow the virtual navigation through the park using a mobile application. Click here for more information and to book the tour.
Indulge in Marseille's Cuisine
With a strong sea influence, the cuisine in Marseille is strong and with character. If you're visiting this fascinating city in France, there are some staple things you should definitely try:
Delicious Bouillabaisse
Top of the list of foods to sample is the classic and world-famous soup, Bouillabaisse, which originates from Marseille.
Bouillabaisse is a thick broth-like soup made from fish and seafood. Originally it was made by the fishermen for their supper.
Fishermen used all the leftover pieces of fish and seafood they had in the soup.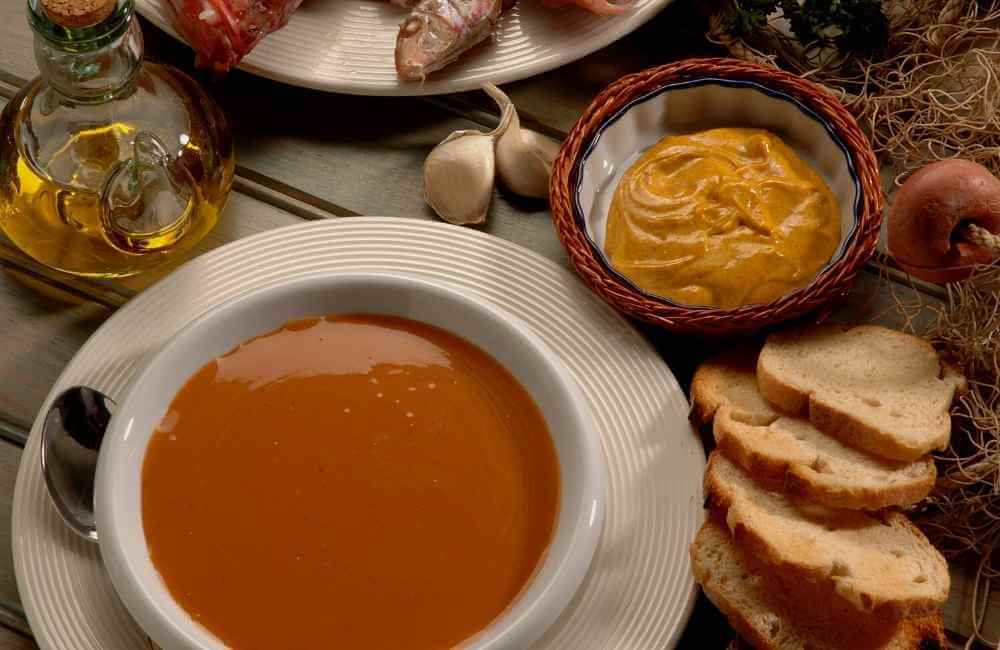 The fish is cooked in olive oil with wine and a sprinkling of saffron and is traditionally served with spoonfuls of rouille – a spicy mayonnaise that is spread on bread and dropped into the soup.
This soup is always served with plenty of extra thick pieces of crusty bread. 
Enjoy Great Fish…. And  Maybe Some Sea Urchins
Marseille is a great place to enjoy really good fish and seafood. If you are looking for something unfamiliar to sample, on menus across the city you will find sea urchins.
Sea urchins certainly do not look appealing and they are not the easiest things to eat, but like oysters, they contain several small pads of delicious roe inside their shells.
The roe tastes like the sea and is said to be a strong aphrodisiac.
Sea urchins are served straight from the sea as they are eaten raw and are accompanied by slices of toast soaked in olive oil.
Raise a Glass of Pastis
While you are in Marseille, it is good to enjoy the popular local drink too – especially while you watch the sunset.
Pastis de Marseille is a French spirit that is flavored with anise. It was first marketed by Paul Ricard in 1932 and has always been particularly popular in Marseille and the Var department. 
Your glass of Pastis will be served with a jug of cold water as Pastis is usually enjoyed in a ratio of five parts water to one part Pastis. When you add the water to your Pastis, it will quickly turn milky cream in color – enjoy!
Eat a Navette… or Two
If you enjoy eating biscuits, try Navettes. These are cute boat-shaped biscuits filled with a variety of flavors and bought in patisseries by weight.
Traditionally, Navettes were flavored with orange. Four des Navettes just five minutes from the Old Port is the city's oldest bakery and has been making Navettes since 1791.
Although they are eaten all year through, Navettes are traditionally eaten on Candlemas on 2 February to commemorate the journey to the South of France made by Mary Magdaleine and Martha when they fled from Jerusalem after the crucifixion of Christ.
They are said to have hidden in a cave in the Saint-Baume mountains.   
It's not difficult to see that there is a lot to do in Marseille with its places to see, but also thanks to an eclectic culture, and a lively atmosphere!
---
Are you traveling to Marseille soon?
Let me know in the comments below!
You might also want to read these articles about France:
Pin this Guide to the Best Things to Do in Marseille for Your Next Adventure in France!
About the author of this blog: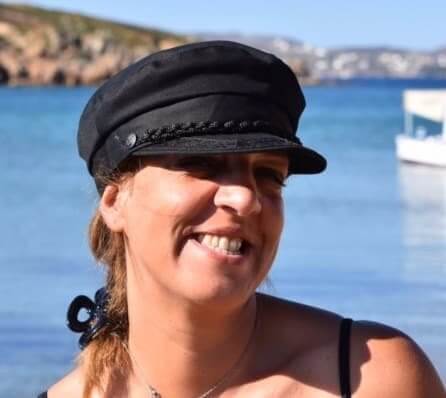 Gabi has been living in Crete for the last five years. On the island, she juggles being a solo mom, hosting culinary tours in summer, translating, and freelance writing.
She's written for Greek Reporter, published several travel guides about Greece, and had more glasses of frappe than any regular person would be able to handle.