I write about
UNMISSABLE THINGS TO DO IN CRETE
I'm in love with this island, and it's my greatest passion to read, write, and learn about Crete.
I'm honored to be a resident, to grow my kids here, and to educate them in the local culture and traditions.
Press & Media
In The Tiny Book – Blog section, you will find most of my articles, destination guides, and posts. However, I regularly contribute to other blogs and media.
Down here you can find everything I've published, including my most recent articles for other sites, as well as a few interviews about travel and Greece!
I've published a book about the Greek islands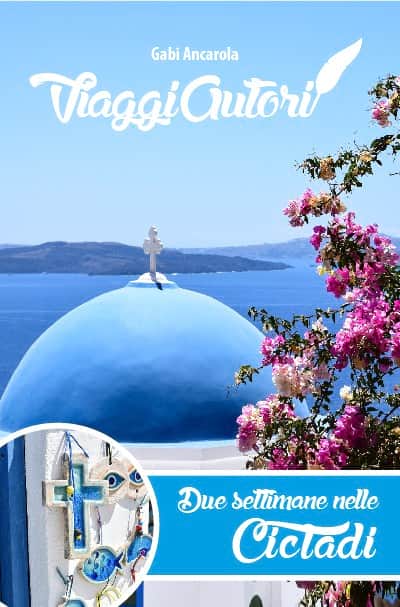 My 3rd child…
My kids are Filippo, Federico, and "Two weeks in the Cycladic islands".
The book was published in Italy in 2018 and it's part of a fantastic series of itineraries for different destinations around the world…
This super practical travel guide to visiting the best of the Cyclades is my first non-digital book (but not last!) about Greece.
I'm super honored to be part of the project Viaggiautori with the islands of Santorini, Mykonos, Paros, Naxos, Antiparos, Sifnos, Serifos, and Amorgos.
The pictures featured in the book are also mine!
Regular Contributions
I regularly write for the following publications:
Crete in the News
I've written articles about Crete for the following media:
I've worked as a special correspondent in Chania, Crete for Greek Reporter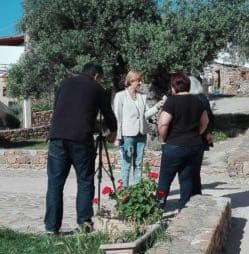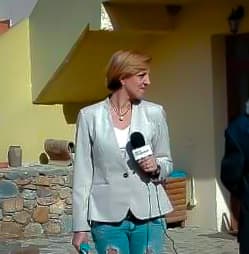 Collaborations with fellow bloggers
I've written collaboration articles for these travel blogs & travel media:
Goats on the Road – "15 Things to Do in Crete"
It's All Trip to Me – "The World's 21 Best Easter Holiday Destinations: Crete"
Chasing the Donkey – "2020 Guide to Where to Stay in Crete, Greece"
Diana's Healthy Living – "Unique things to do in Crete, Greece"
A Backpacker's Tale – "Beautiful places in Europe: Chania"
A Backpacker's Tale – "Beautiful places in the world: Heraklion"
Travels of a Bookpacker – "Natural wonders in the Balkans: Samaria gorge, Crete"
A Greek Adventure – "Things to do in Akrotiri, Chania"
Everyday Wanderer – "Postcard from Crete"
Sofia Adventures – "3-Day Eastern Crete Itinerary"
Maps'n Bags – "10 Best Greek Islands for Couples"
To Some Place New – "Europe in February: Chania, Crete"
Rizanoia – "Pink Sand Beaches in the World: Elafonisi, Crete"
A Hole in My Shoe – "Christmas Traditions Around the World: Crete"
Eager to Travel – "Best Sunsets Around the World: Falassarna, Crete"
Luxurious Lifestyles – "Winter Destinations in Africa: Marrakech, Morocco"
Wunderlander – "European Delicacies for Easter: Lychnarakia from Crete"
The Beautraveler – "Places to see in 2020: May, Crete"
Sand in My Curls – "Tips for raising kids abroad"
Urban Adventures Blog – Articles & Interviews
Karatarakis Group Blog – Articles & Press
Interviews
They've asked me a few questions:
Speaking Engagements
I don't really like it, but I've spoken too:
As seen in