The island of Crete is an exciting destination and a fantastic place to visit on your own. It's fairly easy to tour the island trusting a complete travel guide and a good map. You'll just need the right resources to enjoy the best that Crete has to offer. The Tiny Book's practical travel guides to Crete are just what you've been looking for!
In this section of the blog, you'll be able to find every unique and practical guide I've created to make your trip to Crete much easier. All your Crete resources in just one place for you to bookmark and read once you're on the island!
This article may have affiliate links to products and services that I use. If you make a purchase through these links, it might earn me a small commission at no extra cost to you.
Generic travel guides to Crete
Travel guides to Crete's top landmarks
Curious & interesting travel guides Crete
Other resources to keep handy
Don't forget to check Crete's regions
Useful resources to visit Crete
Coming to Crete any time soon? These fantastic resources will help you organize the trip!
Finally, make sure you've got everything you for a hassle-free trip!
Do you have everything you need? Then you just have to get ready to discover Crete, Greece's most beautiful island!
Check these articles written especially for you!
If you're curious about traveling on Crete and all the things you can do on the island, check the 50 unmissable things to do in Crete. For a better way to discover all those things, simply head to the 3-week itinerary on Crete, it can be easily adapted for 2 or even just 1 week on the island. Those wanting to explore more the Rethymnon region, it would be a great idea to check the best things to do in Rethymnon or to discover one of the best day trips in Rethymnon: Arkadi Monastery. If road trips are your thing, then check out this stunning day trip around the Lasithi Plateau, in East Crete, it tells you all you can do in the area.
Matala makes a great road trip if you're staying in Heraklion, so why not check all the things to do in Matala? On your way there, don't overlook the beautiful villages in Crete you could discover. Heraklion is known for being the capital of the island, but also for hosting Crete's most important archaeological site, the wonderful Knossos Palace.
Is Crete on your travel plans?
Let me know in the comments below!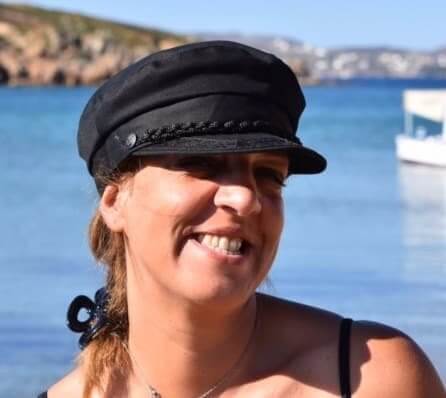 About the Author
Hola! I'm Gabi. Welcome to The Tiny Book – Crete Travel Blog! I moved to Crete to explore the island all year round. I love taking pictures and driving on the mountain roads of Crete. I'm a beach freak and on this island I've found heaven on earth!