Of all the places I've been to, Crete left the deepest mark on me, so much so that returning is always a promise of good things. We have developed our own way to it, traveling from Heraklion to the east and from Elounda back to the west. An ideal itinerary from Kazantzakis airport upon arrival, to Daskalogiannis airport, when we depart, living Crete at our own pace.
From Kazantzakis to Daskalogiannis
We'll soon land in Heraklion to begin our home-made signature tour, the one I call From Kazantzakis to Daskalogiannis. And I call it that way, not because of the airports, but because these two men have built the Cretan character. And they embody a different kind of trip, the one that takes you into the true nature of the island.
The dual, restless soul of Kazantzakis is a mirror of the Cretan soul. His vision of life and simple pleasures is a snapshot of everyday life on the island. Share a table with islanders and his quote about the frugality of happiness will come to life right in front of you. His passion for knowledge, politics, and philosophy but also travel made his life uneasy, to say the least.
I just regret he's mostly remembered for Zorba, as there is an endless list of masterpieces that deserve at least the same fate. (If you are a travel writer, his works on this field should be on your reading list.)
On the other hand, the rebel, independent character of Daskalogiannis portrays resilience and forms of survival that keep Crete going. Proud people who put their homeland first and die for it if they have to.
A genuine love that strikes you at first. It makes you pause, look carefully and try to understand such a harsh, hostile environment.
Then it's clear. Caves, coasts, gorges, plateaus, lakes, rivers, mountains. It's an attachment to a land that gives back with genuine generosity. Olives, grapes, orange, lemons. Even tropical fruits, nuts and raisins. Herbs, honey, cheese, and fish too.
Crete Once Again
So yes, we're going back and with a long list of to-dos which is never easy to come up with because I always want to do new things, but I also want to go back to old places, see old friends and repeat adventures. The first stage includes a real close-up to Daskalogiannis this time.
I've made up my mind Chora Sfakion was going to come first for all it represents while my intentions include a stop in Anopoli, at the foothills of the White Mountains.
Then it'll be the moment of Kalathas and Stavros. But it's not only stunning beaches, but our friend Chloë, from Biolea, has also invited us to see how they produce the best olive oil in the world, and we are extremely eager about this day trip to Kolymbari.
Falassarna is a synonym of friends, old and new. I can't wait to hug back Michalis, from Spilios. He is one of the most amazing people I met in Crete. He's one of the many who taught me the meaning of being Greek, the meaning of receiving. He taught me the philosophy of "The best of what's mine is yours".
And I will splurge on their moussaka every possible moment as I am honestly convinced it's the best dish I've ever tried. And I can't wait to meet Fotis too, who is waiting for us in Petalida, another sample of Cretan authenticity, right in front of the most amazing bay in Crete.
I have left a night to fate, that meaning wherever we find a room to stay we'll stay. It's the first time I do it with kids but I'm not particularly nervous, it's Crete after all!
We might extend our days in Elafonisi, go back to Falasarna or even spend the night in Kissamos, we are convinced this is an open door to meeting new friends.
Another adventure awaits in Exopoli, close enough to Rethymno but a bit up in the mountains. Yes, it's still me, changing my mind… Let's give the mountains a chance.
I've longed to see the colors of lake Kournas for a while. Once on the way to the lake, we might go south again all the way to Preveli.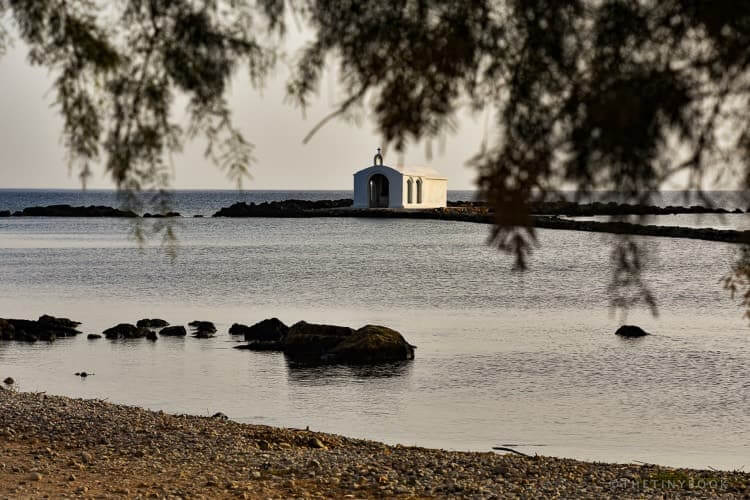 Once in Rethymno, they will show us one of the most amazing faces of the city, the Venetian one. As well introduce us to some secrets about it too. We will then reach the mountains, take part in a bread cooking class, learn about herbs, and have fun riding a monkey in the Valley of Amari while our bread cooks. Rethymno has a lot of promises for us, we really can't wait.
From Kazantzakis to Kazantzakis
We will end in Heraklion (so it's not really Daskalogiannis this time to be truthful…) and in the best of ways… Wines of Crete will host us in a wine tour experience in Peza and there is a visit to a Cretan Ceramic Workshop coming up too. Our kids want to see the Archaeological Museum of Heraklion again, something I wouldn't have missed even if they hadn't asked. So there it is. Can I be any happier? Crete, where I feel welcome and totally at home. The place that switches my good mood on as soon as I'm there.
There it is once again. My Cretan adventure, from Kazantzakis to Kazantzakis this time… However, Daskalogiannis is so alive in the spirit of the island and still shaping the character of its people.
Are you planning a trip to Crete and you have no idea where to start from? Check these insanely practical tips for holidays in Crete!
Pin for Later