If you've been following The Tiny Book, you already know I don't enjoy the holidays. There's never much of a Xmas spirit on the blog. To our surprise, we've found it's not just us! This year, we've received requests from many of you, asking us to propose something different for the holidays… So, it turns out I'm not the only Grinch around..! Besides, if you do not like Christmas, maybe you do not enjoy cold weather either… therefore, why not Crete for your Christmas break? And, especially, why not Rethymno this time?
The non-traditional guide for Christmas in Crete
Therefore, you will not find Christmas sweets this time here. I've written about those somewhere else (link coming soon). Instead, my present is a list of different things you can do in Crete, more specifically in Rethymno, in Christmas (or better, off-season). The third city on the island offers interesting and fun attractions all year.
What to do in Rethymno (in or out of Christmas)
Take a city break
The small city of Rethymno is a vibrant town located more or less in the middle of the island, on the northern coast. Many visitors adore it because it's easy to walk around and possible to visit in a relatively short amount of time. We discussed a few things to do in Rethymno here. But if you do not want to take a guided tour, many are the things you can do on your own. Start by walking on the Venetian port and enjoy the views of the lighthouse.
Get lost in the alleys and visit local artisans and shop too. You can take a couple of hours off and relax in one of the many spas of the city, or, for spectacular photo opportunities, enjoy an afternoon wandering around the Fortezza, visit the Mosque of Sultan Ibrahim or the towers facing the sea towards the north.
Wine tasting
Not far from the city, the small family winery of Klados is happy to receive guests and wine lovers interested in their limited range of labels. Talking with his owner, the young Stelios, it was clear that their boutique approach to wine production is really paying off. Five are the labels they currently produce, three very interesting whites, a rosé and a red one.
You can read our complete article about the winery here. To visit them this Christmas, take a look at their opening hours during winter.
Monasteries
There are more than two famous monasteries to visit in Rethymno. Of course, you've already heard all about the impressive Arkadi Monastery, which history goes hand in hand with the history of the island and its continuous fights for independence.
But the area is also home to the magnificent Moni Preveli, on the southern coast of the island. You can read everything about Preveli and the nearby beaches in this article.
Beaches
Yes, the weather might still be not the ideal to spend long afternoons under the scorching sun of Crete. But long seaside walks are not something to disdain while on the island. Some of the most beautiful beaches of Crete are on the coast of Rethymno.
Beaches worth visiting, even in winter, are Bali and Panormo on the north coast, and the magnificent Triopetra, Preveli and Agia Galini in the south. The best way to travel from coast to coast is to rent a car in a local company and simply wander around.
Ceramics: Margarites
There are several villages to visit in the region of Rethymno, one of them, small in size and easy to walk around is Margarites.
This small town is known for the ceramic studios that populate the streets going up and down, following the irregular shape of the territory. If you really want to avoid tourists visiting Margarites, this is the best time of the year for a visit. Artisans will be less busy showing their crafts to visitors and available for a conversation or even to teach you some of their skills.
In the main square of Margarites, right in front of the Municipal Library, a home-style tavern serves quality comfort food with an impressive view of the underlying valley.
Archaeological sites
If you are interested in something that goes beyond pure relaxation, a visit to the archaeological site of Eleutherna, and its Museum are two of the places to visit, and they are no more than 25 km from Rethymno. Eleutherna, also known as Apollonia, was an ancient city-state, with a very rich history. Archaeological excavations gave light to unique settlement patterns, sanctuaries, and necropolis.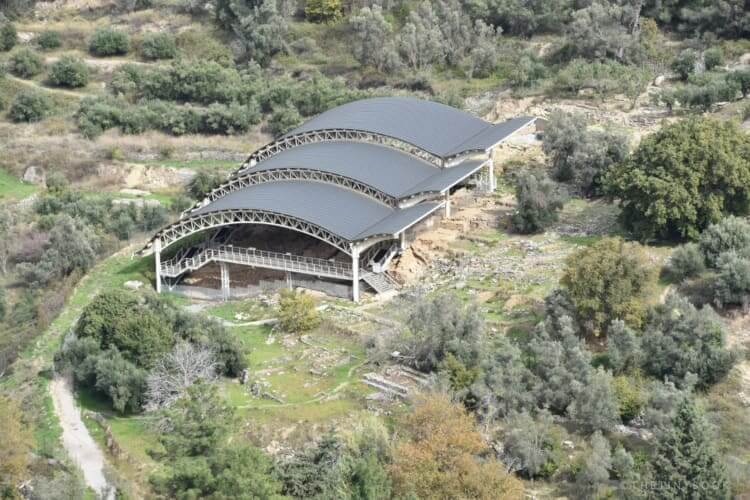 The nearby Museum of Ancient Eleutherna is not big. It exhibits an interesting collection of artifacts found on the site. You can enjoy interactive films and explanations that make the visit completely didactic and interesting, especially for kids.
Mountain springs
About 27 km from Rethymno, the tranquil village of Argyroupoli is an interesting settlement with a history of its own. Made of two distinct villages, an upper and a lower town, both of them boast different architectural styles, from Venetian buildings to Byzantine churches.
But Argyroupoli is better known for its springs. here's is the birthplace of river Mouselas, with water coming from a nearby cave. The area is full of green plants and ancient trees. There's a relaxing sound of water continuously gushing and falling down the rocks, through waterfalls and springs. There are many taverns serving trout cooked on the spit.
Relax in a traditional villa
Traditional villas in Crete are a thing to be experienced. If you've never slept in a room with walls made of stone, probably the Christmas week is the right moment. The traditional villas have all the comforts you can experience in a five-star hotel. But there's also a plus of privacy and flexibility no hotel fully accommodates.
Amazing Villas in Crete are our accommodation of choice in Rethymno. They are a family-run complex of four different villas. Three of them are in the village of Asteri and one is in the seaside area of Stavromenos.
We stayed in Villa Asteri, an original stone-built, luxurious villa. This residence is on the main road of the village of Asteri, just 14 km east of Rethymno. It's a two-level villa with unique pieces of furniture and a cozy atmosphere to it. Rooms were spacious and very comfortable. A special word goes to my bed, one of the most comfortable I've experienced in years of travel writing.
Our experience was incredible and allowed us to also know the village of Asteri. There it's possible to see the folklore museum and eat in the local restaurant.
Upon arrival, we were received with a glass of excellent local wine, and a traditional Cretan lunch, cooked for us in a wooden oven, next to the pool. The garden is full of blossoming orange trees and colorful flowers. Morning breakfast included freshly baked bread, cheese and a selection of teas and coffee to choose from.
Pin it!
The non-traditional guide for Christmas in Crete: What to do in Rethymno